Hagerman Valley & Thousand Springs, Idaho

June 4, 2007.
We moved the motorhome about 70-miles west to Hagerman at exit 147 on I-84. We are staying at High Adventure River Tours RV-Park/Store & Dutch Oven Cafe located on the southeast corner of exit 147. It is a nice RV-Park with shade and long pullthrough sites. PPA with tax ran $16 for FHU.
For those of you that are not familiar with PPA (Pass Port America) it is an organization you can join for less than $50 per-year. Campgrounds that belong to PPA offer 1/2 price discounts. That kind of savings can quickly add up. While participating PPA parks generally have some restrictions on dates the PPA offer is valid, or possibly days of the week the discount is valid, or perhaps the number of days that the PPA discount will be honored the discount is genuine. Many times PPA campgrounds are new campgrounds that need help in getting established. Other times PPA campgrounds may be on the outskirts of town instead of in the "prime" location thus they need to provide an incentive for campers to stay with them. Whatever the reason PPA campgrounds generally provide a much cheaper option. PPA is the only campground organization that I think is worth the cost. PPA does not have a gimic. What you see is what you get. Once you join they send you a directory listing all participating campgrounds. The PPA directory is the FIRST directory we check when trying to locate a place to spend the night. You can join PPA by calling 228-452-9972. If you decide to join PPA, it would be nice if you gave them my number "R-0156251" as the PPA member that told you about PPA. In return PPA will give me a years membership free. I will thank you in advance for that kindness. Thank you.

The Hagerman Valley and indeed the whole Hagerman area seems to be the dairy capitol of Idaho. There is a dairy farm around every corner. Dairy farms mean lots of hay and this place is no exception.
For some reason dairys around Hagerman like to use blue and white stripe tarps over their hay.
Hagerman Valley hay stored for dairy operation
These are large dairies but that is a lot of hay.
Blue and white tarps covering stored hay in the Hagerman Valley of southern Idaho
Looking down on the Hagerman Valley from the canyon rim is an impressive site.
Irrigated alfalfa hay in the Hagerman Valley of southern Idaho
We are seeing a lot of grain and alfalfa being grown in the Hagerman Valley of southern Idaho.
Springs gushing cool water out of lava rock at Thousand Springs in southern Idaho

Water gushing out of fractured lava rock here at the Thousand Springs area of southern Idaho near Hagerman.
East of Hagerman is Thousand Springs. The springs come out of the side of a fractured lava cliff spread out over about a 1-mile distance.
We stopped to examine this old wooden pipe transporting water from these thousand springs to an unknown destination. I suspect the water in this pipe runs an electric generator before being used for irrigation. It is hard for me to believe that I am looking at a for real, functioning, wooden pipe like water was transported in a long, long time ago.
Note the solid lava cliff this water is spring our of.
Old wooden water pipe still in use at Thousand Springs in Hagerman Valley.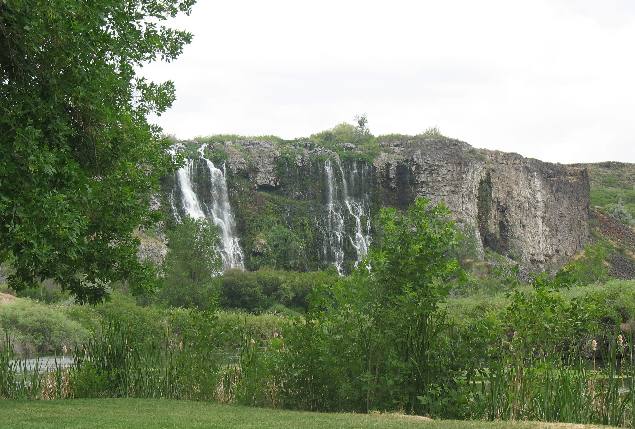 Some of the thousand springs in the Hagerman Valley create waterfalls like this one.
Note that these falls are flowing over a solid layer of lava rock.
I was thinking these were Gambel's quail until I looked at the pictures and realized they were California quail. Either way they are pretty birds.
Until next time remember how good life is.
Mike & Joyce Hendrix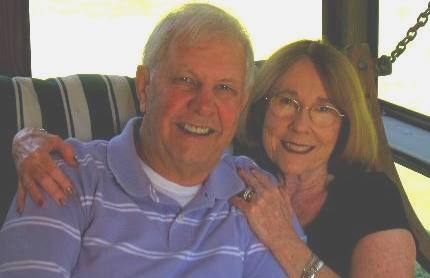 Mike & Joyce Hendrix who we are
We hope you liked this page. If you do you might be interested in some of our other Travel Adventures:
Mike & Joyce Hendrix's home page
Travel Adventures by Year ** Travel Adventures by State ** Plants ** Marine-Boats ** Geology ** Exciting Drives ** Cute Signs ** RV Subjects ** Miscellaneous Subjects
We would love to hear from you......just put "info" in the place of "FAKE" in this address: FAKE@travellogs.us
Until next time remember how good life is.