Douglas, Wyoming
July 14 & 15, 2009
Douglas & eastern, Wyoming
The city of Douglas, Wyoming and driving from the Black Hills of South Dakota to Douglas.
We are staying in the FREE city campground in Douglas. No utilities but they do have fresh water and a dump station. It is located off I-25 exit 140 turn east into Douglas go across the North Platte River and take the first left. The park & campground is located on the northeast corner of the North Platt River Bridge and the highway leading to town.
Coal train in eastern Wyoming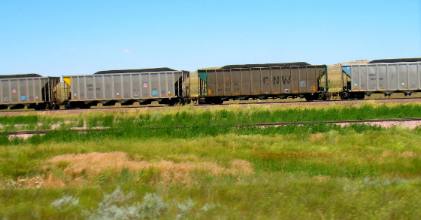 Coal trains are heading south from the large coal mines near Gillette. I read somewhere that 100 coal trains ( a coal train in this explanation consisted of approximately 1-mile of full coal cars like the ones in this picture) a day leave the Wyoming coal fields headed to power plants across the country. I am not sure that is an accurate figure but there are a LOT of them.
Eastern Wyoming coal train

We saw these coal trains as we were moving the motorhome between the Black Hills in South Dakota and Douglas n eastern, Wyoming. If you are a train buff you might like to plan a stop in Bill, Wyoming on SR 59 north of Douglas. A lot of trains go through Bill and I think there is a crew change in Bill. Don't hold me to it ----- do a Google search, but I think Bill is a good place to watch coal trains if that is your thing.
This small herd of buffalo were visible along CR 13 leading to Ayers Natural Bridge located a few miles west of Douglas. We have seen buffalo in this pasture before so some rancher must be raising them.
We spotted this Oregon Trail marker a few miles south of I-25. I know I-25 is a north-south interstate but between Douglas and Casper I-25 traverses east-west. We were on CR 13 on the way to Ayers Natural Bridge Park ( I-25 exit 151). I would have thought the Oregon Trail would have been closer to the North Platte River which follows I-25 to Casper but on the north side of I-25. For some reason the Oregon Trail is 5 to 8 miles south of the river. There must have been a reason but it escapes me. I could not see any wagon tracks.
Not far east of here in Guernsey, Wyoming wagon tracks made in soft sandstone are clearly visible.
Eastern Wyoming hay field
Hay drying in the field prior to being bailed. It will not be long before a bailing machine will be making bales out of that brown hay.
Eastern Wyoming is dry as can be seen in this photo
This is an old snow fence protecting a county road not far from Douglas. Without irrigation this is parched land. I think this area gets around 14" of moisture a year, most of that must be in the form of snow.
Those white cliffs are claystone made of compacted volcanic ash. They are located a few miles southwest of Douglas. Folks, that is a LOT of volcanic ash.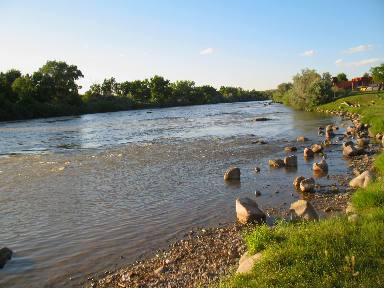 Joyce took this picture from Riverside park where we are camping in Douglas. It is the North Platte River as it flows through eastern Wyoming.
Eastern Wyoming conifer cones we found in the free River Side city park campground in Douglas
This is Mike's hand holding two small cones while wondering what type of conifer they came from. The tree these cones came from was in the free River Side city campground in Douglas, Wyoming.
Riverside Park overnight camping Douglas, Wyoming
Someone said that you could stay for 3-nights in the park. We stayed two nights.
Riverside Park overnight camping Douglas, Wyoming
This is one side of the loop in the free City of Douglas campground. RV's can occupy both sides all the way around the loop. I suspect it could easily hold 20 or more RV's. That is our motorhome and Saturn on the left side. The later it gets the more RV arrive. By 10PM the place had an impressive number of overnight campers.
That is all there is.