July 14, 2009
Douglas, Wyoming and Ayres Natural Bridge Park
We are staying in the FREE city campground in Douglas. No utilities but they do have fresh water and a dump station. It is located off I-25 exit 140--- turn east into Douglas go across the North Platte River and take the first left. The park & campground is located on the northeast corner of the North Platte River Bridge and the highway leading into town.
After arriving in Douglas we left the motorhome in the city park and headed to Ayres Natural Bridge Park located southwest of Douglas.
It is a really neat place and free, that makes it even better.
To find Ayers Natural Bridge park turn south at exit 151 on I-25. You will be on CR-13, from there just follow the signs to Ayres Natural Bridge Park and enjoy the countryside. I am not positive but Ayres Natural Bridge is possibly 5-miles down CR-13.
Road cut exposing sedimentary layers on CR-13 just outside Ayres Natural Bridge Park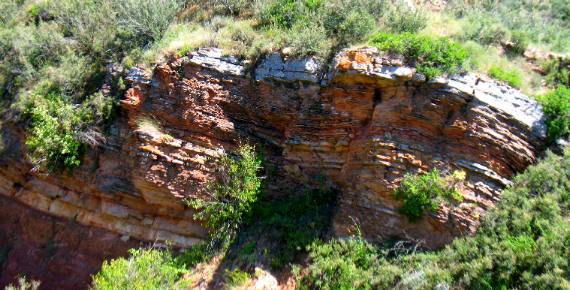 Notice the many different layers of sedimentary rock in this roadcut. Geologically speaking, a lot was happening when these layers were formed. Notice also how these layers have been "bent" by uplifting forces.
This is sedimentary rock also but it is not thinly layered like the last picture. This red sandstone is 40' thick in places.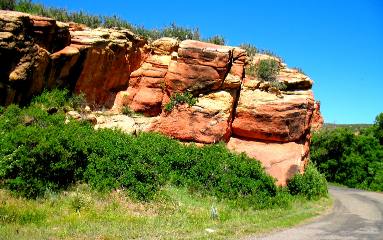 This is a large exposure of that red sandstone.
The only one in the United States.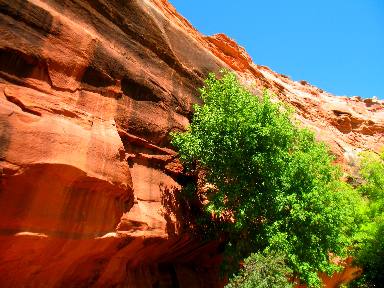 This is a view of those magnificent red sandstone cliffs that encase Ayres Natural Bridge Park.
This is the Natural Bridge with the stream flowing under it.
We hope you have enjoyed us sharing our visit to Ayers Natural Bridge Park with you.