Hydraulic Mining
June 22, 2007.
We are staying in White Bird tonight.
We stayed at Angel's Nook RV-Park in White Bird, Idaho. $12.80 FHU no TV signal, no cell phone service, no wifi. Actually, there is no TV service or cell phone service in town. This is a small private RV-Park definitely mom & pop but close to town in the back yard of one of the oldest homes in town and an easy walk to everything in White Bird. It is a Passport America Park and we would stay here again.
Hydraulic mining is just another form of surface mining. It was used in the 1800s to find gold after placer mining had already been used.
Hydraulic Mining Kiosk
Kisok describing hydraulic mining activities along the Salmon River in western Idaho between Riggins and White Bird.
Hydraulic mining scar
Hydraulic mining environmental damage as viewed from US 95 north between Riggins and White Bird.
This is where miners were using powerful streams of water (hydraulic mining) to wash away the bank in search of gold bearing sand.
You are looking at the west bank of the Salmon River between Riggins and White Bird in Western Idaho.
Hydraulic mining scar exposing a layer of conglomerate along the Salmon River
In case you do not understand what hydraulic mining is all about think of it as placer mining on steroids. Placer mining is where miners searched for gold in stream beds. Gold collects in stream beds when quartz rocks containing gold fall into creek beds where the water power has tumbled and ground the rocks down releasing small flakes of gold trapped in the quartz. The gold flakes being heavier than the gravel falls to the bottom. Miners search for those flakes of gold in the sediments at the bottom of these creeks.
Early miners knew the conglomerate composition of this exposure meant that it was an ancient river bed. They looked for quartz rock containing flakes of gold in the conglomerate as an indication that gold placer gold could be in the ancient river bed.
Those who have a rudimentary understanding of geology can look at the conglomerate composition here and tell it is an ancient river bed. They can tell that because all the rocks are rounded (river rocks). Thus knowing that this is an ancient river bed, there would be a good chance gold could be in the sediments of the old river bed.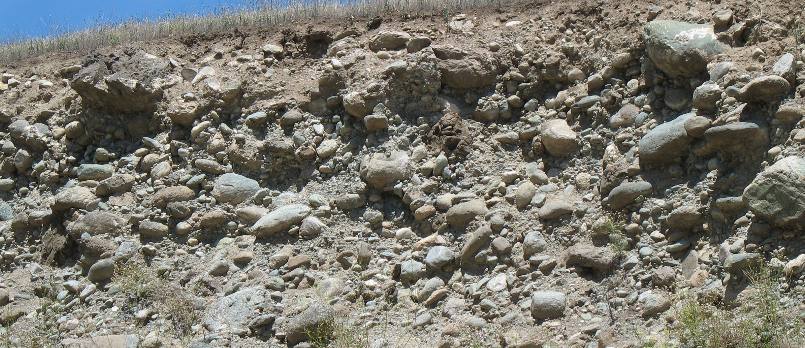 The chances were especially good if miners detected quartz rock containing gold in the exposed gravel. When gold was found in one of these ancient stream beds hydraulic mining in the form of powerful "fire hoses" if you will, were employed to wash away and expose placer gold deposits.
Now you know what "Hydraulic" mining was all about.
Until next time remember how good life is.
Mike & Joyce Hendrix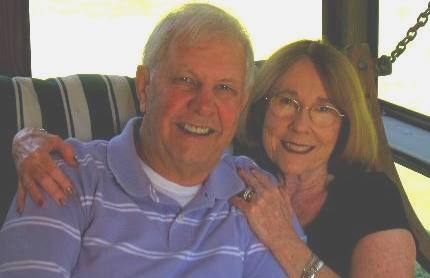 Mike & Joyce Hendrix who we are
We hope you liked this page. If you do you might be interested in some of our other Travel Adventures:
Mike & Joyce Hendrix's home page
Travel Adventures by Year ** Travel Adventures by State ** Plants ** Marine-Boats ** Geology ** Exciting Drives ** Cute Signs ** RV Subjects ** Miscellaneous Subjects
We would love to hear from you......just put "info" in the place of "FAKE" in this address: FAKE@travellogs.us
Until next time remember how good life is.