Western Idaho

Idaho: Driving north on US-95 from Weiser, Idaho to Riggins, Idaho through Cambridge, Mesa, Council and New Meadows

June 20, 2007.
We are staying at Canyon Pines RV Resort in Riggins, Idaho. $28.08 FHU-cable and free wifi, nice size sites on the Little Salmon River (208-628-4006)
Welcome to Idaho
This travelogue begins as we cross the Snake River in Weiser, Idaho as we return to Idaho from our side trip to Baker City, Oregon.
US-95 north out of Weiser is agricultural country. Hay was the most prevalent crop.
The area had serious hay operations.
Old silo visible from highway north of Weiser, Idaho
This is an OLD silo. I don't think they build them in this style any longer. Does anyone know the history on this type of silo/grain elevator/barn?
Once again Joyce is documenting that Idaho is a desert.
This is another serious hay operation.

This operation has four large hay barns.
I think those are 1,000 pound bales. Can someone familiar with this type of bale confirm or correct the size of these bales?
I wonder if this double trailer rig is delivering hay to this barn or if the rig is being loaded to transport to a dairy somewhere?
Irrigated land is green while the unirrigated is desert brown.
In Mesa we stopped to read this kiosk. At one time this was one huge apple orchard. We did not see the first apple tree as we passed through the area. My how times change!
As you can tell we have climbed in elevation and are now high enough that grass grows without irrigation. Also notice the evergreen forest, that is another good indication that the area is receiving adequate moisture. I would guess we are at a 4,000 to 5,000 foot elevation.
Then we fall down into Riggins at the confluence of the Salmon River and the Little Salmon River. Note that Riggins is deep in a valley at an elevation of only 1,801 feet.
Everywhere you go from Riggins is going to be up. Well, almost every way. Of course the Salmon River flows out of a small crack.
This is a basalt flow that pushed up through a large fissure in the earth's crust. As this massive flow cooled, it began to shrink and formed the vertical fractures you see here. This process is called columnar jointing.
With time, these columns of rock fracture again but this time horizontally leaving large blocks. Eventually, the blocks break away and tumble to the valley below.
This is pretty much a text book example of columnar jointing.
These pictures show both the columnar (vertical) joints and the horizontal fractures on the top part of these columnar joints.
Keep in mind that this rock formation was created by an ancient lava flow that cooled.
Columnar Jointed Basalt is created by that liquid magma (lava) cooling fairly quickly.
This is typical landscape on the hills/mountains surrounding Riggins.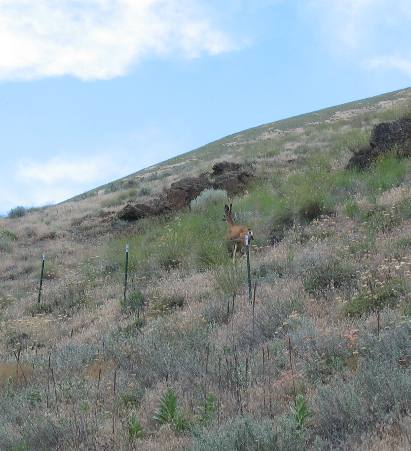 We are seeing more and more deer. In fact we are seeing a lot of them. In southern Idaho, along the snake river we did not see deer even when road signs would say things like deer crossing and game crossing etc.,
In this part of the state the state doesn't bother with warning signs and deer are everywhere.
This is the Salmon River a few miles north of Riggins.
Extremely hard basalt cut clean by the swift flowing Salmon River near Riggins
In areas like this the Salmon River has cut through extremely hard basalt leaving impressive vertical sides.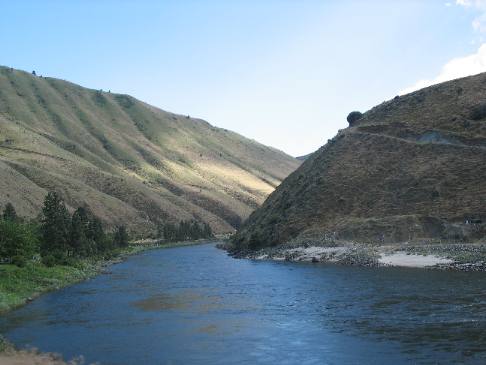 Less than a mile upstream the topography surrounding the Salmon River is completely different.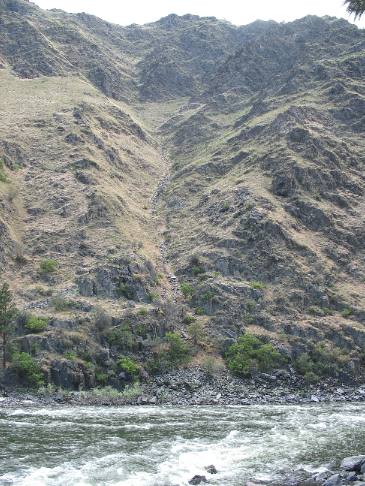 Around every bend, around every turn the landscape changes as the Salmon River rushes to meet the Snake River not far from here.
Little Salmon River south of Riggins, Idaho
The RV-Park we are staying in is a few miles south of Riggins with US-95 on the east side and the Little Salmon River on the west side. This is the Little Salmon River as it flows by the RV-Park.
You might be interested to note that the confluence of the Little Salmon River and the Salmon River is in downtown Riggins.
Until next time remember how good life is.
Mike & Joyce Hendrix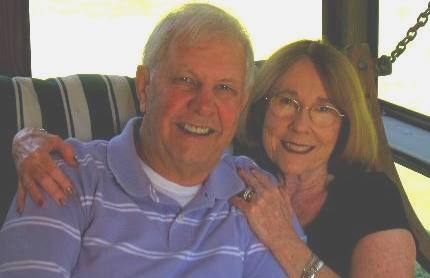 Mike & Joyce Hendrix who we are
We hope you liked this page. If you do you might be interested in some of our other Travel Adventures:
Mike & Joyce Hendrix's home page
Travel Adventures by Year ** Travel Adventures by State ** Plants ** Marine-Boats ** Geology ** Exciting Drives ** Cute Signs ** RV Subjects ** Miscellaneous Subjects
We would love to hear from you......just put "info" in the place of "FAKE" in this address: FAKE@travellogs.us
Until next time remember how good life is.