Cast netting Silver Mullet
One day in early May of 2010 we walked out on the public pier extending into the Gulf of Mexico from St Andrews State Park on Panama City Beach, Florida. We always like to do this when we are in the area just to keep track of what fish are being caught.
Cast nets on the pier
Two gentlemen with cast nets had set up shop about 1/2 way out on the pier where they were looking west. The wind was blowing pretty hard out of the southeast making throwing a cast net to the east all but impossible.
Several silver mullet in the net
As I talked with one of the men we spotted a small school of possibly 10 mullet coming our way. In the clear water we could see the school about 150-yards away so the two men had plenty of time to get their cast nets ready and move to a position on the pier where they would be in position to throw the nets on the approaching mullet.
As always seems to happen to fishermen the wind caught their nets and sent the nets over the approaching mullet. Like the two cast netters I was surprised how far the wind took their nets. They discussed what happened to them and vowed to throw much sooner when the next school appeared.
Six or more silver mullet in this cast net
True to their agreement they threw earlier the next time and the result improved. As you can see this time just this one net got six silver mullet.
This cast netter only got two silver mullet
Silver mullet on the pier at St Andrews State Park.
Silver mullet destined for the frying pan
They are breaking each mullets neck which bleeds the mullet and makes them taste better. Of course this only works if the mullet are alive when their necks are broken.
Notice that these two gentlemen had more than a bucket of silver mullet.
They were throwing a fish fry for a large group of friends tonight so they still had to clean these fish. We laughed about what was ahead since they not only had to catch the fish they had to cook them.
One last picture of a good mess of silver mullet
Remember to visit the gulf pier in St Andrews State Park when you are on Panama City Beach. You never know what is happening.
Mike & Joyce Hendrix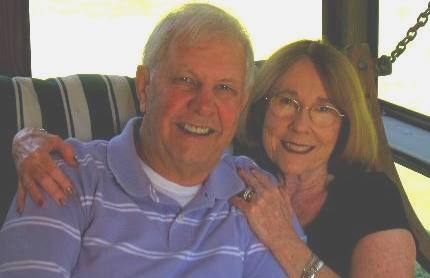 Mike & Joyce Hendrix who we are
We hope you liked this page. If you do you might be interested in some of our other Travel Adventures:
Mike & Joyce Hendrix's home page
Travel Adventures by Year ** Travel Adventures by State ** Plants ** Marine-Boats ** Geology ** Exciting Drives ** Cute Signs ** RV Subjects ** Miscellaneous Subjects
We would love to hear from you......just put "info" in the place of "FAKE" in this address: FAKE@travellogs.us
Until next time remember how good life is.