Beginning and end of US-1 in Key West
Official Florida State marker signs for US-1 in Key West
This is the official beginning point of US-1 that will stretch all the way to the Canadian border in Maine.
Joyce posing with the US-1 mile marker 0 sign in Key West

I know this is just a mile marker sign. It is pretty much like the 120 or so others we passed on our way through the Florida, Keys.
Mile Marker 0 represents the end of the line, the furthest south you can get from the lower 48 continental states, and still be in the USA.
It's the end of Highway One, which starts way up in Maine.
In other words it is way cooler than all those other mile marker signs! Right

Mile marker zero is a tourist attraction only for those who enjoy seeing funky, obscure things and feel like your somewhere special.
For most people it sounds silly to say you stood on the southern most point in the US (same applies to the four corners of the southwestern states attraction) but it provides a nice photo op to send to your friends. So here is Joyce at MM 0 on US-1 in Key West.
End of the Rainbow Beginning and End of US-1 in Key West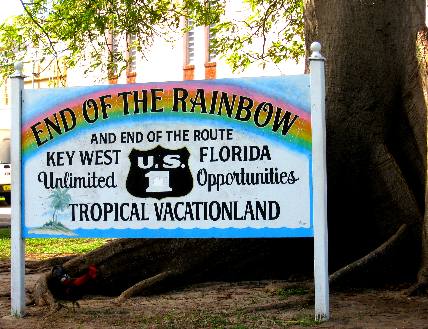 This End of the Rainbow Sign is located at the Monroe County Court House 500 Whitehead Street, in Key West.
The sign is located under the shade of a large kapok tree that you can see behind the sign. Note the ever present feral chicken under the sign.
In case you did not know feral chickens are protected in Key West and can be seen everywhere.
Mike under the END of US-1 sign at the corner of Fleming and Whitehead Streets in Key West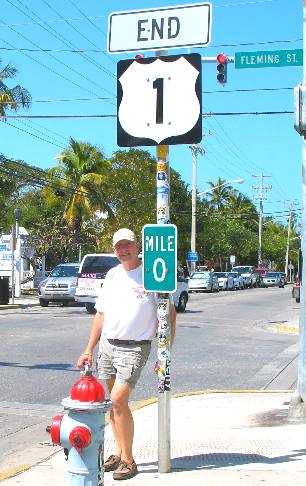 The beginning of US-1 is on the other side of Whitehead Street. As you can see I am standing under the END of US-1.

Mile Marker 0, at the junction of Fleming and Whitehead streets in Key West is a photo op. It is nothing but a small green sign that marks the southern end of U.S. Highway 1, 2,390 miles from its northern terminus in Fort Kent, Maine.
Green Parrot Bar the First & Last Bar on US-1
One block from the beginning and end of US-1 is the Green Parrot Bar one of the most popular bars in Key West.
This is one of those "world famous" landmarks that you must hit when you visit a place for the first time.