Sunsets from Key West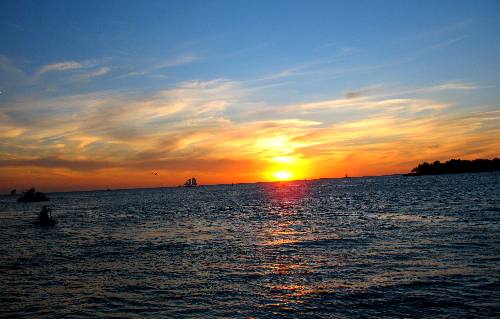 Joyce snapped this Key West sunset from Sunset Pier at Ocean Key Resort where we were sipping on diet coke and listening to the sounds of Robert and Fritz as they entertained with their rendition of 50's and 60's hits.
One of the enjoyments of watching Key West sunsets from Sunset Pier is to watch the huge Key West Express as it heads into the sunset every evening on their return trip to Ft Myers.
The sailing schooner with the red sails is the Jolly II Rover while the catamaran with the single sail with dark stripes is one of the Fury boats.
All of these boats operate out of Key West Bight Marina. When you visit Key West one of the things you should do is stroll along Harbor Walk at Key West Bight Marina and inspect the various boats and yachts.
The truly amazing thing about this sunset picture from Key West is that there are no boats in the picture.
Joyce took this beautiful Key West sunset from Mallory Square one evening in January 2012.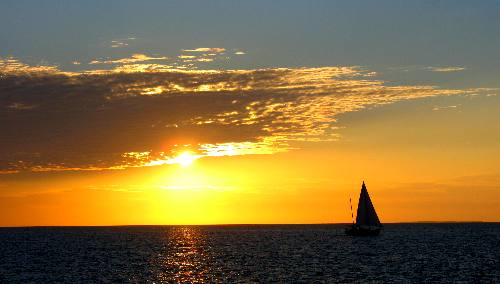 What a spectacular Key West sunset.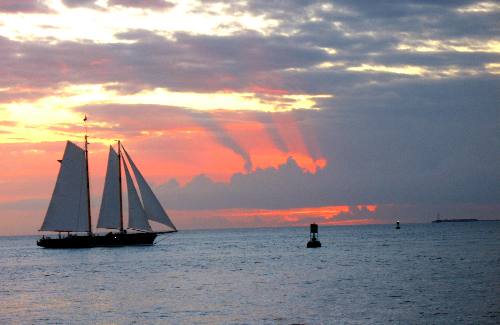 The fast sailing schooner America 2 is enjoying a sunset cruise off Key West in January of 2012
Red sky at night a sailors delight especially off Key West
We were enjoying our view of this Key West Sunset from Sunset Pier at Ocean Key Resort.
However, it may be possible that the individuals on these boats may have been enjoying themselves a bit more. Not much, mind you, but a bit more.
One of the most popular things to do when visiting Key West is to book a sunset cruise on one of the boats offering sunset cruises. I would not recommend one over the other. What you need to do is walk along Harbor Walk at Key West Bight Marina and inspect the boats and talk with the people selling tickets. There are all kinds of options, from sailing schooners to spacious catamarans. Some have live music and serve dinner, others have free drinks. They all offer something. Check them out and pick the one that fits your fancy.
This is an unusual photograph. What is unusual is the absence of boats.
The sun has actually set in this picture but these clouds are high enough in the sky to still be in full sun.
Until next time remember how good life is.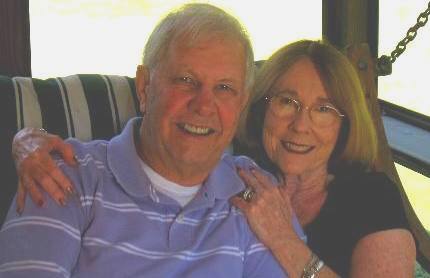 Mike & Joyce Hendrix who we are
We hope you liked this page. If you do you might be interested in some of our other Travel Adventures:
Mike & Joyce Hendrix's home page
Travel Adventures by Year ** Travel Adventures by State ** Plants ** Marine-Boats ** Geology ** Exciting Drives ** Cute Signs ** RV Subjects ** Miscellaneous Subjects
We would love to hear from you......just put "info" in the place of "FAKE" in this address: FAKE@travellogs.us
Until next time remember how good life is.