America 2 Schooner Key West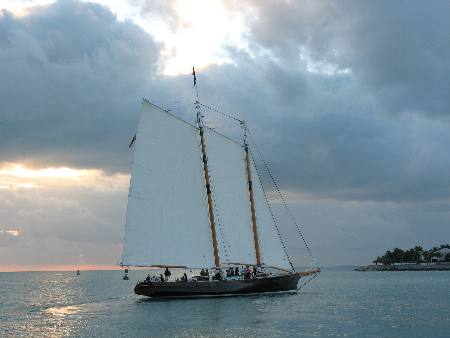 The schooner America 2 was introduced to the winter Key West sunset cruise scene in 2012.
The America 2 is sailing out of Key West Bight Marina along with sister ship Adirandack III.

America 2 is the fastest sailboat operating out of Key West.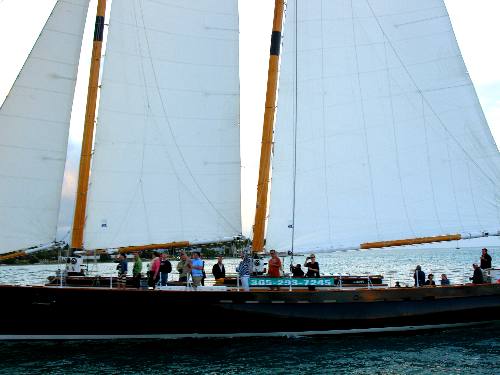 In this picture the America 2 is sailing past Sunset Pier in Key West during an early part of their nightly sunset cruise.
Joyce and I like to visit Sunset Pier in the evening to listen to Robert and Fritz perform their musical magic, watch the parade of boats with their load of passengers heading out for a sunset cruise and of course enjoying the famous Key West Sunset.
The America 2 tied up in Key West Bight Marina as it prepares to board a load of passengers for their nightly sunset cruise.
You can book a sail with America 2 in New York City May-October then in Key West Florida November - April!
To find the America 2 when she is sailing out of Key West in the winter first locate Key West Bight Marina then start walking along Harbor Walk. You will easily spot this sleek sailing ship.
The America 2 is modeled after one of the most famous maritime icons of all time, the winner of the first "America's Cup" of 1851, Schooner America.
The America 2 is constructed with cutting-edge construction materials and her propulsion system is futuristic as well. Rather than a diesel engine it is propelled by a large battery bank providing electric propulsion with smaller diesel assist-generators.
Adirondack III and America 2 sailing schooners silhouetted in Key West sunset
The hull is futuristic cutting-edge stuff also. Instead of heavy fiberglass or steel, it sports an extremely durable 3-layered composite: a sandwich of cedar over balsa core, laminated with an epoxy resin. This light 3-layer composite makes up the upper 70% of the hull while the lower 30% is constructed of marine-grade aluminum.
America 2 sailing schooner silhouetted in a delightful Key West sunset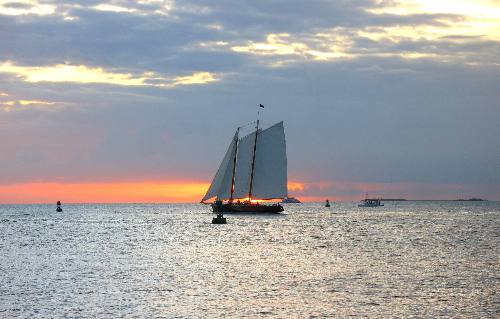 The America 2 is 105-feet long with 3,600 square feet of sail with carbon-fiber masts, booms and gaffs.
America 2 sailing schooner sailing into the sunset off Key West, Florida in 2012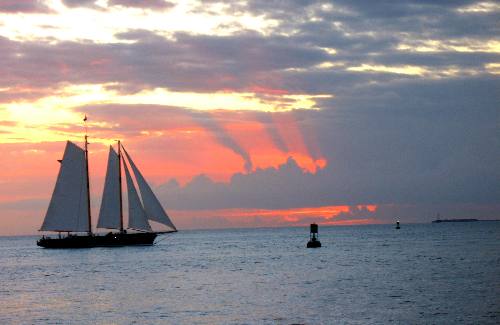 What a beautiful sunset. I can assure you that the passengers on America 2's sunset cruise are thrilled.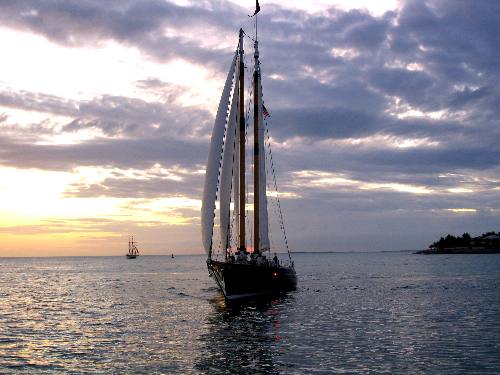 America 2 is sailing directly at Sunset Pier at Ocean Key Resort in Key West. That is Sunset Key you see in the right corner of the picture.
Joyce took this picture from her position on Sunset Pier as we listened to the sounds of Robert and Fritz during the winter of 2012.
Until next time remember how good life is.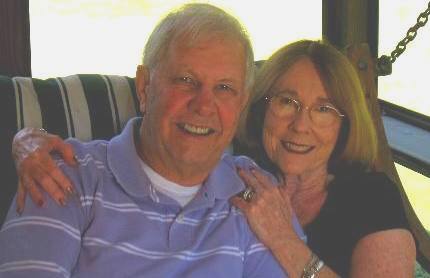 Mike & Joyce Hendrix who we are
We hope you liked this page. If you do you might be interested in some of our other Travel Adventures:
Mike & Joyce Hendrix's home page
Travel Adventures by Year ** Travel Adventures by State ** Plants ** Marine-Boats ** Geology ** Exciting Drives ** Cute Signs ** RV Subjects ** Miscellaneous Subjects
We would love to hear from you......just put "info" in the place of "FAKE" in this address: FAKE@travellogs.us
Until next time remember how good life is.