Wisteria Island Key West
The Fury Sunset Sail Catamaran is passing by Wisteria Island in this picture taken from Sunset Pier in Key West.
Wisteria Island or Christmas Tree Island to the locals, is a privately-owned, uninhabited island about one mile north of Key West.
The Key West Express has passed by Wisteria Island and is approaching Sunset Key.
Both Wisteria Island and Sunset Key were created by repeated dredging operations around Key West. Sediments removed as a result of dredging have to go somewhere and in this case the dredge sediments created two islands.
Wisteria Island's fleet of liveaboard boats and the 40'Beluga racing sailboat
Joyce took this picture of Wisteria Island off Key West from Sunset Pier. That is the racing sail boat Beluga in Key West for a race. Also in this picture you can see the fleet of liveaboard boats moored around Wisteria Island that use dinghys as transportation to and from Key West.
Fury Sunset Sail about to pass by Sunset Pier where we are waiting on the famous Key West Sunset.
That is Wisteria Island in the background. It is known locally as Christmas Tree Island because of the Australian pines growing there.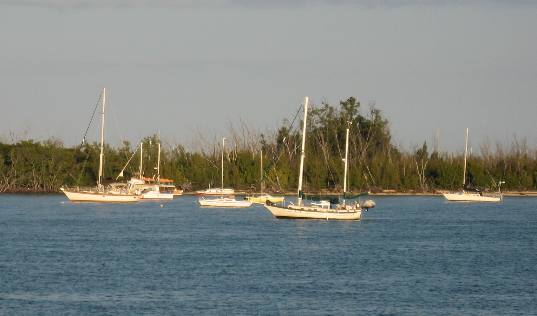 This fleet of liveaboard boats moored near Wisteria Island use dinghies to get into Key West for work and supplies.
They have to tie up at the dinghy dock in Key West Bight Marina.
A few individuals may "camp" on Wisteria Island but for all practical purposes it is an uninhabited island.