Commercial Swordfish Long line boat
Commercial longline boat unloading swordfish and wahoo on Stock Island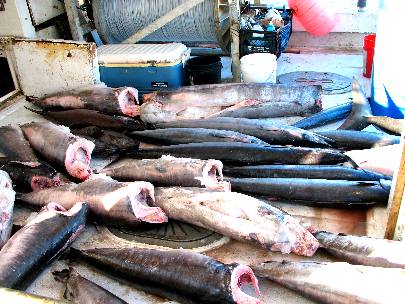 This is a good mess of swordfish and wahoo on the deck of this commercial longline swordfish boat at a dock on Stock Island.
The swordfish had been meticulously iced and were obviously in good shape.
You can see ice stuffed into the body cavities of these fish.
The long skinny fish are wahoo. While wahoo are fine eating this boat was targeting swordfish according to the crew.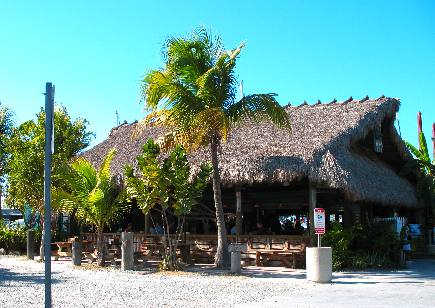 We were dining in Hogfish Grill on Stock Island when I spotted a small commercial longline boat pull into the dock outside. Within minutes of the longline boat docking a refrigerated truck backed up to the boat.
When we finished eating I moseyed out to the docks to see the catch.
Commercial longline boat unloading swordfish and wahoo on Stock Island
These are swordfish and wahoo laying on the deck of this commercial longline boat that docked at Stock Island while we were eating lunch at Hogfish Grill. When we finished eating I stopped by to watch them unload the catch.
This crewman was handling swordfish that were coming from another crewman that was in a large fish box below deck.
They told me they were targeting swordfish and the wahoo were just bonus fish.
Of course whaoo are fine eating but it is swordfish that bring in the big bucks.
Swordfish on deck waiting to be weighed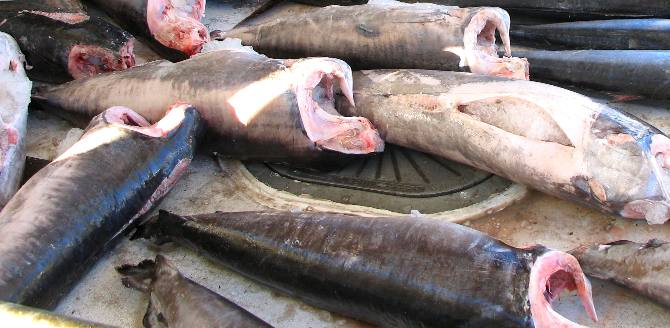 These swordfish were being removed from a large ice compartment in the hole of this boat. I could not see the individual beneath the deck that was handing out these nice swordfish.
Notice that the body cavities of these fish are packed with ice.
Swordfish on scale waiting to be weighed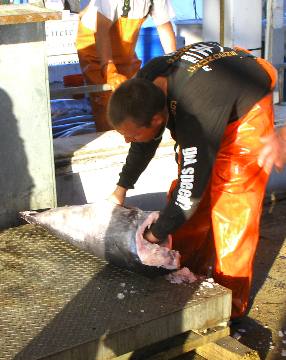 Each swordfish was weighed individually. This fisherman's job was to get all the ice out of the body cavity. To keep the swordfish well preserved on the boat the fish was not only carefully placed in ice but the body cavity stuffed with ice. Of course the buyers are purchasing fish not ice thus the ice has to be removed before weighing.
I do not know why they were weighing each fish individually instead of 3 to 4 at a time but that is the way it was done. Possibly different size fish bring different prices. Who knows!
Swordfish iced and heading to market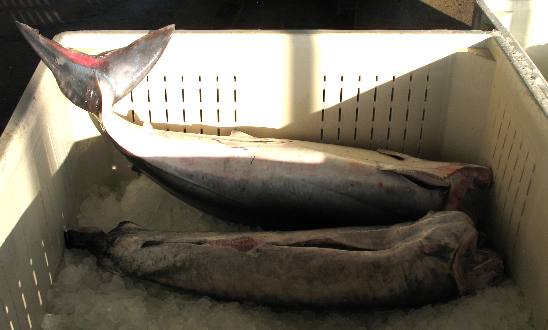 Swordfish are being gently laid in these boxes with their bellies up so that ice can be stuffed into the cavity. As soon as there is a complete row of swordfish in this box they will shovel in ice so that the fish are covered.
Note that the container has slots so that water can drain off. The best way to keep fish fresh is on ice not in ice cold water.
These fish are being handled with care. Everyone I see in this operation is doing all they can to keep these fish cold and fresh.
Within an hour of docking these fish will be in a refrigerated truck hauling them to markets.
Until next time remember how good life is.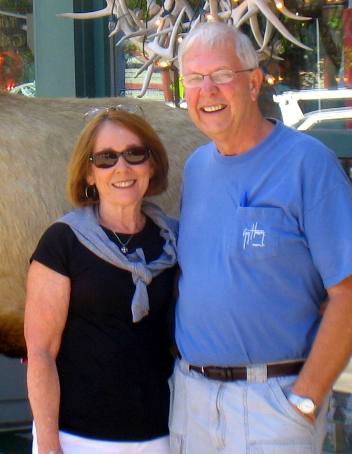 Mike & Joyce Hendrix who we are
We hope you liked this page. If you do you might be interested in some of our other Travel Adventures:
Mike & Joyce Hendrix's home page
Travel Adventures by Year ** Travel Adventures by State ** Plants ** Marine-Boats ** Geology ** Exciting Drives ** Cute Signs ** RV Subjects ** Miscellaneous Subjects
We would love to hear from you......just put "info" in the place of "FAKE" in this address: FAKE@travellogs.us
Until next time remember how good life is.