We first spotted this hogback a few miles west of Loveland, Colorado on US-34. It is not hard to see from US-34 as you head either east or west. But keep in mind it is just a few miles west of Loveland. Just west of the Devil's Backbone will be an area of red hills. Keep in mind that the Red Hills are west of this hogback. Even if you are blind you will not miss the area of Red Hills. VBG
This picture of the Devil's Backbone was taken at a Devil's Backbone Park located just a few hundred yards from US-34.

Devil's Backbone exposed here west of Loveland, Colorado is the remnant of an ancient fold in the earth's surface called an anticline. This stubble is just one side of that anticline. The remainder of the ancient anticline has eroded away.
I suspect that the Devil's Backbone is part of that "Dakota Hogback" that rises east of Red Rocks Park near Morrison, Colorado about 50-miles south of here.
While this hogback is protruding upward at an almost 90-degree angle now when it was formed some 200-million years ago during the Jurassic Period they were deposited in horizontal sheets. The hogback was created when these horizontal sheets of sedimentary rock were bent up by the uplift of the Rocky Mountains. The hardest of the sedimentary rock consisted of this "hogback" which has resisted erosion much better than the softer layers that have weathered away.
In the Jurassic Period, when the sediments were deposited that now form this hogback, this part of Colorado was a floodplain, marsh, and dunes in a humid lowland climate supporting lush vegetation and lots of dinosaurs.
We took a side road from US-34 heading north on the west side of the north/south trending Devil's Backbone. From there we were able to get views of the Devil's Backbone with the sun setting to our back which was ideal for pictures.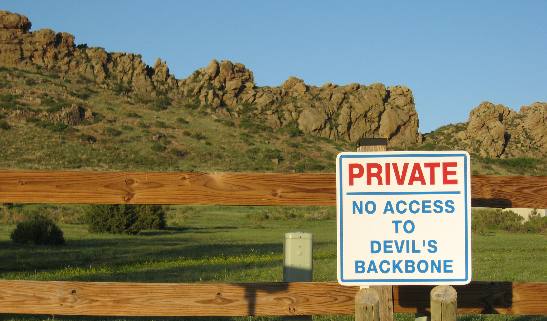 We never did find an access to Devil's Backbone from the road we were traveling on the west side of Devil's Backbone but there is a hiking trail that goes the length of Devil's Backbone that is accessible from several parks on the east side of Devil's Backbone.
On the west side of Devil's Backbone access is across private property as this sign says.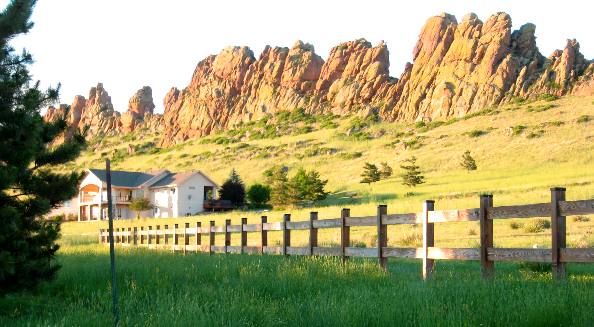 Beautiful private homes line the western flank of Devil's Backbone.
The setting sun is working to our advantage while taking these pictures.
Keep in mind that this rock was formed in horizontal sheets 200-million years ago when dinosaurs roamed the earth. That horizontal layer of sedimentary rock is now standing on its end. When the Rocky Mountains were uplifted the horizontal sedimentary rocks in this area were thrust upward creating an anticline or arch. At some point the anticline "arch" broke. Over time most of the sedimentary material in the arch eroded away leaving this hard sedimentary layer. Note how the softer sedimentary rocks on both sides of this hogback have eroded away.
This is a close-up of the sedimentary rocks that make up the Devil's Backbone.
Until next time remember how good life is.
Mike & Joyce Hendrix who we are
We hope you liked this page. If you do you might be interested in some of our other Travel Adventures:
Mike & Joyce Hendrix's home page
Travel Adventures by Year ** Travel Adventures by State ** Plants ** Marine-Boats ** Geology ** Exciting Drives ** Cute Signs ** RV Subjects ** Miscellaneous Subjects
We would love to hear from you......just put "info" in the place of "FAKE" in this address: FAKE@travellogs.us
Until next time remember how good life is.