Red Rocks Park Morrison, Colorado
Red Rocks Park is located a few miles southwest of Denver near the small town of Morrison. Red Rocks Park is a geologic wonder.
The Red Rock formation at Red Rocks Park are composed of layered sandstone, shale, and conglomerate of the 300-million-year-old Fountain Formation. The Fountain Formation was originally formed on the flanks of the Ancestral Rockies. The layers have been tilted up along the flank of the Rockies around 65 to 45 million years ago when the present Rocky Mountains were formed.
So, these red rocks are sedimentary rocks that would normally be laying flat but when the Rocky Mountains were pushed skyward these flat layers of sedimentary rock were thrust up at around a 45-degree angle. For those of you interested these red rocks were formed during the Pennsylvanian and Permian era.
This turnout and tunnel are located on the road leading to the top parking area for Red Rocks Amphitheater.
Note that this particular part of the red sandstone is NOT tilted at a 45-degree angle.
Different layers of sedimentary rock can clearly be seen in this monolith at red rocks park.
For reference this particular rock is located at the top of the Red Rocks Amphitheater and the view is from the parking lot looking south.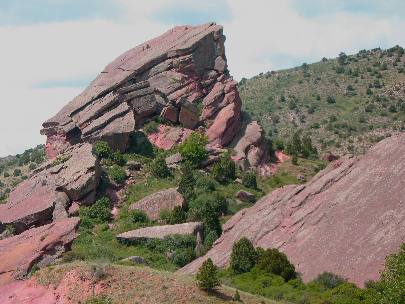 These monoliths are clearly angled at around 45-degrees.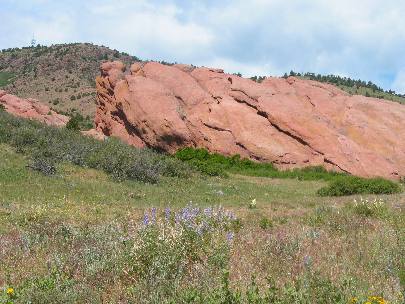 It is fairly easy to see that this red sandstone has been tilted. Keep in mind that when it was formed this sedimentary rock was flat. It is sandstone so it was formed from sand beds 65-million years ago. Over time the grains of sand became cemented together with a bonding agent. The red color comes from solution and chemical changes in the iron mineral hematite.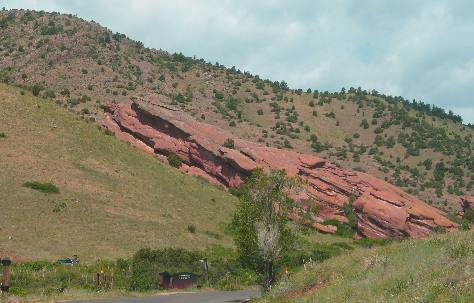 Sandstone is harder than the siltstone layers. Thus the siltstone portions have eroded away leaving the harder and more erosion resistant sandstone.
Also note that this red rock is tilted at around a 45-degree angle.
Keep in mind that the pressures that "uplifted" the Rocky Mountains also uplifted this sandstone. So, the Rocky Mountains are to your left in this picture.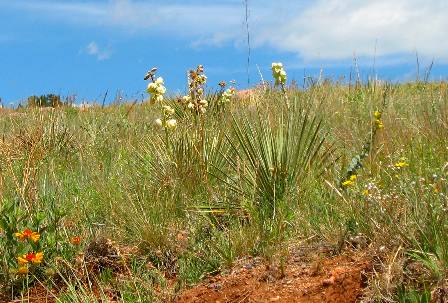 Yucca seems to grow across the US in arid areas. We even have yucca along the sand dunes in Florida. You might not think of Florida as a desert but sand ridges and dunes in Florida create a desert like environment. Even though it rains frequently the water runs through that sand like it would a pile of marbles. Within an hour or so after a rain the sand is once again dry as a bone.
Until next time remember how good life is.
Mike & Joyce Hendrix who we are
We hope you liked this page. If you do you might be interested in some of our other Travel Adventures:
Mike & Joyce Hendrix's home page
Travel Adventures by Year ** Travel Adventures by State ** Plants ** Marine-Boats ** Geology ** Exciting Drives ** Cute Signs ** RV Subjects ** Miscellaneous Subjects
We would love to hear from you......just put "info" in the place of "FAKE" in this address: FAKE@travellogs.us
Until next time remember how good life is.