This picture of the Devil's Backbone was taken from the west side of the north/south trending geologic feature located a few miles west of Loveland, Colorado.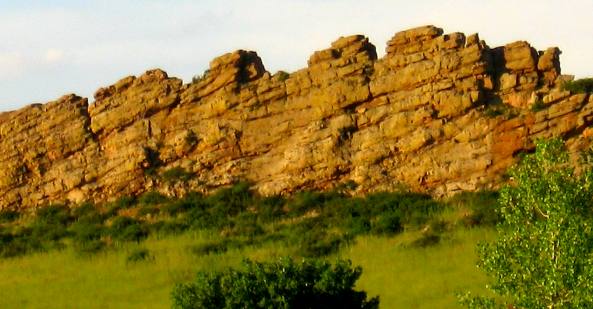 Devil's Backbone is a remnant of an ancient anticline (arch) of sedimentary rocks that were uplifted during the formation of the Rocky Mountains.
These sedimentary rocks were deposited during the Jurassic period some 200-million years ago when this area was a floodplain, marsh, and dunes in a humid lowland climate supporting lush vegetation and lots of dinosaurs.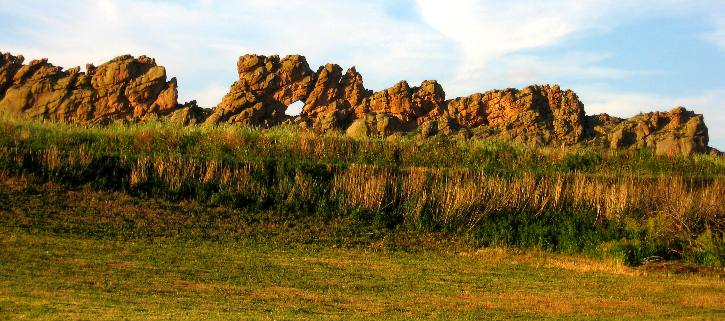 Devil's backbone has been created by erosion. Well the sedimentary rocks that form Devil's Backbone were deposited in horizontal layers. Those horizontal layers became rock. Then those horizontal layers of sedimentary rocks were uplifted during the uplift that created the Rocky Mountains.
During the uplift the once horizontal layers of sedimentary rocks were thrust up in arches or anticlines. When the uplift was sufficient the anticlines of sedimentary rock cracked. What we see here is an almost 90-degree remnant of one side of that arch. The rest has eroded away. The softer sedimentary rock has eroded away leaving this much harder "hogback" known as Devil's Backbone. It is certainly an interesting piece of geology.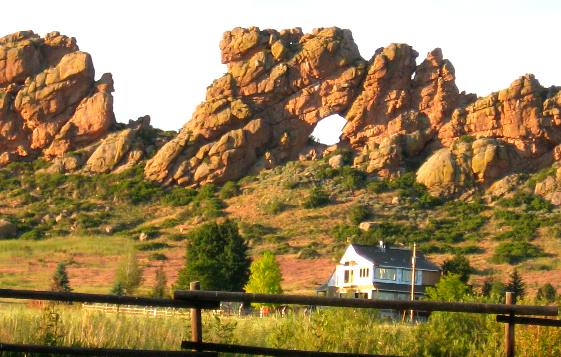 Erosion works in mysterious ways. Here we see a hole. To the left of that hole is an entire section gone. I wonder if there was a hole in where that section is missing.
We did not locate an access point to Devil's Backbone from the western side. However, there is a hiking trail along miles of Devil's Backbone that can be accessed by a number of County Parks. On the west side it seems that private owners control all the access to this geologic wonder.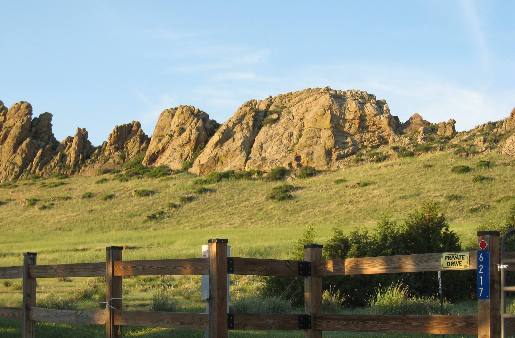 Wouldn't this be a wonderful view from your home?
Erosion has stripped away much of the softer sedimentary rocks on both sides of this particular layer of Jurassic era rock.
Devil's Backbone trends in a north/south direction. We were taking these pictures from the west side with the evening sun to our backs.
Keep in mind that what you see here is sedimentary rock that was formed 200-million years ago in a horizontal layer.
What you see is where that horizontal layer has been turned vertical. Other sedimentary on both sides of this layer have long ago eroded away leaving only this "hogback" of much harder rock.
Until next time remember how good life is.
Mike & Joyce Hendrix who we are
We hope you liked this page. If you do you might be interested in some of our other Travel Adventures:
Mike & Joyce Hendrix's home page
Travel Adventures by Year ** Travel Adventures by State ** Plants ** Marine-Boats ** Geology ** Exciting Drives ** Cute Signs ** RV Subjects ** Miscellaneous Subjects
We would love to hear from you......just put "info" in the place of "FAKE" in this address: FAKE@travellogs.us
Until next time remember how good life is.