January, 2010
Key West is a unique place where you can see feral chickens & roosters wandering Duval Street, and where famous watering holes like Sloppy Joe's and The Bull features live music from can to can't.
We are dry camping along with some 700 other RV'ers at the Navy Base here in Key West. Actually, there are two bases within the NAS Key West complex that make up the 700-plus campsites. The two locations are at Sigsby and Trumbo Point. Sigsby is located 3 to 4 miles from "Duval-Street" in Key West while Trumbo Point Campground is located 6 to 8 blocks from "Duval-Street". We are staying at Trumbo Point, an easy walk to Duval-Street. But remember this is Dry Camping. There is central dump station and fresh water. Generators can run from 6am to 10PM. Life is good.
Commercial Campgrounds in Key West start at $100 a night and are located about 5-miles from Duval Street. Parking in Key West starts at $13 a day and goes up. The $13 parking site is about 6 blocks from Duval Street. The closer you get to Duval Street the more expensive the parking site.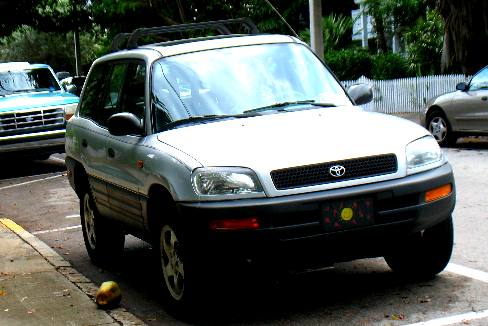 We just came from the grocery store where they were selling fresh coconut now here we see one on the side of the street by this parked Toyota. They aren't hard to find down here since they just fall off the many coconut palm trees that decorate yards and businesses. I do have to wonder how they are able to sell coconuts in the grocery stores.
This unique paint job does not sport a sign as is so common in Key West, Florida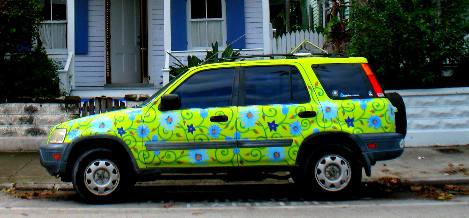 Now that is a cute paint job. Does anyone see one of these in their home town? Residents of Key West march to a different drummer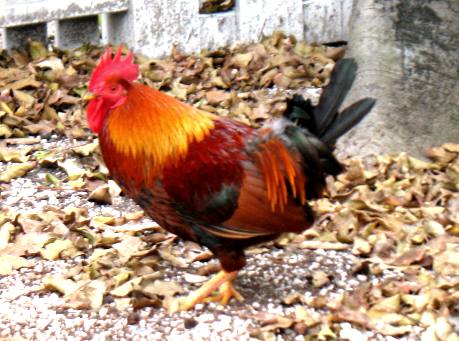 Feral Chickens like this roam the streets and yards of Key West. No matter how long we are in Key West we always chuckle when we see one of these feral chickens.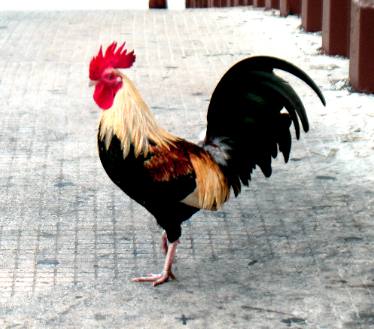 This feral rooster is the "Cock" of this walk. Kitty cats beware this bad boy doesn't take any of your foolishness. We saw this rooster in the courtyard of a popular restaurant.
A traditional sign that is not unique to Key West, Florida
This place didn't look "rentable" to us but the sign tells a different story. Key West requires a LOT of minimum wage workers. Many of these workers choose to be "homeless" because it just costs too much to rent a place. In some cases 8 to 10 of these workers share one of these $1,700 dollar places but the workers tell me there is always a problem collecting rent from each of those individuals ---- one of them has to have a name on the lease and that one is responsible for paying the rent no matter. We see folks sleeping all over the place. In fact any flat surface appears to be fair game for a nap or a nights sleep. Some places actually provide a "flat" for their workers to stay. It is generally nothing but a roof with some running water and possibly an electric outlet. Many live on boats anchored all over the place. These boats do not have any utilities. They have a dingy that brings them to town. They shower in a public bath house. Those boats generally do not have motors and such. They just float and have a roof and a flat place to sleep. Life down here is certainly different.
The dirty joke man has plied this shtick, in front of Sloppy Joe's, for years. It is amazing the number of folks who walk by and give him a dollar to tell them a dirty joke. The funny thing about it is he can't get a beer down here for a dollar. VBG It is still funny.
Folks that give him a dollar all walk away laughing so they must be satisfied customers.
Until next time remember how good life is.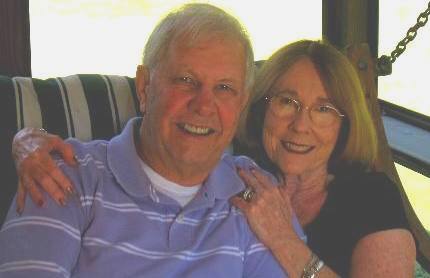 Mike & Joyce Hendrix who we are
We hope you liked this page. If you do you might be interested in some of our other Travel Adventures:
Mike & Joyce Hendrix's home page
Travel Adventures by Year ** Travel Adventures by State ** Plants ** Marine-Boats ** Geology ** Exciting Drives ** Cute Signs ** RV Subjects ** Miscellaneous Subjects
We would love to hear from you......just put "info" in the place of "FAKE" in this address: FAKE@travellogs.us
Until next time remember how good life is.