January 26, 2010
This travel adventure is going to showcase flora and fauna of the Everglades including camping at Monument Lake Campground in Everglades National Park.
We spent the night at Monument Lake National Park Campground in the Everglades. It is dry camping --- no water, no sewage and no electricity. All you have is a nice grassy spot near a lake with a giant alligator in it. When you stay there they give you a receipt where you can dump and get water at another NP campground (midway) which is about 8-miles east of Monument Lake Campground.
Date palm loaded with fruit
When you are in South Florida you can not help but be amazed at the variety of palm trees. This is a variety of date palm.
Queen palm bloom
This is the sprouting bloom of a queen palm. They had a bad freeze here last week and the dark brown tassels you see may be a result of that freeze.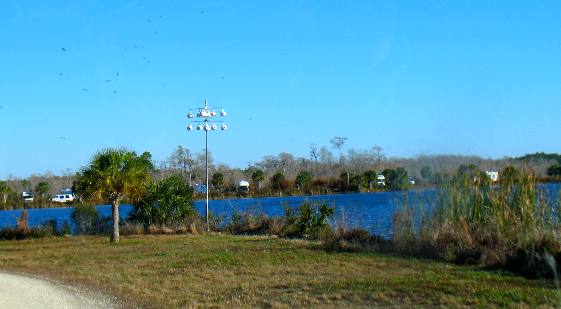 This is a picture of the campground at Monument Lake NP Campground (dry camping only). The reason for this picture isn't the lake it is the purple martins flying around. Look in the sky to the left of the purple martin houses. Birders that had been staying at Monument Lake Campground said that the purple martins arrived 3-days ago. WOW! I would think that January 26 was early, but what do I know. I wasn't sure those birders knew what they were talking about so I checked it out myself.
Indeed, they were purple martins. If you are a birder Monument Lake is an interesting place during the winter since huge flocks of green tree swallows drink water from Monument Lake. When I say huge I am talking about thousands upon thousands of green tree swallows. We watch this seemingly endless flock of green tree swallows arrive from the west then fly low over the lake getting sips of water, on the fly, then they continue flying to the east. It is a spectacle that will last for an hour or so. Totally amazing.
We left Monument Lake campground and headed for Key West. From US 41 we turned south on SR 997/Krome Avenue and headed to Homestead and Florida City 25-miles away. We absolutely love that 25-mile drive down SR 997/Krome Avenue because of the visual stimulation. We see things on this drive that we do not see anywhere else. Let me share with you what I mean.
As we near Homestead, Florida on Krome Avenue (SR 997 SW 177) choose one of them they are all the same road we pass one plant nursery after the other with a few banana plantations thrown in. This is one of those banana plantations.
These are tiny tomato plants. They were replanted after the hard freeze Florida experienced not long ago.
This banana grove is showing the effects of the cold snap that devastated crops in the entire state.
Dead tomato plants along SR-997 in Homestead, Florida killed by last weeks bitter cold
These tomato plants have not been plowed under yet. Red tomatoes weight down all these plants. It is disgusting to see all these beautiful tomatoes that will be plowed under.
We are about 3-hours from Key West.
It is only 100-miles but the speed limit is 45-mph most of the way and it is congested most of the way as well. It is a "slow" drive through the Florida Keys but stunningly beautiful.
Until next time remember how good life is.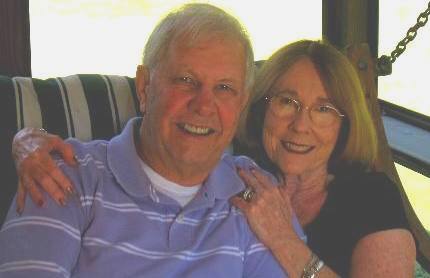 Mike & Joyce Hendrix who we are
We hope you liked this page. If you do you might be interested in some of our other Travel Adventures:
Mike & Joyce Hendrix's home page
Travel Adventures by Year ** Travel Adventures by State ** Plants ** Marine-Boats ** Geology ** Exciting Drives ** Cute Signs ** RV Subjects ** Miscellaneous Subjects
We would love to hear from you......just put "info" in the place of "FAKE" in this address: FAKE@travellogs.us
Until next time remember how good life is.