These alligator pictures were taken on one of the scenic trails (raised boardwalks) just inside Everglades National Park
This gator was eyeing a small dog someone was carrying in a "doggie-back pack". The smile on this gator's face says it all.
This bad boy looks like he has just swallowed a large pig.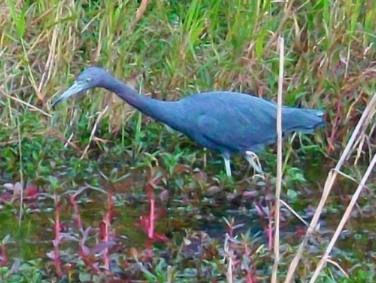 A little blue heron fishing in the midday sun.
Anhingas sunning on island in Everglades National Park, Florida
Anhingas digesting seafood. If you do not get that pun anhingas eat fish.
Joyce took this picture from the boardwalk near the visitor center at the entrance to Everglades National Park near Homestead.