Collier Seminole State Park in southwest Florida
January 15,16 & 17, 2009
This travellog covers three days that we stayed with friends at Collier Seminole State Park on the western side of Everglades National Park near Marco Island which puts it about 20-miles south of Naples.
Collier Seminole State Park Campground features paved interior roads with 30-amps and water at each site with a central dump station. Collier Seminole State Park is a wonderful place for RV'ers to stay when exploring the eastern side of the Everglades in extreme southwest Florida. The campground is well liked by RV'ers so if you plan to visit in the winter you will need to call ahead and make reservations. It is a very popular place.
Downed tree Collier Seminole State Park south Florida
South Florida has a hard limestone base that a very thin layer of top soil on it. Tree roots tend to be shallow as in not penetrating the limestone. When hurricanes topple big trees shallow roots break off and look like this. A biologist was in the park studying pythons. Yes pythons are thriving in South Florida. This biologist (I'll refer to him as the snake man) was searching for the pythons. He told us that they liked to nest in the cavity created by over turned trees like this. As you might suspect we carefully eyed each one as we passed. How many pythons do you see in this picture? VBG
Mahogany nuts in Collier Seminole State Park southwest Florida
Almost everyone is familiar with dark colored mahogany wood but most have never seen a mahogany tree. This picture shows the leaves and fruit of a tropical mahogany tree growing in Collier Seminole State Park.
Mother of Thousands: Kalanchoe diagremontiana
This "mother of thousands" is an exotic agave plant with beautiful pink, bell-shaped flowers. We have seen these plants over much of South Florida but the rangers in State Parks work to keep these exotics out. Once I got back to Pensacola I was able to do some research online and found that they are: Kalanchoe diagremontiana --- Mother of Thousands, Mexican Hat Plant & Jaws of Life.
Mother of Thousands on Marco Island in southwest Florida
This is another picture taken from above of that beautiful exotic bloom. I am going to try and remember Mother of Thousands as the name for this plant. I got several small plants while we were in south Florida and am going to see how they do back in Pensacola.
Fire brush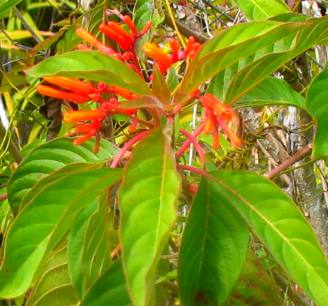 \
I can't remember the name of this at the moment but it will come to me. Help me if you can. My good friend Cheryl Porter wrote to inform me that this is a fire bush. Thanks Cheryl, I left our tropical plants books at home this trip. I do not know what was on my mind. VBG
View from Snook Inn Restaurant Marco Island in Southwest Florida
One of the things you will want to do when staying in Collier Seminole State Park is to drive over to Marco Island where the "Rich & Famous" live and vacation. Talk about a beautiful place Marco Island is it.
Joyce took this picture of a derelict sailboat while we were dining at Snook Inn Restaurant and Chickee Bar on Marco Island.
Snook Inn & Restaurant on Marco Island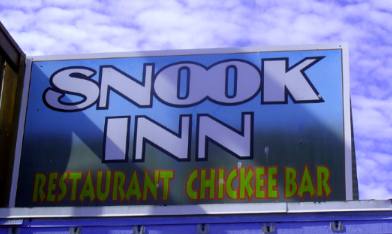 We enjoyed lunch complete with "Jimmy Buffet" music at Snook Inn on Marco Island.
Friends recommended Snook Inn and we will second that recommendation. We certainly enjoyed the music and outdoor dining.