January 17, 2009
We are dry camping near Loop Trail in Everglades National Park at Monument Lake National Park Campground on US 41 midway between Naples and Miami.
We were dry camping in Monument Lake National Park Campground $8 with my NP "geezer-pass". The campground features a gravel road and grass sites with NO utilities, not even water or a central dump. It is nothing more than a camping spot in paradise. During the winter in South Florida you do not need a full hookup site and many folks spend the winter here or in a variety of other dry camping campgrounds deep in Everglades National Park.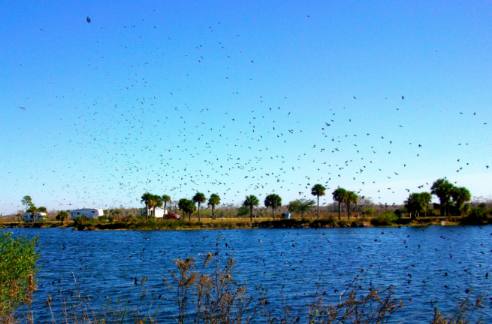 Each morning at Monument Lake thousands upon thousands of green tree swallows arrive for a drink of water. They fly in from the west like a never ending swarm of mosquitos and drift off to the east after quenching their thirst. To drink they just fly low over the lake and take a sip on the fly. They never stop flying
The sheer number of these swallows is truly amazing. This procession goes on for the better part of an hour.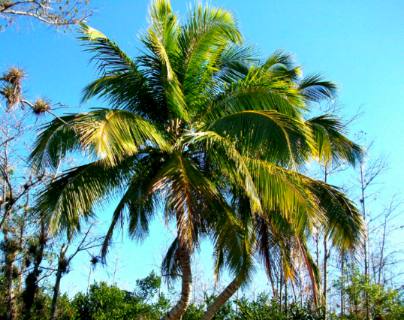 Beautiful palm trees.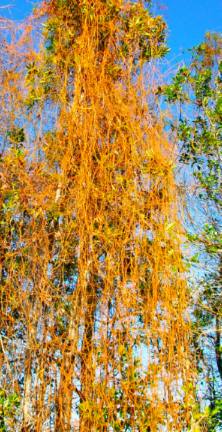 We see this gold stringy vine all over South Florida but I do not know what it is.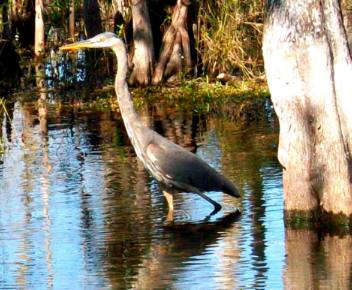 This great blue heron is an efficient stalker.

Joyce took some time to get these sunset pictures over a cypress dome in the Everglades from our campsite at Monument Lake Campground in Everglades National Park.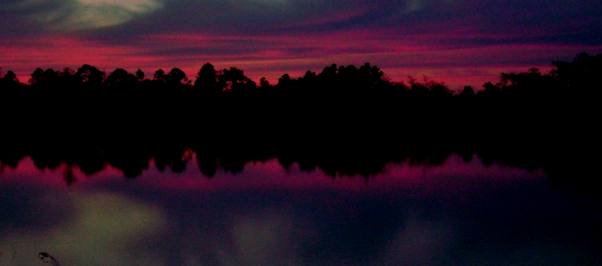 After the sun went down the sky turned purple and reflected on Monument Lake.
Monument Lake campground, where we were staying, was situated on both sides of a limestone (gravel) road that circled the lake. Tent camping sites were further back from the road to keep them as far from resident alligators as possible. Several camp sites along the western edge were closed because that is where the resident alligators like to sun. On cool mornings the rising sun warms the western side and alligators vie for the best "basking" sites. Camp host do not want folks stepping out of their RV's in the morning and finding a big alligator occupying their front porch. VBG
Until next time remember how good life is.
We hope you liked this page. If you do you might be interested in some of our other Travel Adventures:
We would love to hear from you......just put "info" in the place of "FAKE" in this address: FAKE@travellogs.us
Until next time remember how good life is.