Robert is Here Fruit Stand
January 18, 2009
This travellog covers some time we spent in Homestead/Florida City on our way to Key West.
We left Monument Lake National Park Campground this morning and headed to Florida City where we were meeting RV'ing friends for lunch. They are from New Jersey and are spending the winter in a park in Florida City.
We dry camped at Home Depot in Florida City before continuing south to Key West early the next morning.
Farmers' Market Restaurant in Homestead, Florida
We dropped the motorhome at Home Depot in Florida City and that is where our friends picked us up and took us to the Farmers' Market for lunch.
A good time was had by all.
After lunch with our friends we went sight seeing west of Florida City. We always love driving through the fields of fresh vegetables and fruits in this area.But we have a "destination" in mind and that is Robert is Here Fruit Stand located at 19200 Southwest 344th Street in Homestead.
Robert is Here Fruit Stand on SR-9336 one mile west of Florida City, Florida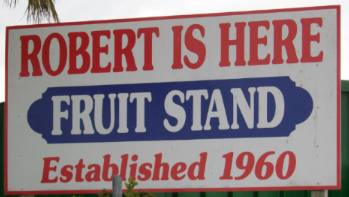 Those familiar with Robert is Here Fruit Stand know that it is a "must stop" and this was no exception. We stopped and got the obligatory milk shakes. Joyce got a key lime milkshake and I got a pina colata. They make shakes with almost every tropical fruit imaginable and they are all good. In addition to the shakes we got some fresh fruit and vegetables. Fresh picked RIPE tomatoes and some tiny bananas. Oh those tiny bananas are good.
Bottom line, when you are in the Homestead area make sure you stop by Robert is Here Fruit Stand.
Robert Is Here Fruit Stand was established by Robert in the late fall of 1959. At that time, six-year-old Robert was set on this very corner with some of his father's cucumber crop and told to "Sell 'em!" Robert sat all day that Saturday and no one even stopped. That evening, Robert's father decided that "there can't be that many people who don't like cucumbers; they must not see this little boy standing here on the corner."
The next day, Robert's father placed a sign on each side of the table proclaiming in big red letters "Robert Is Here." By noon Robert had sold all of the cucumbers and walked home. The following weekend, a neighboring farmer added tomatoes to Robert's display and a fruit stand was born.
That introduction is just a teaser "Click here for the rest of the story".
We stop by Robert's is Here every chance we can get. You should put it on your "bucket list" as well.
Bromeliads grow on tree trunks and branches all over south Florida.
Tourist trees like this one can be seen throughout south Florida
The Gumbo-limbo is locally known as the Tourist Tree because the tree's bark is red and peeling, like the skin of sunburnt tourists.
Gumbo Limbo is the traditional wood used for the manufacture of carousel horses in the United States. How about that little piece of information?
Alligators like this one are a common sight in south Florida especially in roadside ditches.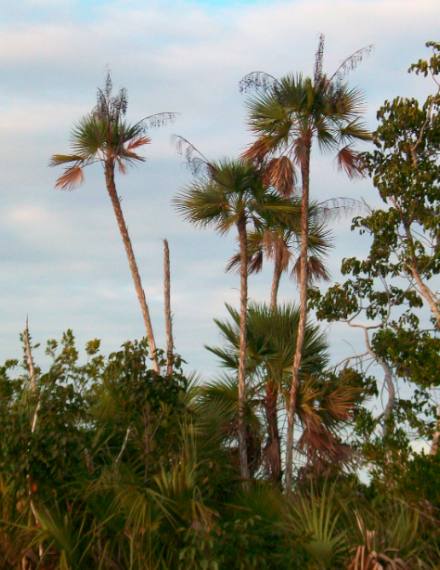 Sable Palms are the Florida State Tree.