Alligators of Shark Valley in Everglades National Park
While we are taking a day trip to Shark Valley in Everglades National Park we are camping at Monument Lake Campground also in Everglades National Park.
We spent the night at Monument Lake National Park Campground in the Everglades. It is dry camping --- no water, no sewage and no electricity. All you have is a nice grassy spot near a lake with a giant alligator in it. When you stay there they give you a receipt where you can dump and get water at another NP campground (midway) which is about 8-miles east of Monument Lake Campground. Monument Lake Campground is located on US 41 midway between Miami & Naples.
This travel adventure covers an afternoon visit to Shark Valley visitor center in Everglades National Park
January 26, 2010.
This is a large alligator sunning himself at Shark Valley in the Everglades.
This is another good size gator that is sunning himself along the walkway at the Shark Valley visitor center.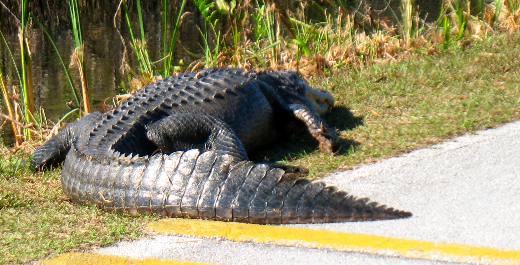 This big bubba wanted to sun on the walking path. As you might expect seeing this on the walking path gives one reason to pause. Amen! Well I paused and took this picture.
After taking the above picture I went around and got in front of the gator so that I could get a picture of Joyce and the gator ----- albeit, it is a LONG DISTANCE shot of Joyce and the gator. VBG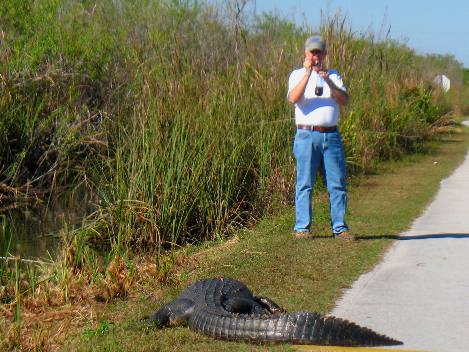 Not to be outdone Joyce was taking my picture to document my last moments. VBG

Much to her surprise I walked away from the experience. Now she is going to have to head to Key West with me. VBG

It is always fun to visit the Everglades. There is a lot of wildlife to see and Shark Valley is one of the best places, in my opinion. For those of you that do not understand the terms, Everglades and Shark Valley let me explain. The Everglades covers pretty much the entire state of mainland Florida south of Lake Okeechobee. Then there is Everglades National Park, and several State Preserves and Indian Reservations that make up the majority of the mainland south of Lake Okeechobee. To experience the Everglades you need to visit a variety of areas. The Seminole Indian Reservation is one place, then there is Shark Valley a day use area in Everglades National Park accessed from US-41 (the Tamiami Trail) about 35-miles west of Miami. Then there is the Everglades City Visitors Center Located on the extreme western side of the Everglades near Naples. There is another Everglades Visitor Center located on US-41 (Tamiami Trail) about midway between Naples & Miami. Then on the way to Flamingo there is another Visitor Center at the entrance to Everglades National Park. This Visitor Center is located in the southeast corner of the Everglades and is accessed from Homestead. There are a few other accesses to the Everglades but these are the main ones in my opinion.

Until next time remember how good life is.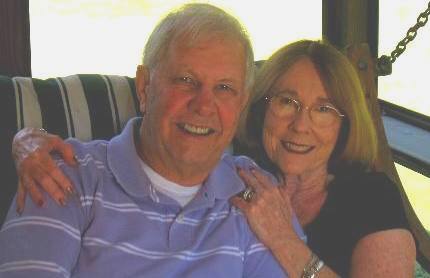 Mike & Joyce Hendrix who we are
We hope you liked this page. If you do you might be interested in some of our other Travel Adventures:
Mike & Joyce Hendrix's home page
Travel Adventures by Year ** Travel Adventures by State ** Plants ** Marine-Boats ** Geology ** Exciting Drives ** Cute Signs ** RV Subjects ** Miscellaneous Subjects
We would love to hear from you......just put "info" in the place of "FAKE" in this address: FAKE@travellogs.us
Until next time remember how good life is.