Along the North Platte River in Wyoming
July 8 2006:
Let me situate you concerning where we are and what we are doing. Earlier on this trip we had visited Scott's Bluff, Nebraska a prominent place on the Overland Trail. From Scott's Bluff we followed the North Platt River west on US-26 into eastern Wyoming. We made stops at several historic places as we made our way to Casper, Wyoming where we stopped for the night. Our first stop was at Fort Laramie. After leaving here we continued west on US-26 until we got to Register Cliff State Historic Site near Guernsey, Wyoming. From Register Cliff we continued a few miles west on US-26 to the Oregon Trail Ruts State Historic Site which is also in Guernesy. From The Oregon Trail Ruts State Historic Site we continued our journey to Casper, Wyoming before stopping for the night.
Today Joyce and I are exploring around Casper, Wyoming.
Joyce and I spent the night in Casper East RV-Park Casper, Wyoming. Casper East RV-Park is a mom and pop operation without a mom & pop! N42° 51.357' W106° 17.338' $24 for water & 30-amps central sewage. They feature gravel interior roads & pads: This is NOT a campground we would relish staying in again. We will look for a PPA Campground the next time we are in Casper or we will stay at the Fort Casper RV-Park.
North Platte River a bit east of Guernsey, Wyoming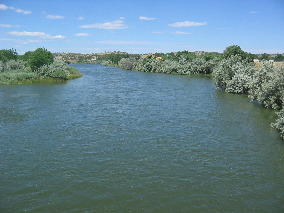 We have been following the North Platte River on US-26 since leaving Scott's Bluff, Nebraska this morning. The North Platte River is the life blook of communities along US-26. Irrigation provided by the North Platte River fuels the agricultural economy of the region.
As we approach Gurensey, Wyoming we stopped at Register Cliff which was a noted stop on the Overland Trails that passed this way in the mid-1800's. Register Cliff invited emigrants because of its broad river bottoms and lush pasture. Travelers eagerly sought this rest stop where they could recoup during lay-overs. Register Cliff offered the opportunity to "register" with name and date during their stop-over. One only has to spend a short time reading the names and dates etched in the semi-soft sandstone cliff to find pertinent dates from the 1820's through the 1860's left behind by travelers along this famed transcontinental route of the 1800's.
Pony Express marker along the North Platte River at Register Cliff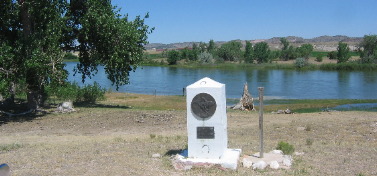 Emigrants were not the only ones to "register". Early inscriptions were by Mountain Men inured to wilderness life - many were descendants of two centuries of French fur trade. One such inscription reads "1829 This July 14" He may have been noting Bastille Day! Who knows?

It is estimated that 500,000 people ventured westward over the trails to settle and develop the vast resources of the American West. Soon, however these trails began to wain in importance. With the completion of the transcontinental railroad in 1869 the 2,000 mile journey that once took up to 6-months by wagon or on foot could be accomplished by rail in a mere two weeks.
Oregon Trail Ruts State Historical Site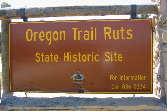 While in Guernsey we also visited Origan Trail Ruts State Historic Site that preserved visual evidence of the thousands of wagons that passed this way.
In 1852 John Baptise Richard (pronounced REE-shaw) built a toll bridge over the North Platte River near present day Casper, Wyoming. It was the primary bridge for the migration from 1852 until 1860. While emigrants could ford at no cost most paid up to $5.00 per-wagon to cross the bridge. Cost per-wagon was determined by how much water was flowing in the river. The higher the river the more it cost to use the bridge.
Richard's bridge across the North Platte River in present day Casper, Wyoming
This is a reconstruction of a small portion of that bridge. This replica is only showing one section with one pier while the entire bridge consisted of 8 similar piers that spanned the river to a rock outcrop on the north side.
Richard's bridge across the North Platte River in present day Casper, Wyoming
One Oregon emigrant, John Murray, wrote on June 9, 1853: "The bridge is a substantial structure-it has 8 wood framed piers filled and sunk with rock and the reaches are supported by heavy braces. The sides are railed up and the bottom planked. The bridge is about 150-yards long and comes out on the north side on a rocky bank...at each end of the bridge are Indian lodges and trading houses and a blacksmiths shop. Above the bridge about a mile is another trading post where they have lots of horses and mules for sale or trade."
Richard's bridge across the North Platte River in present day Casper, Wyoming

This is a closeup of one of the 8 wood framed piers filled and sunk with rock. While this "pier" is on dry ground now it was probably under water during spring flood.
Richard's bridge across the North Platte River in present day Casper, Wyoming
This is the rock outcropping the north side of Richard's bridge was connected to.
This has been an awsome stop for us. I don't know how it could have been any better.
Until next time remember how good life is.
Until next time remember how good life is.
Mike & Joyce Hendrix who we are
We hope you liked this page. If you do you might be interested in some of our other Travel Adventures:
Mike & Joyce Hendrix's home page
Travel Adventures by Year ** Travel Adventures by State ** Plants ** Marine-Boats ** Geology ** Exciting Drives ** Cute Signs ** RV Subjects ** Miscellaneous Subjects
We would love to hear from you......just put "info" in the place of "FAKE" in this address: FAKE@travellogs.us
Until next time remember how good life is.