Red Earth & Cotton Texas Panhandle
July 30 & 31, 2009
Red Earth & Cotton Texas Panhandle
This travel log covers the Texas portion of our trip back to our home in Pensacola, Florida. We were traveling south on US 287 through the Texas Panhandle passing through places like Stratford and Dumas, where we stopped for the night in their Free City Park complete with electricity. We continued to drop south on US 87 to Amarillo where we turned and headed southeast again on US 287 through farming towns like Childress, Quanah and Wichita Falls.
We overnighted in the City Park in Dumas, Texas where they have a campground with electrical connections good for a one night stay. The place was full and late comers (after about 8:30PM) dry camped in an overflow area. The campground has a central dump station and a fresh water supply also centrally located. From the intersection of US 287 & US 87 proceed west on US 87 about 5 blocks you will see the City Park on the north side of the road.
We were heading home and were trying to put miles behind us instead of concentrating on sightseeing. Our First stop was in Dumas, Texas at their Free City Park with electric connections (30-amp and 50-amp). A lot of people know about the free city park in Dumas and take advantage of it. It was almost full when we pulled in around 8PM. It completely filled up within another 30-minutes. RV'ers who arrived after that had places to spend the night just not with electricity.
The other place of note that we stopped for the night on our trip home was Lafayette, Louisiana where we stayed at their Acadiana City Park $13 for water and electricity (30amp & 50amp) with a central dump station.
Acadiana City Park in Lafayette is one of our favorite campgrounds because of LOCATION and price.
Coal train headed to a power plant in Texas
After crossing the Oklahoma border into the Panhandle of Texas on US 287 we were following a set of RR tracks. While it looks like this coal train is headed our way it wasn't. Those engines are on the back end pushing this coal train that also had two engines on the front end pulling. Of course they were a mile or so apart separated by a lot of coal.
Later that evening, when we were in the campground in Dumas, this same train load of coal passed about 100-yards away from our motorhome. It seems that the City of Dumas has fully complied with the western law mandating campgrounds be placed within a 100-yards of an operating RR line. Ya gotta love it. VBG
I can't remember exactly where in the Texas Panhandle this group of wind generators was located but it is a huge field. I have marveled at this huge wind generator field on several other occasions. It seems to be rapidly growing.
This is typical Panhandle Texas landscape when there are no irrigation circles in sight. They have obviously been getting some rain in this area since there is green grass. We have never seen anything green outside of an irrigation circle in this area of Texas.
Cotton, circle irrigation & red earth in Texas Panhandle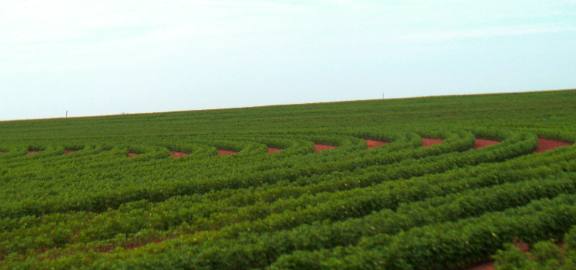 This is what irrigation will do for you. By the way this is cotton in one of those large circular irrigation plots.
More cotton on irrigated land.
Red earth and the Texas Panhandle have a lot in common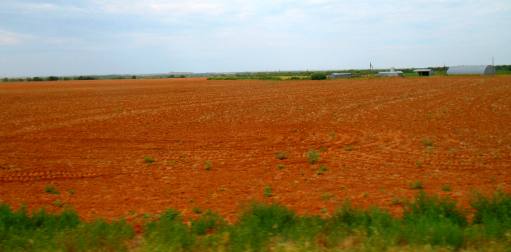 Note how red this earth is.
Canadian River in Texas Panhandle showcases the red earth of this region

This is the Canadian River that crosses US 87 a few miles north of Amarillo. There is not a lot of water flowing on the surface but I understand there is a good flow underground. This picture gives you an undisturbed view of what the soil around here looks like. In case you are wondering the Canadian River is formed and fed by snow melt in the Sangre de Cristo Mountains a short distance west of Raton, New Mexico.
Hay bales east of Amarillo, Texas
Hay is not the crop of choice in this part of Texas but we continue to see some here and there.
Texas hay east of Amarillo, Texas
This was another field of hay.
Wheat straw east of Amarillo, Texas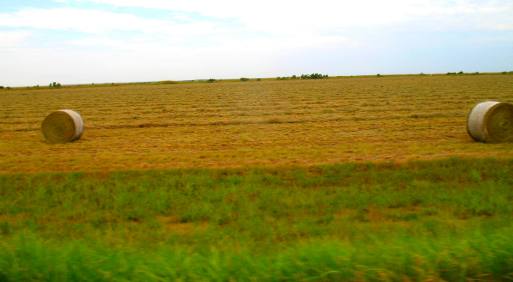 I think this was a wheat field and the bales you see are wheat straw.
Black Angus Cattle east of Amarillo, Texas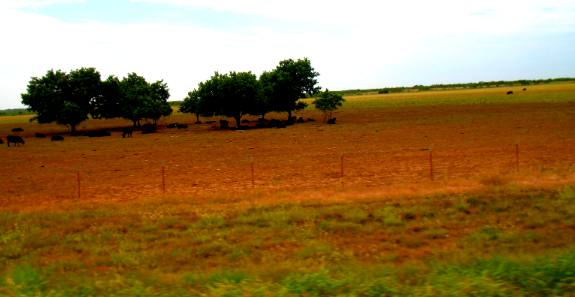 They are hard to see but under those nice oak trees are a bunch of black angus cattle.
If you do not know what mesquite looks like take a gander at these small trees. They are mesquite. You will see a lot of it in northwest Texas.
Wheat is also grown in northwest Texas. Here is a wheat field that stretches to the horizon. Anyone care to guess how many acres of wheat this is?
Wheat fields require grain elevators and this town has a big one.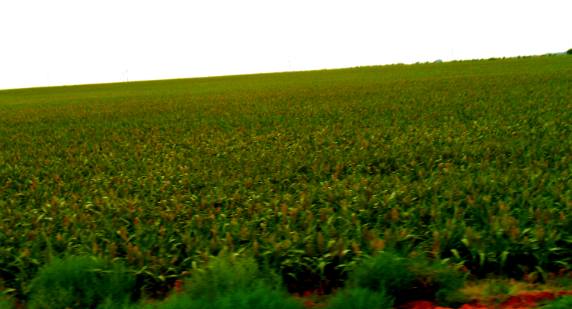 This field of milo is easily recognizable with the newly formed grain heads clearly visible.
As you can see we are getting into eastern Texas where more water is available. Green trees are evident. It is obvious we have put west Texas in the rear view mirror.
That is all there is.
Click here for more of our Texas Travel Logs