Places Visited: Louisiana: Lafayette
Texas: Amarillo, Palo Duro Canyon, Red River Valley, Quanah, Goodlett, Mineola, & Traveling across north Texas
Wednesday, May 31 2006: We camped in Acadiana Park (City of Lafayette, LA) N30° 15.43 W91° 59.354' from I-10 take exit 104 south to first traffic signal then left/east on Alexander to park entrance (approximately one mile). The campground is heavily wooded with paved interior roads & pads, 50-amps, water with central dump station, $13 per-night:
We have been home (in Pensacola) since early March. We have had a good time with our Son, Daughter in Law and Grand Children but it is time to head out to explore more of this wonderful country. It finally turned hot in Pensacola and that made it much easier to escape to a cooler location (as in Idaho). We had been packing and otherwise getting ready to head out for several weeks, finally around 9-AM this morning we pulled out of our driveway and headed west.
Our route was along I-10 out of Florida, through Alabama and Mississippi and half way through Louisiana, to Lafayette, where we stopped at one of our favorite campgrounds, Acadiana City Park in Lafayette. The park is nothing special unless you are a cheap skate like I am. Acadiana City Park offers a campsite under wonderful large shade trees with water and 50-amps---50-amps is something that is really, really nice when it is 90-degrees outside and humidity very near that. The shade is equally wonderful.
The only thing of note on our drive was the three alligators I spotted from the bridge over Mobile Bay. I have never spotted more than one per-crossing so this was a record. Once in Lafayette we drove our Saturn to "Rookery Road" on Lake Martin. To our total surprise we did not see the first heron in the rookery nor did we see any alligators. We are not sure what to make of this since we have seen herons in this rookery in the spring and last year we saw them when we passed through the area near the end of June. It was dryer than we have ever seen it but there was still water in the lake.
Thursday, June 1 2006: We camped in Mineola, Texas at Golden RV-Park about 5-miles west of town on US-69 N32° 43.459 W95° 32.508'. Golden RV-Park was carved out of an old pasture (trees are limited) gravel interior roads & grass pads, 50-amps, water and sewer, $25 per-night 903-766-2655. This campground was an OK overnight stop if passing through the area and needing to connect to utilities.
We drove 315-miles from Lafayette, Louisiana to Mineola, Texas today mostly on interstate highways. From Lafayette we headed north on I-49 to Shreveport where we headed west for a few miles on I-20 until we exited to US-80 then in Mineola we switched to US-69. The only BAD stretch of highway was the bypass in Shreveport (Inner Loop Louisiana 3121). While Inner Loop SR-3121 was only about 12-miles it was simply horrible. It reminded us of how bad the old I-10 used to be. I had to slow to 45-miles per-hour and even that was bouncing the motorhome in a terrible manner. Mercifully, we exited SR-3121 on to I-20 before the motorhome broke in half.
Louisiana was lush and green. We transitioned from rice fields with crawfish ponds just north of Lafayette to cattle ranches and forested terrain as we transitioned to northwestern Louisiana. Pine trees seemed to dominate the woodlands in the rolling hills of NW Louisiana and NE Texas. Agriculture and row crops were becoming more common as we headed west in Texas.
Friday, June 2 2006: We stopped for the night in Goodlett (Quanah), Texas at Old Town Cotton Gin RV-Park on the east side of town on Main Street N34° 20.136 W99° 52.903'. The Old Town Cotton Gin RV-Park is carved out of an old pasture (trees are limited) gravel interior roads & pads, 50-amps, water, cable TV and sewer, $21.60 per-night 940-674-2477.
While we stopped for the night in Quanah, Texas we spent the day traveling 306-miles west across northern Texas very near the Red River and the Oklahoma border. As we left northeast Texas this morning the countryside was bright green, as in well watered. Untilled land was forested with hardwoods and pine trees. Harvesters were busy harvesting vast fields of golden grain. Lush fields of corn were visible early in the day. Oil wells with those "chicken-head" pumps were visible from time to time all day. The further west we traveled the trees began to change to cedar and post oak trees, with mimosa trees in full bloom. Still further west cottonwood trees, mesquite trees, cattle trucks and Dance Halls became common. Fences started being made out of discarded oil industry pipe and signs for German Sausage became common.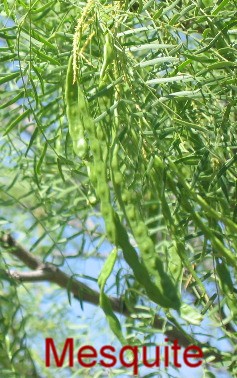 By the time we stopped for the night we were 160-miles east of Amarillo. In this area of north Texas we are in a dryer geography than we left this morning in east Texas. Scissors tail flycatchers and meadow larks are common. We watched a group of seven Mississippi kites working over a field of small mesquite trees. This far west we are starting to see yucca plants, mesquite, desert willow, white prickly poppy, buffalo gourds and cactus. Cattle ranches and freshly tilled cotton fields dominate the landscape.
On a sightseeing drive on Farm 680 near the Old Town Cotton Gin RV-Park we ran across a grove of wright catclaw trees mixed with osage orange/bodark trees. We are a little west of the normal range for bodark trees and a bit north of the normal range for wright catclaw trees.
I think this area is referred to as the Red River Valley since the Red River is about 10-miles north of the RV-Park where it forms the border between Texas and Oklahoma. Our sightseeing drive took us over the Red River into Oklahoma. If you visit this area take a sightseeing drive up Farm 680 to the Oklahoma border and an ancient wooden bridge across the Red River. If you take this drive around sunset you will see numerous deer. During the day look for flocks of turkey and bob white quail along the way.
You can also cross the Red River on SR-6 that runs north out of Quanah, Texas. Most of the river bed was exposed as red clay with a small stream of water trickling through. The dry channel looked to be several hundred yards wide. Bridges across the Red River were constructed to allow flood waters to flow underneath in stark contrast to the mere trickle of water in the river now. The owner of the RV-Park told us the river ran underground in the sand.
The Old Town Cotton Gin RV-Park uses Quanah, Texas as their address although the town of Quanah is located 10-miles east of the campground. Quanah was named after Quanah Parker, Chief of the Kwahadi (Antelope) Camanches. He refused to sign the reservation treaty of 1865 (Civil War era) and remained on the buffalo plains in peace until 1870, when hide hunters moved in. In 1874 his years of resisting the whites were climaxed at the battle of Palo Duro which brought defeat and eventual reservation life for the Comanches. On the reservation Quanah became a great leader where he learned the new ways and became a successful rancher. While the battle of Palo Duro Canyon only resulted in the death of one soldier with 14 Indians wounded and five Indians killed the military commander, Colonel Mackenzie's army captured about 1,400 horses from the Indians. To prevent the Indians from recovering this herd of horses, Mackenzie had his men shoot over a thousand of them. Without their large horse herd, the Southern Plains tribes lost their mobility and had no choice but to surrender. Now you know why these Plains Indians finally surrendered.
We were traveling on US-highways not part of the interstate system. Texas provides wayside parks and picnic areas along these highways. While these wayside/picnic areas generally do not have rest rooms they do provide shelters with tables water and garbage cans generally located in a shaded area. These wayside parks are widely used across the state. Other states would do well to copy Texas lead with these picnic areas.
As we passed one dance hall we both started laughing. It was before noon and the parking lot of the dance hall had 4-cattle trucks and one motorhome in the parking lot. We laughed that they were getting an early start on Friday night.
Saturday, June 3 2006: We stopped for the night in Amarillo, Texas at Wonderland RV-Park on the north side of town off US-287 N35° 14.082 W101° 49.975'. There is nothing special about Wonderland RV-Park other than price and location for us gravel interior roads & pads, 50-amps, water, WIFI and sewer, $23.40 per-night 806-383-1700.
We drove the 160-miles to Amarillo, Texas across the Red River Valley and plowed fields ready to plant cotton. Trees in this area are small and sparse. Freshly plowed fields made the landscape. We were stopping in Amarillo to visit Palo Duro Canyon State Park 35-miles south of Amarillo. Many fellow RV'ers have recommended Palo Duro Canyon State Park over the years so we made it a priority to visit on our way to Idaho this summer. While there are several campgrounds in Palo Duro Canyon and we originally intended to camp there but made a decision to stay in Amarillo to save money. By not taking the motorhome to the canyon we saved around 11-gallons of diesel currently costing almost $3 per-gallon.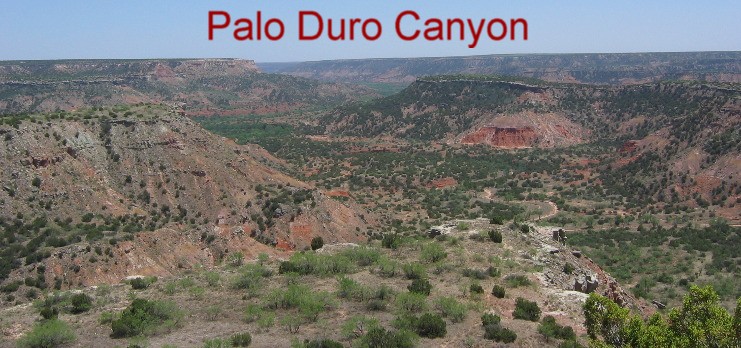 As soon as we checked into Wonderland RV-Park we jumped into our Saturn and headed to Palo Duro Canyon. We didn't know what to expect except something very special. As we turned east off I-27 on SR-217 that goes to the canyon we noticed how flat the land was. The rolling hills had given away to an extremely flat landscape that gently sloped to the east toward Palo Duro Canyon. In this bleak landscape, where you can see forever, it is hard to visualize a canyon but about 10-miles down that road we entered Palo Duro Canyon State Park and there was this magnificent canyon. The canyon has been cut by the Prairie Dog Town Fork of the Red River, a small river that cuts through the landscape on its way to the Oklahoma border just north of the RV-Park we stayed in last night in Goodlett, Texas where the Prairie Dog Town Fork of the Red River becomes the Red River.
The entrance to Palo Duro Canyon State Park is located at the top of the canyon. In 1933 the CCC constructed the current road down the side of the canyon wall into the canyon. Several hundred men were involved in constructing the one and a half mile road from the canyon rim to the floor. While difficult areas were blasted away with dynamite, the vast majority of the construction was accomplished with hand tools such as picks, shovels, and wheelbarrows. In less than six months, these hardworking individuals had succeeded in creating the first vehicle access to the canyon floor. Signs on that road say it is a 10% grade. That should be very exciting for RV'ers. The view going down the this road is spectacular.
The river has been cutting through this canyon for millions of years exposing layers of soil deposited over 250-million years ago. Animals and people have been inhabiting this canyon since the beginning of time. Fossils from animals inhabiting this valley eons ago are on display in the Park's Visitor Center. When you look at our pictures realize that the red clay layer is from the Permian Age (over 250-million years ago).
In 1916, the Texas Panhandle was barely out of the days of the wild west. Settlers were adjusting to new lifestyles of barbed wire fences and railroads. One of these men was Colonel Charles Goodnight. Goodnight is an important figure in the history of the Texas Panhandle. He was a scout for the U.S. Army during the Indian wars in Texas. In 1876, he and his partner John Adair came to Palo Duro Canyon and founded the J.A. Ranch, the first true cattle ranch in the panhandle. Charles befriended many native Americans who were forced to live on reservations, and invited them to hunt buffalo on his ranch, just like in the old days.
Once in the canyon the road twists and turns for 16-miles past multiple campgrounds and picnic areas, equestrian areas, hiking trails and riding trails. We drove through every place we could find looking for scenery and wildlife. It was so hot, as in the 90's, so we did not get out and hike. We saw road runners and several turkey hens utilizing the shelters for shade in picnic areas.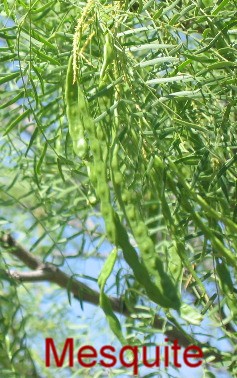 Bob white quail and northern oriole were also visible in the campgrounds and picnic areas. Mesquite is the predominant tree in the canyon.
Until next week just remember how good life is.
Mike & Joyce Hendrix