We camped in the City Park in Lafayette, Louisiana. The name of the park is Acadiana City Park. It has electric and water (30amp & 50amp) at each site with a central dump station all for $13 a night. We stay there every time we are in the area.
We were heading home and were trying to put miles behind us instead of concentrating on sightseeing.
From Lafayette, Louisiana to Pensacola, Florida is a straight shot on I-10. While we do not really like to travel interstate and avoid them when possible ----- putting miles behind us and getting on down the road is our goal for today.
Just east of Lafayette on I-10 you come to a very long bridge. I think it is 15-miles long. This bridge goes over the Atchafalaya Basin (where the main flow of the Mississippi River once flowed on its course to the Gulf of Mexico. Levies and dredging long ago changed the major water flow to the channel that goes past New Orleans. Before this engineering only 1/3 of the flow of the mighty Mississippi River flowed past New Orleans with the other 2/3 flowing through the Atchafalaya Basin. Now it is the other way around.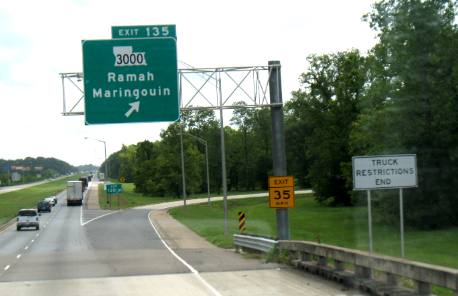 Louisiana names are a mixture of Indian and French. I wonder which one these are.
Not long after emerging on the east end of the Atchafalay Bridge/Basin the Mississippi River Bridge at Baton Rouge comes into view.
This is a real bridge. It is large enough for ocean going tankers to navigate under the bridge. The river is lined with refineries north of Baton Rouge in case you are wondering why ocean going vessels are so far inland.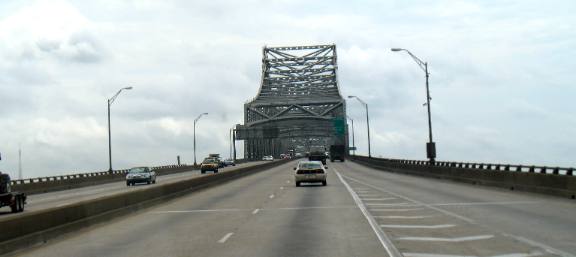 This view gives a better perspective of the size of this bridge. It is impressive for sure.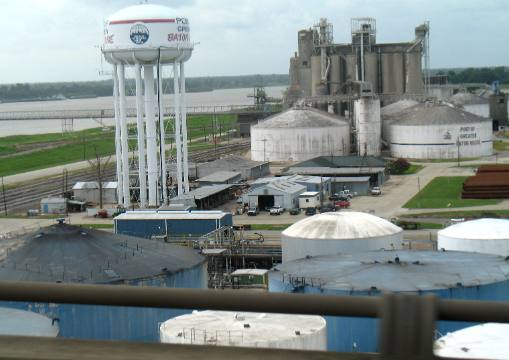 Joyce took this picture as we passed over the West side of the Mississippi River. There appears to be a combination of fuel storage tanks and a grain elevator operation.
We are almost at the top of that bridge in this picture.
Pearl River Bridge on I-10 at the Mississippi-Louisiana border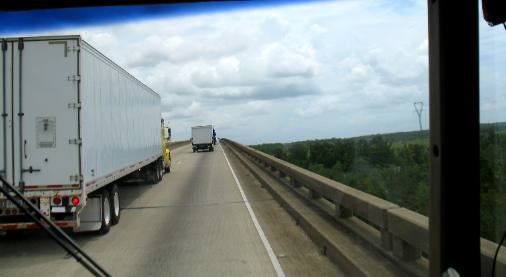 This is a picture from the Pearl River Bridge east of Slidell, Louisiana. Note how the bridge is elevated above the flood plain. The marsh area between the West Pearl River and the Pearl River reminds us of the Golden Isles of Georgia.
Pearl River Bridge & delta, on I-10 at the Mississippi-Louisiana border
You can see some of that marsh in this picture.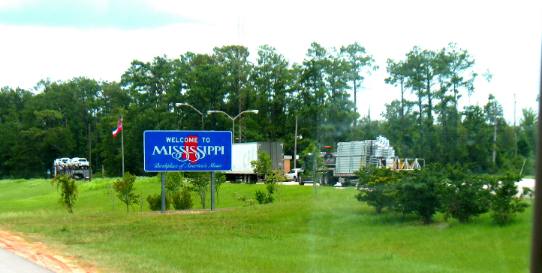 The Pearl River is the eastern boundary for Louisiana and western boundary for Mississippi. One thing we can not help but noticing is how GREEN everything is. You only have to spend time out west to appreciate GREEN.
Our home in Florida is a little over 2-hours away. We aren't slowing down.
Click here for more Louisiana Travellogs & Travel Diary