Female Stars of Tootsies Orchid Lounge
June 7 through 20, 2009
We stayed in Seven Points COE Park 12-miles east of downtown Nashville. Paved sites & interior roads with water and electric for $10 with our "geezer" pass. It will cost you young whipper snappers $20.
Tootsies Orchid Lounge is another of our favorite honky tonks on Broadway. We know a lot of the musicians that play in Tootsies since they also perform at the Tootsies on Panama City Beach in Florida.
I am outside Tootsies talking with Kari Nelson, one of the best fiddle players ever. She is taking a break from her fiddle playing job in Tootsies. Kari handles a fiddle like a monkey handles peanuts. There is nobody that gets down on the Charlie Daniels song Devil Went down to Georgia like Kari.
Kari also does music videos including Brady Seal's, "Been There Drunk That," which can be viewed on GAC.
In 2010 we here that Kari is now touring with John Rich (Big and Rich). Kari also plays with Joanna Smith. Now those two can bring the house down, extremely high energy.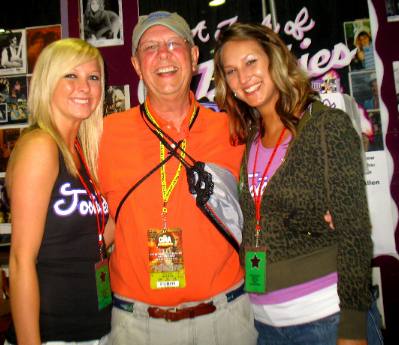 Joyce took this picture with two of our favorite Tootsies musicians. They are both lead singers. Nikki Gardner has the brown hair and Haily is the blond. Both these talents could be on the big stage any day. I hope to see them there.
Joanna Smith is our little darling. We are going to see her on the big stage one day. Until then we are having to settle for watching her perform in Tootsies although we did get to see Joanna perform at BamaJam this year.
Joanna has several CD's with music she has written. They are great CD's with several songs that could be hits one day.
You can check out her music at: http://www.myspace.com/joannasmithmusic
This is another picture of Joanna Smith on the upstairs stage in Tootsies. She has the place packed.
This fellow was playing in Joanna's band. He is also Carry Underwood's fiddle player when not playing for Joanna. When you see Carry Underwood performing look for this guy to be playing some kind of string instrument but primarily the fiddle.
Shane Chilton Bass Guitar for Chris Young's Band
Shane Chilton is the base guitar player in Joanna's band. He has also performed in Martina McBride's road band. There is no telling where you will see this base player. Last summer he was playing in Melissa Paige's band who was playing a few doors down at the Stage on Broadway. He is currently touring with Chris Young's band.
This is another look at the front facade of Tootsies Orchid Lounge on Broadway in Nashville.
Ain't life grand?
That is all there is.