Musicians of Broadway Street Nashville, Tennessee
May 22, 2008
We were staying at Poole Knobs COE Campground near Smyrna, TN.: $9 a night with elect & water (we have the National Park systems 1/2 price geezer pass) so if you aren't 62 years old or disabled yet it will cost you $18. Smyrna and Poole Knobs COE Campground, is about 20-miles SE of downtown Nashville. We are on site # 41 and it is a beautiful site but there are many wonderful sites.
On May 23, 2008 we moved to Two Rivers Campground near Opry Land in northeast Nashville. There is no way we want to be in that COE campground over Memorial Day weekend. Two Rivers is the private campground we recommend for anyone visiting Nashville. It ain't cheap but it is as inexpensive as anything available.
I wish we could have found a 1/2 Price PPA Campground but we didn't.
We seem to be settling down in the honky tonks on the north side of Broadway since they do not allow smoking indoors. That sets them apart from the honky tonks on the south side of Broadway. The Stage on Broadway was where we seemed to find the best bands every afternoon. However, we also liked groups playing at Legend's Corner and every night the band in Robert's was good but it was the same band every night so we would quickly get enough of them. The Second Fiddle was another honky tonk that had some good bands. For some reason Tootsies did not have bands that suited our tastes this week.
Band playing in The Stage on Broadway honky tonk on Broadway in Nashville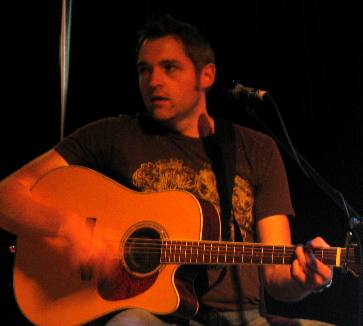 This is the band that was playing in The Stage on Broadway Thursday afternoon.
The lead singer did not have a business card and I did not remember his name. Consequently I didn't include his picture. However, his band was notable.
His acoustic guitar player has toured with a number of big names but they escape me at this time. I do remember that the drummer in this band was Tom Jones drummer.
The Stage on Broadway is a classic honky tonk featuring excellent music.
This lead guitar player has been around for some time. He just came off the road where he was playing in John Michael Montgomery's road band.
Another entertainer performing in The Stage on Broadway honky tonk on Broadway in Nashville
I think this base player's name is Alex. He tours with Billy Currington and had a great voice.
That is Joyce trying to dress up the Legends Corner advertisement. As you can see we are enjoying the honky tonks during the afternoon before things get too wild.
Kevin Key is a super lead guitar player that can be enjoyed in several honky tonks on Broadway.
Later in the evening we moved down to Legends Corner, another of the top notch honky tonks on Broadway, where Becki McLeod & her band was performing.
This is Kevin Key an excellent lead guitar and vocals musician. We have seen him in action with more than one band. In addition to touring with Mark Wills he has been on the road with Colin Raye, Andy Griggs and Steve Holly to name a few. When you see him setting up you know that band will be good.
More about Kevin at: http://profile.myspace.com/index.cfm?fuseaction=user.viewprofile&friendID=52892968
Musicians playing n Legend's Corner honky tonk on Broadway in Nashville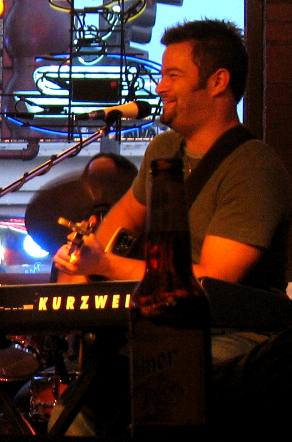 I forget this musicians name but he seems to play on the road with most of the bands that Keith traveled with. He was good on the acoustic guitar as well as keyboard.
Becki McLeod entertains in many of the honky tonks on Broadway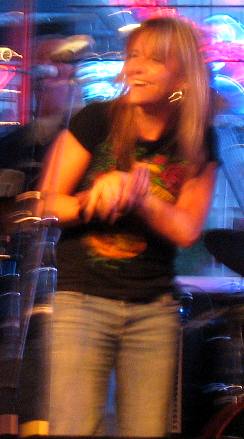 This is Becki McLeod the groups lead singer and I suppose it is her band. Becki is a great performer. I wonder why people with this kind of talent aren't stars. You can check Becki out at:
http://profile.myspace.com/index.cfm?fuseaction=user.viewprofile&friendID=114600937
Becki's base player was in Mark Will's tour band and her drummer was a "session player" meaning that he is the drummer when groups cut an album.
The level of talent in these groups is truly impressive. We were enjoying them at Legend's Corner (the corner of 5th and Broadway) one of our favorite honky tonks.
Click here for more of our Tennessee Travel Adventures
Until next time remember how good life is.
Mike & Joyce Hendrix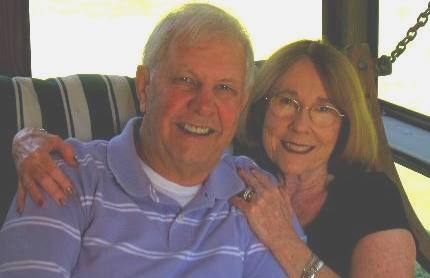 Mike & Joyce Hendrix who we are
We hope you liked this page. If you do you might be interested in some of our other Travel Adventures:
Mike & Joyce Hendrix's home page
Travel Adventures by Year ** Travel Adventures by State ** Plants ** Marine-Boats ** Geology ** Exciting Drives ** Cute Signs ** RV Subjects ** Miscellaneous Subjects
We would love to hear from you......just put "info" in the place of "FAKE" in this address: FAKE@travellogs.us
Until next time remember how good life is.