We normally look for 1/2 price PPA Campgrounds COE Campgrounds or National Park Campgrounds. But in Nashville, during the winter the COE Campgrounds are closed.
This travellog covers an early December visit to Nashville where we spent some wonderful afternoons & nights with musicians performing in the honky tonks along Broadway (between 4th & 5th) Street.
We had planned to stay at Seven Points COE Campground but it was closed for the season so we stayed with our friends at Two Rivers Campground/RV-Park on Music Valley Road near the Grand Old Opry and the Gaylord Hotel complex. We like staying with Two Rivers because of their location and price.
KOA and Yogi Bear flank Two Rivers but they are MUCH more expensive.
It would have been nice if we could have located a 1/2 Price PPA Campground in the area, but the closest one was too far north for us.
Our routine in Nashville consisted of heading to the honky tonks along Broadway street in the afternoon and returning to the motorhome late at night. Our most memorable moments were shared with the talented musicians on Broadway Street (between 4th and 5th) in downtown Nashville. It just so happened that we spent more time at the Stage on Broadway because they just seemed to have the best performers in an environment we felt comfortable in.
We spent one afternoon in the Stage on Broadway with a dynamic young musician, Tyler Dickerson, who just turned 15 on Thanksgiving. This young fellow is a great performer with totally awesome stage presence. He recently signed with John Rich (of Big & Rich) so his career is likely going to take off. John Rich (Big & Rich) and some Big and Rich band members were in The Stage on Broadway watching Tyler perform. Tyler was a true professional never letting on that they were in the house. Very few people knew John Rich was in the house. We just happen to know Tyler's parents and knew that Tyler had signed with John Rich so it was fairly easy for us to put two and two together.
We didn't have a camera with us but several people took our picture with him. So far none of them have sent those pictures to us. Possibly one day they will arrive in my inbox.
Little Jimmy Dickens at the Stage on Broadway in Nashville
Another afternoon we were in the Stage on Broadway when Little Jimmy Dickens appeared on the balcony. It seems that the Grand Old Opry is doing their show in the Ryman Auditorium (located out the back door of the Stage on Broadway) and Little Jimmy Dickens regularly comes in the back door and sneaks up to the balcony where he spends 30-minutes or so before heading out the back door and into the Ryman Auditorium for his performance with the Grand Old Opry. Before you start writing to tell me that the Grand Old Opry is now located out at the Gaylord Complex there are other acts using the NEW Grand Old Opry at this time. I think the Rocketts are booked in there this week. Anyway, the waitress seems to know when it is time for Little Jimmy Dickens to sneak in the back door and make his way to the balcony. We watched as the waitress made her way to a spot where she could see the balcony. They made hand signals and shortly the waitress was on her way to the balcony with Jimmy's regular. That is how things work in Nashville. We were the only *patrons* in the Stage on Broadway that knew he was in the house.
One night we enjoyed watching another new lead singer perform with a stage full of big name musicians including Allen Jackson's base player and Brooks & Dun's steel guitar player. We left the camera at home or there would have been a picture. Sorry!
Another afternoon/night Mike Pruit was performing at The Stage on Broadway with a group of talented musicians.
I think I recall the bald headed fellow in be background being with Trick Pony's road band playing either the lead or base guitar.
Rocky was performing the 2PM to 6PM shift at The Stage on Broadway. I do not recall what Rocky's last name was and he didn't have a business card but I do remember that he was from Mississippi.
Rocky had great vocals and could do a wide variety of songs. He did not have a care in the world. He was having fun and that is all that mattered. Raw talent oozed from Rocky, he didn't have to strain it just came naturally. Between Rocky and the other equally talented musicians they played around yet put on a show that was as good as many *name* concerts we have seen.
Joyce with band members at The Stage on Broadway in Nashville
The drummer and guitar player that were on stage with Rocky are giving Joyce some attention. They are all so talented. I think the guy on the right plays with Mark Wills.
Allen Ricker, Steve Holly's guitar player was backing up Rocky as was Billy Curington's base player.
Mark Ramsey and a crew of professional musicians carried the music from 6PM to 10PM. Enough was enough and we headed back to the motorhome after a wonderful day/night on Broadway. Where else can you get this level of entertainment for any price?
Several times during the week we spent time listening to Troy Cook Jr. He has become one of our favorites. But how can we pick favorites when we enjoy Melissa Paige and Tim McDonald so much, not to mention Tim Baumgartner, Melissa's lead guitar player and Craig Campbell.
One day we hope to see our friends make it big. All of them have the talent. Now they need a break.
Ain't life grand?
That is all there is.
Taking a cruise on the General Jackson Showboat is something else to do when in Nashville. Check these links to read about our adventure on the General Jackson Showboat: Peking Acrobats, Delta Queen, General Jackson, Joyce touring the wheelhouse on the General Jackson.
Until next time remember how good life is.
Click here for more Nashville Attractions
Click here for Nashville Honky Tonks
Click here for Nashville Musicians
Click here for an index of our Tennessee Travel Adventures
Mike & Joyce Hendrix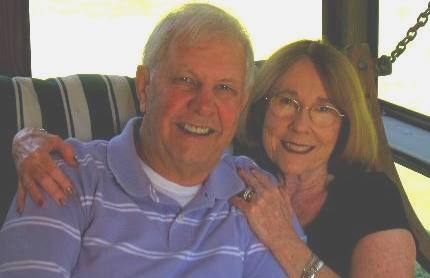 Mike & Joyce Hendrix who we are
We hope you liked this page. If you do you might be interested in some of our other Travel Adventures:
Mike & Joyce Hendrix's home page
Travel Adventures by Year ** Travel Adventures by State ** Plants ** Marine-Boats ** Geology ** Exciting Drives ** Cute Signs ** RV Subjects ** Miscellaneous Subjects
We would love to hear from you......just put "info" in the place of "FAKE" in this address: FAKE@travellogs.us
Until next time remember how good life is.