We normally look for 1/2 price PPA Campgrounds COE Campgrounds or National Park Campgrounds. But in Nashville, over the Memorial Day weekend Two Rivers Campground is our choice.
We are starting to get lucky. Actually, luck is a combination of hard work, persistence and timing. We have met so many people since being in Nashville and they all try their best to help you. We listen to all of them. I even take notes, yes, written notes on the information they give us. The Bluebird Cafe is one place that we kept hearing industry insiders talk about. Until tonight we have not had the time to visit the Bluebird Cafe so we decided this was our time to take in the Bluebird. You can Google the Bluebird Cafe like we did and get their "schedule". A group of song writers were performing between 6pm & 9pm then songwriter Don Schlitz was scheduled to perform from 9pm till 11pm. We were told Don Schlitz was a really talented songwriter well know in music circles around Nashville. Insiders told us that he had written dozens of hit songs that he would perform. We were assured that we would know almost all the songs that he sang. Now you know why we were visiting the Bluebird Cafe ---- to see Don Schlitz.
We arrived at the Bluebird a little after 8pm and there was a small line outside the Bluebird Cafe and a sign on the door saying something about reservations. Reservations? What was that about? No one had mentioned anything about reservations. Joyce opened the door and went inside where she talked to a lady on the door who told her that the current performers would finish in a few minutes and everyone would exit the cafe while the place was cleaned up then the doors would open and those in line would enter for the 9pm Don Schlitz performance. Then she bent over and whispered something in Joyce's ear. "Vince Gill is going to share the stage with Don tonight so go get in line and expect a good show". Vince Gill! There was a $1 cover charge, were we going to see Vince Gill for $1 each? I think someone is pulling my leg but we get in line.
Never the less, we took no chances. We were the 4th & 5th people in line to enter when the doors opened for the 9pm performance. Joyce and I grabbed a front row table within inches of the stage.
This is Don Schlitz the famous songwriter that we came to listen to. As you can see we (Joyce) are able to get up close and personal with the performers.
Between songs the performers chat with the audience as you see here. I think Joyce is telling him that she likes his music. VBG
Don has written so many songs that it will be hard for me to adequately give him credit. Some of the ones he wrote and performed, include:
"I feel Lucky Today" performed by Naomi Judd I think.
"I am going to love you forever" by Randy Travis I think.
"No body answers when I call your name" did Vince Gill do that one?
" On the other hand" by Randy Travis
"Gambler" made famous by Kenny Rogers.
"I am the greatest" the song about the little ball player --- I think Kenny Rogers made that one famous also.
Don sang a new song he was working on but that had not been recorded by a major artist yet called: "I'm allergic to crazy - Baby you gotta go!"
Don performed another extremely funny "Mother-in-law" song that should make it to the top of the charts when it is performed by the right artist. The hook line was some funny ditty about "divorcing his mother-in-law but keeping her daughter". It was so funny that is all I can remember. I bet you could find that song by Googling Don Schlitz and listening to his songs.
Please forgive me but those are the ones I can remember off the top of my head. Trust me he player more.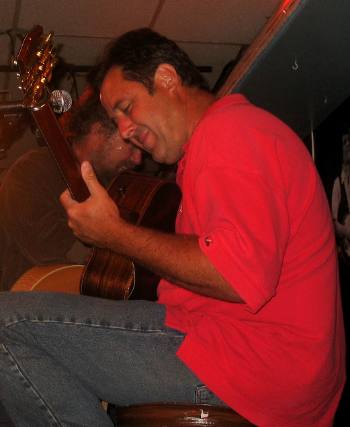 I took the following pictures with the camera sitting on our table. Vince was about 5' from us. You can see Don on the other side of Vince. As you can see Vince is dressed in a Sonic shirt with loafers and no socks. He is a good ol boy.
The songs Don and Vince sang were great but the friendly banter between the two was even better. Those two had a good time kidding with each other all night. They have been songwriting buddies for a long time and really know each other well.
Don gave Vince grief over his red Sonic shirt coming from the Salvation Army. Later when they were discussing Johnny Thompson a 23-year old musician Don commented that he had clothes that old to which Vince quipped "you got them on". Needless to say that brought down the house.
After Vince sang one of his really touching love songs Don quipped that "SINGERS were able to "really make it" in the music business when they were able to "fake" sincerity!" That brought the house down also.
Vince told several stories during the night about his early days when he was struggling. One story was about a gig they had at a college. When they arrived the campus looked like a ghost town. The band set up and when it came time to perform their concert there was only 8-students in the audience, they later found out it was spring break and everyone was out of town. The band started playing for those 8-people when two if them got up and headed out. In desperation Vince hollered at them that they couldn't leave he had locked the doors to which the students replied --- "OH, believe me WE'LL get outa here!"
Another funny story Vince told on himself was about his first year signing autographs for CMA (the old Fan Fair). He was in the Coliseum ready to sign autographs and there was this tremendous crowd. He was thinking he would never get all those signatures done. That was until he realized all those fans were in the line for Alabama which was in a booth located several away from his.
Vince quipped that the only way he could get a visitor that year was to give away Jeff Cook fishing lures. Jeff Cook is one of the Alabama band members that were so popular that year --- actually, that decade.
After another funny exchange with Don, Vince ended the banter alluding to the fact that he was able to live in a "nice house" because he sang like a woman.
At one point Vince was telling about playing his guitar with Willie Nelson and some other artists when Don dropped to the floor exclaiming -------- "EXCUSE me, I think you just DROPPED some names."
Vince has a new hit out about "It is hard to kiss the lips at night that chew your ass out all day long". It is a funny song, very funny. Vince and Don discussed that song and had a lot of fun with the discussion. Vince allowed that he tried to convince Amy (his wife Amy Grant) that it was a song about his mom & pop but she wasn't impressed. Amy didn't think it was funny. Somewhere the discussion got around to Amy's parents to which Vince quipped those Church of Christ folks still don't dig that kissing song.
After Don sang the "Gambler", made famous by Kenny Rogers, Vince quipped that songs like that were bad for chickens. Don, didn't get the connection between the Gambler and chickens. Vince explained that every time some "hillbilly" had a hit song they would open a chain of chicken restaurants. As Don struggled to think about Country artists which started Chicken restaurants Vince asked Don, "didn't Kenny open some chicken restaurants after that Gambler song?" He did, but then Don wanted to know what kind of restaurant Vince would be involved in if he were to engage in the restaurant business, to which Vince thought for a moment before responding --"it would feature Hooters girls". Of course this brought the house down. Don wasn't going to let this one go --- he wanted to know Amy's perspective to which Vince quipped that she was working on his perspective but he had changed her more than she had changed him. "Amy's getting out of that Church of Christ setting a little more".
One of the last songs Vince did was a new song that he has not released yet. You can look for it. It will be about the "Lucky Diamond Motel" located somewhere off old route 66, probably in Oklahoma. It is a funny song.
Don questioned Vince about how that song was going over at the Gill house. "Vince admitted that his wife with something like 2000 awards, mostly from the Christian genre, didn't see the humor in it." You have to hear the song -- then you will understand how funny his statement is.
Joyce is telling Vince that he was doing a good job --- or something like that.
During one of the songs Vince was singing it came time for a few measures of guitar music and Vince looked at Don and said take it away, which Don did.
When the song was over Don commented that his "accomplished artist" friends never told him to take the lead -- "what gives"-- Don wanted to know,
to which Vince deadpanned "it is just stuff I like to see on U-Tube".
Vince wasn't in a hurry to get home. It seems that he was spending the night in a popup camper, in their yard, with Amy and one of their children. This wasn't something Vince was looking forward to. VBG
Later Vince took time to pose for a picture with Joyce.

Folks Joyce had a good time the other night when she got her picture taken with Darryl Worley but tonight eclipsed that. I am not sure she will wash her hands. vbg

We ventured back to the Bluebird Cafe Wednesday night and enjoyed the entertainment then as well.

This time there were 4-songwriters situated in a small circle in the middle of the room. Each would take a turn singing one of their original songs. One of those song writers was Thom Shepherd.