Mark Chestnut at the Cystic Fibrosis Fundraiser
This is Mark Chestnut. If you that listen to country music you will recognize some of his songs like, Bubba shot the Juke Box, too hot to fish---to cold to go home, goin' thru the big D-- and I don't mean Dallas, it sure is Monday, it's a little too late and a host of others.
We not only enjoyed Mark at The Stage on Broadway we saw him again later in the week performing on the River Front stage and again across the river at LP Field one night.
This is Joyce and Linda, a lady from Texas, as they get an autograph from Darryl Worley. The bright orange shirt Darryl Worley wore was in keeping for the "Malibu" party they were having for the Cystic Bibrosis Fundraiser.

Worley's hits have included "I Miss My Friend," "Awful, Beautiful Life," "A Good Day to Run" and "Have You Forgotten?"

I think Have You Forgotten is his biggest hit and the one everyone knows him for.
Joyce snapped this picture of Josh Turner from close up. We did not get a good picture of him performing. Some things are hard to get in a mass of people in dark honky tonk. Actually, we are lucky to get this picture, especially without a flash!
If Josh Turner does not ring a bell with you he is the country crooner with an extremely low voice. His hits include Long Black Train, Lock the doors & turn the lights down low as well as his current hit My Little Darling is a Fire Cracker.
Here is Joyce and Linda again. Darryl is signing autographs under the Dinkle & Dinkle picture. Dinkle & Dinkle is sponsoring Darryl and his current tour so this is supposed to be significant. The significance mostly escapes me but it was a big deal for others. This meet and greet part of his Cystic Fibrosis Fundraiser was a big hit.
Joyce is thrilled to be a part of the Darrly Worley Cystic Fibrosis Fundraiser, wouldn't you say? VBG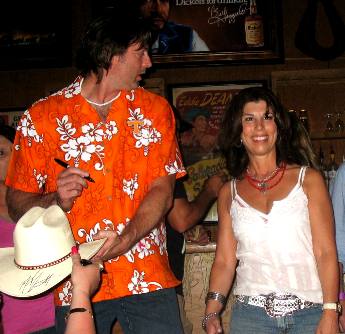 Linda wanted this picture but when her husband tried to take it his camera flashed a msg that the memory card was full. Linda was one hot lady when she came down to join her husband to learn that they didn't have picture of her with Darryl.
\
Linda gave me her e-mail address so I sent her this picture. I hope this picture will do. VBG
Actually we saw Linda & her husband later in the week and this picture did the trick.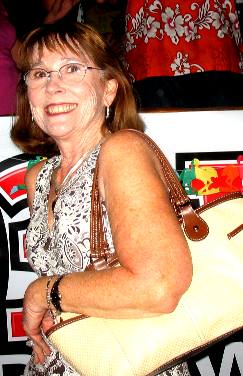 Joyce was thrilled to meet Darrly Worley and appreciates his efforts to raise funds for Cystric Fibrosis. This was a very special night!

It can't get any better than this but CMA Country Fest starts Thursday and promoters promise the fun & excitement will move to another level. We are going to have to find the energy to keep up. VBG