We normally look for 1/2 price PPA Campgrounds COE Campgrounds or National Park Campgrounds. But in Nashville, over the Memorial Day weekend Two Rivers Campground is our choice.
We visited the Bluebird Cafe on a Wednesday night and enjoyed the entertainment of 4-songwriters situated in a small circle in the middle of the room. Each would take a turn singing one of their original songs.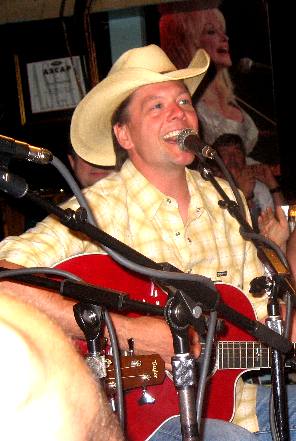 Thom Shepherd performing at the Blue Bird Cafe.
All the performers were good, but Thom Shepherd stood out.
This fellow was accomplished. Several of his songs have been recorded and done very well possibly rising to #1 status.
One of his songs, "Redneck Yacht Club" is currently a top hit and has been a #1.
His other smash hit was "Riding with Private Malone" a song about a young man responding to a classified advertisement for an old Chevrolet who finds that the automobile being advertised is actually a 1963 corvette. A note in the glove box was from the previous owner a "private Malone". Many of you will remember that song.
Thom specializes in funny, make that extremely funny songs. We listened to several that should be playing on the radio at this moment, they were that good. "Welcome to Redneck 101" is a good song that has not been picked up by a major artist yet. It will be a winner when it is. "Me you and Emmi Lou" is a fun song with a catchy hook line. "Cowboys & Soldiers" is one that could easily be a patriotic hit. Thom told us that XM radio was currently giving one of his "serious" songs some air time it was called "The only way he knew how". That song is about a father that would say "I love you" in a variety of ways but never "I love you". Another of Thom's funny songs is about a fellow asking his wife what she wants for her anniversary only to have her tell him she wanted a divorce! He replies that he was thinking of something cheaper. Then it breaks into a chorus of something like "it is cheaper to keep her than to let her go".
If you want to hear some funny songs Google Thom Shepherd and listen to some of his ditties. You will be glad you did.
When we left the Bluebird it was still light so we took this picture. As you can see the Blue Bird Cafe is nothing special on the outside. Actually, the only thing special on the inside is the music. If you are planning a trip to Nashville Google the Bluebird Cafe for directions and a schedule of who is going to be performing. Once you know who is performing then Google those names to see if they are someone you would like to listen to.
While the Bluebird Cafe is new to us it has a worldwide reputation for presenting the best original country and acoustic music available seven nights a week. Performers do not generally play "cover" songs, but they just may. There is no house band. Songwriters are accompanied by just one guitar or piano.
As a "listening room", quiet is requested at all times during a perfromance--which is why their slogan is "Shhh!" If you are looking for an evening of conversation this isn't the place for you. Between sets there is plenty of time to talk but during performances the norm is Shhh!
If you are into movies the movie "The Thing Called Love," starring River Phoenix, K.T. Olsin, Samantha Mathis & Sandra Bullock was filmed there. You can see live Bluebird shows on-line at their web site: www.bluebirdcafe.com
Given the stature of The Bluebird Cafe in the musical community, it is surprisingly small. You might want to make reservations.
The format for most performances is four talented writers, sitting in a circle, sharing songs and inspiration. This format, inspired by Fred Knobloch and Don Schlitz, has become a Bluebird tradition. The audience is given a unique opportunity to hear great original material from four different points-of-views in a casual, comfortable environment. It is a chance to discover up-and-coming songwriters or hear future hits being perfected by the artists destined to perform them. All of this from some of the best musical talent available.
Now we need to switch directions and tell you about a good place we found to eat.
We stumbled on a great restaurant that no one had recommended, but should have. It is called Famous Dave's and is a BBQ place with good BBQ plus a good lineup of other entrees and great desserts. We found Famous Dave's on the east side of Nashville at 5000 Old Hickory Boulevard in Hermitage, Tennessee which is where the Hermitage is located.
We have been told about a place in Franklin, Tennessee called the Listening Room that is another venue like the Bluebird Cafe. They feature the same type of musicians in the same setting on Thursdays, Friday's and Saturdays. They feature an open mic on Tuesday nights. Things start around 7pm and last until they close but that is usually around 11pm unless something great is going on. Google the Listening Room in Franklin, Tennessee for more information and a schedule of who will be performing. Franklin is located about 10-miles south of Brentwood where many of the Country Music artists live. You can find The Listening Room on the corner of Main street and 5th avenue.
One day we went for an afternoon cruise on the General Jackson Showboat that boards jusd down the road from where we are staying at Two Rivers Campground. Check these links to read about our adventure on the General Jackson Showboat: Peking Acrobats, Delta Queen, General Jackson, Joyce touring the wheelhouse on the General Jackson.
Until next time remember how good life is.
Click here for more Nashville Attractions
Click here for Nashville Honky Tonks
Click here for Nashville Musicians
Click here for more of our Tennessee Travel Adventures
Mike & Joyce Hendrix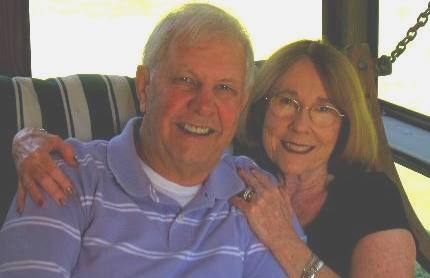 Mike & Joyce Hendrix who we are
We hope you liked this page. If you do you might be interested in some of our other Travel Adventures:
Mike & Joyce Hendrix's home page
Travel Adventures by Year ** Travel Adventures by State ** Plants ** Marine-Boats ** Geology ** Exciting Drives ** Cute Signs ** RV Subjects ** Miscellaneous Subjects
We would love to hear from you......just put "info" in the place of "FAKE" in this address: FAKE@travellogs.us
Until next time remember how good life is.