Cypress Bayou Casino near Charenton, Jeanerette, Franklin, Morgan City, Pierre Part, Paincourtville, Bayou Signette SP & Gretna in Louisiana
Places Visited:
Louisiana: Cypress Bayou Casino near Charenton, Jeanerette, Franklin, Morgan City, Pierre Part, Paincourtville, Bayou Signette SP & Gretna
Mississippi: Bay St Louis
This is the final travelogue for 2002 and for our Louisiana trip. We have enjoyed being with you this year and hope you travel with us again next year. If you are ever in the Pensacola area be sure and give us a shout. We would like to spend some time with you.
Wednesday, December 11, 2002 We only traveled 30-miles in the motorhome. Boondocking in the parking lot of Cypress Bayou Casino in Charenton (between the towns of Jeanerette and Franklin off U.S. Highway 90.
We moved the motorhome 30-miles closer to home today as we are visiting some of the small historical towns on Bayou Teche. The two main towns on our schedule are Jeanerette and Franklin. Joyce has picked out some plantation homes to tour, plus a driving tour of historic Franklin. The first order of business was to locate Cypress Bayou Casino where we planned to drop the motorhome while we took the Saturn to do our exploring. Cypress Bayou turned out to be the perfect place to drop our motorhome. They do not open until noon and close at 2:00 A.M. and have a 12 acre paved and lighted parking-area. We picked a spot on the back 40 to leave the motorhome then headed out.
Area sugar cane farmers are in full gear harvesting cane. Sugar cane processing plants are scattered every 10 miles or so along Rte. 182 in this area. All available farm machinery has been pressed into duty hauling giant trailers of sugar cane to processing plants. Factories are working around the clock to render the cane into molasses. Liquid molasses is barged to another factory that further refines raw molasses into granular sugar. It is truly an awesome sight to see the activity surrounding harvest and processing of sugar cane.
Joyce indulged me three different times today as I stopped and watched the activity around different sugar cane processing plants. The activity is carefully choreographed as hundreds of truckloads of cane arrive, get in line, drive through the auger that gets a core sample of each load to determine the sugar content thus the price per-ton. Then the cane is dumped into giant bins. The bins feed 50' wide conveyor belts transporting cane stalks to washing vats.
Joyce also let me watch harvesting operations on several occasions. Last year in Arkansas I got to ride in a harvester while several rows of cane were harvested. It is amazing what thrills me.
The historic town of Franklin was named after Benjamin Franklin. English settlers from Virginia and the Carolinas settled in Franklin making it an Anglo-Saxon pocket in the largely French (Acadiana). The Anglo-Saxon influence is apparent in the architecture of the city with its Greek Revival homes, moss-draped oaks and old-fashioned street lamps.
Beautiful historic homes not withstanding the lasting impression I will have of the area is the sight of huge cane trucks rumbling through these small towns. Over 400 historical properties are within the downtown historic district. Joyce and I slowly drove up and down East Main Street (Rte. 182) in Franklin admiring the old plantation homes. Main Street is a broad boulevard shaded by massive moss draped oaks. A thin neutral ground (median) is adorned with ornamental cast-iron street lamps complete with decorative globes, reflecting the charm and grace of an earlier time.
The first house tour on our schedule today was the Grevemburg House. The Grevemburg House is an 1851 Greek Revival home constructed of cypress with 4-fluted Corinthian columns showcasing the front porches. The local chapter of the Louisiana Historic Landmark Society has painstakingly restored the Grevemburg House. The floors are original, but details, like the painted "faux bois" cypress, wallpaper and draperies are meticulous reproductions. It is furnished with an impressive collection of period furniture and artwork.
Less than 5-miles down the road was Oaklawn Manor Plantation. It is the current home of Louisiana governor Mike Foster. No matter if it is the "Governor's" personal home it is open for tours. As we enter the gate we are greeted and questioned by a state trouper. He looks us over, takes our tag number and allows us to enter. We parked in the "visitor's" designated space and walk up to the "Governor's Mansion" (Oaklawn Manor Plantation) and ring the doorbell. An elderly lady that was a family friend of the Governor greeted us and took us on our tour. The Governor actually came in and spoke with us. He had been bird hunting and was dressed in casual clothes. Even though we were in his elegant home with truly aristocratic trappings he was not putting on any airs. The inside rooms were elaborately decorated for Christmas. The "Gov" had the house ready to do some holiday entertaining.
Unlike many of the antebellum homes still standing Oaklawn Manor is constructed from locally made bricks. The massive columns are made from pie shaped bricks. Exterior walls are 20-inches thick while interior walls are only 18-inches thick. Original floors were of cypress but a fire destroyed those. Mr. Barbour, an extremely wealthy individual, purchased the property after the fire and restored the structure. Oaklawn Manor was a magnificent structure from the beginning but Mr. Barbour took it to even greater levels of grandeur. He added massive intricate chandeliers. One incredibly beautiful blown glass chandelier from an island off the coast of Italy noted for its blown glass pieces was exceptionally impressive. The chandeliers really look magnificent hanging from the 15' ceilings. When fire destroyed the St. Charles Hotel in New Orleans Mr. Barbour acquired the marble floors. On his world travels he returned with the finest of marble mantles and fireplace parts.
Governor "Mike" has some family money of his own. He has one room he calls his Audubon Room. The governor has collected Audubon originals. He may have one of the largest Audubon collections anywhere. In the Audubon Room the governor also has a beautiful collection of duck carvings. Each of the ducks is a masterpiece. Governor & Mrs. Foster, commissioned renowned craftsman Don Gomez to carve a complete set of native Louisiana waterfowl to compliment the antique bird prints by Gould, Selby and Audubon already on display. At this time Gomez is working on a new collection entitled the "Birds of Oaklawn." They are stored in lighted glass showcases. In the center of the room is a magnificent life size wooden carving of a pelican feeding two chicks. The pelicans look real. The detail is indescribable. The docent told us that the work had been commissioned for the Capital building but a controversy ensued about the cost. Governor "Mike" purchased the piece and had an equally impressive glass case made to house it. Now it is the centerpiece in his Audubon Room.
In the 35-acre yard is an aviary that houses an interesting variety of domestic and tropical birds. The aviary was built by Warner Brothers Studios for the filming of the movie "Drowning Pool", starring both Paul Newman and Joann Woodward.
The 35-acre "grounds" consist mostly of beautifully mowed grass under majestic moss draped live oak trees bordered on one side by Bayou Tech.
Since we were boondocking in the casino parking lot we decided the least we could do was eat supper in the casino. As it turns out the casino has two excellent restaurants inside. One is a steak house that is supposed to be the best in the area. The other is the "Bayou Café" and it had a 30 to 40 minute waiting line as long as we were there. As we stood in line we were surrounded by couples from as far away as Houma that had driven over here for supper. We have never found casino food to be all that great but then again most of the time we have experienced the casino buffets. This casino does not have a buffet. The food, service, price and atmosphere in Bayou Café make it probably the best bet for dining within a 25-mile radius (possibly farther since two couples with us in line drove from Houma 75-miles away). Go figure?
Thursday, December 12, 2002 We onlytraveled 33-miles in the motorhome. Lake End Park Campground (City of Morgan City facility) $18 per-night with GS discount. 50amp full hookup. A nice place on the water complete with a one mile paved walking path, picnic pavilions, plus a marina and boat ramp. It is extremely popular on weekends and holidays and is often full during those times.
After moving the motorhome from Cypress Bayou Casino to Morgan City's Lake End Park and Campground we headed out on today's adventure. Joyce had plotted a route out of Morgan City north on Louisiana 70 that follows the east bank of a branch of the Intracoastal Waterway for about 20-miles. All along the highway we are separated from the arm of the Intracoastal Waterway and Atchafalaya basin by portions of the "Great Wall" or levee system that holds the Atchafalaya in between the east and west levee systems. Much of the levee system north of Morgan City is steel sheet pilings in conjunction with a 20' tall earthen levee supporting it. Highway 70 meanders along at the bottom of the earthen levee. East of highway 70 is a series of lakes and canals.
Small communities line the highway as we head north. Water related businesses dominate. Whether it is commercial fishing, sport fishing, boat or ship building from commercial boats such as tugs and offshore supply boats down to fiberglass and aluminum skiffs, everything along highway 70 is related to water.
The community of Pierre Part is home to "Chilly's". Chilly's is a wildly popular dance hall that actually sits on pilings over Lake Verret. The place goes way beyond looking rustic. In fact many city folks not into having fun with locals would roll up their windows lock the doors and probably not even slow down when passing Chilly's. I suspect normal "tourist" will have to muster up some moxie to actually stop and join the fun. We have heard that in the summer this is the place to be on Saturday and Sunday afternoons and nights. If we were going to be here this weekend we would give you a first hand report but alas we are moving on. It will be on our agenda for future trips. To find the place from highway 70 follow the signs to "shell point or shell beach or Chilly's". I think the road must be SR 10152 but I am not sure. Chilly's is 2.5 miles down the road. We could not determine where the name shell beach came from since all we saw was swamp. The road was lined with house trailers and lean-too's (Joyce's term). Near the end of the road some of the structures were more normal framed residences. We never saw anything that resembled a beach. In fact homes were more likely to have cypress knees in the yard than shells. Needless to say we did not see a beach.
A little farther east on highway 70 is the Rainbow Inn Barroom and dance hall. We understand that they regularly have bands but do not seem to have a fixed schedule. If you happen by and see cars in the lot stop in and ask what is coming up. Wednesday through Saturday nights are supposed to be the open nights but it is best to call 504-252-8069. Look closely on highway-70 for the Rainbow Inn you should be able to spot the building as you pass through Pierre Part.
Highway-70 north out of Morgan City is through swamp. This swamp produces much of the "wild" crawfish consumed in the state. Local connoisseurs know the difference between wild and cultivated crawfish and as you might suspect some of these true Cajuns must have one or the other.
Somewhere between Pierre Part and Paincourtville roadside vendors were selling "spillway" crabs. Only a local would know what a "spillway" crab is. I suspect that around here "spillway" crabs are far superior taste wise than normal "run-of-the-mill" blue crabs.
In the small community of Paincourtville we turned south on Louisiana highway 1. By the time we reach Paincourtville we have exited 30-miles of swamp and have popped out into sugar cane country once again. Besides being totally surrounded by thousands of acres of sugar cane Paincourtville has one of the most stunningly beautiful Catholic Churches anywhere. St. Elizabeth's is magnificent Gothic architecture. It has beautiful stained-glass windows imported from France. For those so inclined there is supposed to be a fantastic mural on the ceiling. To see it you will need to call the priest and make arrangements 504-369-7398.
Napoleonville is another nondescript sugar cane community. It is home to Madewood Plantation Home and Cajun Corner Café. Madewood is now operating as a Bed and Breakfast plus it is also open for daily tours. Madewood is one of the largest and certainly one of the most magnificent of all Antebellum homes and is considered to be the quintessential Greek Revival home. Construction started in 1846 by a sugar cane planter with over 3,000 acres in cultivation. Like Oaklawn Manor Madewood is constructed of locally made bricks. Slaves, skilled in the art of making bricks from local clay, were responsible for making bricks at each plantation. Interior and exterior walls are over 20 inches thick. Interior walls are covered by stucco. 6 massive fluted Corinthian Columns showcase the front of Madewood with ornate scrolls decorating the column's crown. The back porch has 6-square columns with no decorations. Several interior fluted columns with exquisitely carved leaves adorning the crowns share duty in the foyer area between the front door and the spectacular semi-spiral staircase. Waterford crystal chandeliers hang from 15-foot ceilings. Madewood is proud of the fact that two movies have been filmed there "Sister, Sister" and "A Woman Called Moses".
The Cajun Corner Café is famous for its pure Norman Rockwell exterior. Originally built as the Bank of Napoleonville in 1895 the corner-facing entrance is what sets the place off. It is often used in videos and movies. We wanted to eat in the café just for the experience. The lunch special was meat pie with macaroni & cheese, baked beans and a green salad for $3.95. It is unbelievable that in 2002 you can purchase a lunch like this for $3.95. I was surprised when the waiter did not dip his hand into the cooler and retrieve one of those 5-cent glass bottle cokes. I guess that was expecting too much?
It started raining as we left Napoleonville. That put a damper on sightseeing the remainder of the day so we headed back to the motorhome.
Friday, December 13, 2002
We traveled 77-miles in the motorhome. Bayou Segnette State Park Westwego (New Orleans) $12 per-night for 50-amps and water with central dump station, paved interior roads and pads.
We had a rather uneventful drive from Morgan City to New Orleans on highway-90. The highlight of our trip was stopping off for a few minutes in Gibson (near Houma) at Hideaway Ponds RV-Park to visit with friends from our Thanksgiving feast. Stanley & Virgie were there to meet us but Jim & Charlotte and Bob & Tina had headed north to spend Christmas with family. After a short visit we were on the road again. When we pulled into Bayou Segnette SP we asked the clerk if by chance Larry Gobin was in the park. Yes, he is on site #93. We are on #97. Larry is a virtual friend (Larry has monitored RV-Talk an e-mail group that discusses RV'ing, for years). He has been receiving our travelogues and we have communicated via e-mail but never really met face to face.
We had been looking forward to eating lunch at Common Ground in Gretna and sharing one of their bread pudding deserts so you know where we went for lunch. My Oh My it was worth the wait.
Around 5:30 we noticed that an automobile was in front of Larry's Class "A". Joyce and I ambled over to meet them. Larry answered the door with a Hi Mike!! He was exiting the park as we were checking in and put two and two together (a TREK pulling a Saturn). We spent about 3 hours sharing experiences with Larry and his lovely wife Cindy.
One of the stories Larry shared with us after being prodded by Cindy was their grand entrance to New Orleans. On their way into New Orleans from the east on I-10 they both knew there were two bridges across the Mississippi--the business highway-90 bridge and the Huey P. Long Highway-90 Bridge. Both Larry and Cindy had read my recent travelogue warning about the Huey P. Long Bridge. They knew which bridge to AVOID and which bridge they wanted to navigate. To make a good story short they took the wrong exit and ------ and, you guessed it, they ended up going across the Huey P. Long Bridge. Now that they have done it they say it is every bit as exciting as I had described. Hold on, the story gets better. On the west side of the Huey P. Long Bridge is a traffic circle with VERY CONFUSING signs (I know they are confusing because we have circled that very traffic circle more than once trying to determine where we needed to get out of the circle) anyway ----- BINGO they exited the traffic circle and headed back across ------- (drum roll)----the Huey P. Long Bridge! Once back on the New Orleans side of the Bridge is was decision time. They both know that Bayou Segnette State Park (their destination) is about 3-miles from the foot of the Huey P. Long Bridge and that dreadful traffic circle. However, they are now certain that they are NOT going to get to Bayou Segnette State Park via the Huey P. Long Bridge. From the New Orleans side of the Huey P. Long Bridge they decided to drive through New Orleans and cross on the business highway-90 bridge. They arrived in Bayou Segnette State Park about 45-minutes later. Now they have a really good experience to share with everyone. They have done the Huey P. Long Bridge twice in one day and lived to tell about it. Congratulations go to Larry and Cindy they have proved that it can be done! In fact they can both laugh about it NOW!
Larry & Cindy, I hope that the two of you can continue to laugh about your adventure and thanks for sharing it with us. It was priceless!
Twice today we have been privileged to visit with friends. Does it get any better?
Saturday, December 14, 2002 Wetraveled 80-miles in the motorhome. We boondocked in the parking lot of Casino Magic in Bay St. Louis, Mississippi.
We drove U.S. highway-90 out of New Orleans and into Bay St. Louis, Mississippi. The drive was much more scenic this time. The last time we traveled this way a month ago tons and tons of trash was piled along the road as a result of the two tropical storms that passed through the area in October. That sight was depressing. Mattresses, couches, dressers, rugs you name it were piled along the highway. This time all of that had been removed and the place looked much better. For those of you that are not familiar with the aftermath of hurricanes it takes a LONG time for government to remove all of the debris.
The highlight of the highway-90 trip was crossing those two extremely narrow bridges. They are narrow but nothing for a stepper! Do not let me scare you. They can be done in a motorhome easily because there is not much traffic. If you do happen to meet a large vehicle coming the other way rest assured they will slow down to a crawl just like you. I know this for a fact!
Instead of staying in the Casino Magic RV-Park we decide to boondock in the parking lot of the Casino with about 10 other units. The weather is nice and we saw no reason to pay for a spot in the RV-Park.
Virtual friends Gloria and Jerry Gill (Duncanglo is Gloria's virtual address) are staying in the Casino Magic RV-Park. We met Gloria on RV-Talk and have communicated about RV'ing for the last year or so. Today we actually put faces with the e-mail friends. They are on their way to spend the winter in Mexico. Don't we all wish we were going with them? They had tickets to the Brenda Lee Show tonight at Casino Magic. It is a sold out show so we opted for enjoying the other entertainment that is always at Casino Magic. It was a premier Rock and Roll band and as good as most entertainment that you would pay for.
Gloria and Jerry are heading into New Orleans tomorrow and are going to spend a few days at the RV-Park on the Naval Support Activity in Algiers directly across the river from the French Quarter. We warned them about taking the wrong bridge across the river and told them how easy it could happen. We showed them on a map where the signs on I-10 would be confusing. They paid close attention and vowed that they would not repeat Larry and Cindy's trick!
Sunday, December 15, 200
We traveled 147-miles in the motorhome. Parked at home in Pensacola
Now that we are back in Pensacola we are going to spend some time with our Son, Daughter-in-Law and our Grandson. Joyce wants to baby sit around the clock.
I received e-mail from Gloria today saying that she and Jerry had made it across the river on the right bridge. I am happy for them.
Merry Christmas and Happy New Year.
Until next time remember how good life is.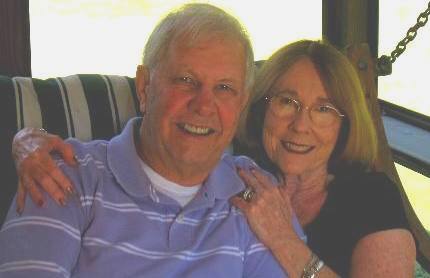 Mike & Joyce Hendrix who we are
We hope you liked this page. If you do you might be interested in some of our other Travel Adventures:
Mike & Joyce Hendrix's home page
Travel Adventures by Year ** Travel Adventures by State ** Plants ** Marine-Boats ** Geology ** Exciting Drives ** Cute Signs ** RV Subjects ** Miscellaneous Subjects
We would love to hear from you......just put "info" in the place of "FAKE" in this address: FAKE@travellogs.us
Until next time remember how good life is.