A drive from Kamiah to Nezperce then south to Grangeville through the heart of the Camas Prairie

June 23, 2007.
We are staying at Mountain View MH & RV Park in Grangeville. It is a Passport America Park $14 for FHU, cable & wifi. It isn't a resort but we had shade and a nice large site in a clean environment 208-983-2328. If you are looking for a "Resort" Christmas tree RV-Resort is on US 95 less than a mile from the middle of town.
SR-162 Woosie Road linking Kamiah & Nezperce in western Idaho
We were in Kamiah when we decided to drive to Nezperce. There are two ways to get there one via SR 64 the other west on the "truck route" SR 162 (the woosie road). SR 64 starts out paved then a series of signs warn of narrow, twisting, gravel for 7 miles. That was the "exciting" part of the drive, along the side of a steep mountain hugging the side of a roadcut wondering what was going to happen if we met an 18-wheeler in oncoming traffic. As it turns out we did meet two vehicles but thankfully not 18-wheelers. As it turns out both vehicles were cautions. Thankfully, for Joyce we were on the inside next to the road cut. I think Joyce would have lost it if we would have been on the outside. Note that there are no pictures of this portion of the drive.
Joyce finally regained her composure, when the road widened, and started taking pictures again.
Exciting SR-162 "Woosie Road" linking Kamiah & Nezperce in western Idaho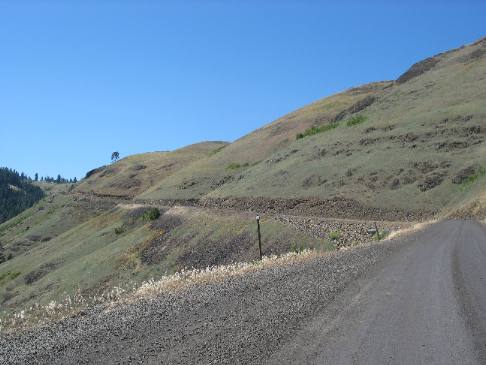 Along this section the road is wide enough to easily pass another vehicle and the road on the downhill side is not so steep. While the downhill side is not so steep it falls for what seems like forever.
At one place the roadcut consisted of this "crazed" (my term) lava rock. I am familiar with several different varieties of lava but not this "crazed" or jagged look. Does anyone want to explain what causes this look?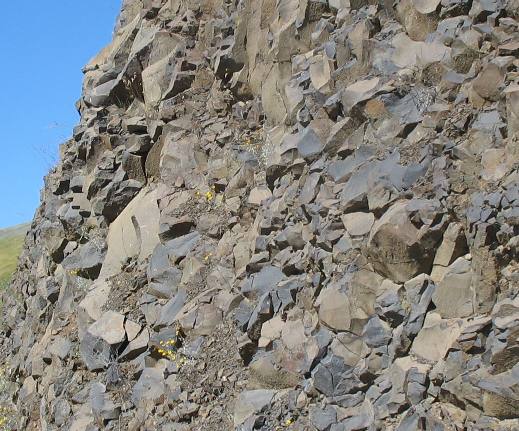 This is a closeup of that basalt from an ancient lava flow.
Around one last corner we topped out on a wide plateau that quickly became a high prairie. At this altitude cattle were grazing in lush grass.
The "high prairie" turned out to be the eastern edge of the famous Camas Prairie. Lewis & Clark were the first white men to visit the Camas Prairie when they stopped here on their famous expedition.
Extreme eastern section of Lewis & Clarks famous Camas Prairie
Then as if a we were watching a movie where the scene changes -----the scene in front of us changed. Lush grain covered rolling hills spread out before us on that plateau-prairie. The scene was beautiful. Literature says that this area grows a lot of oats so I guess the grain is oats. That is a hay field with large round bales of hay in the center of this picture. We are on the extreme eastern side of the Camas Prairie noted in Lewis and Clark journals. From here the prairie dipps to the west and spreads out the the north and south.
This is a grain field to the horizon. Printed information indicates the predominant grain grown here is oats. Whatever, thousands of acres are under cultivation.
Lush fields of grain with no apparent irrigation east of Nezperce in western Idaho
We are stunned at how green these fields are --- with no apparent irrigation.
The Camas Prairie is a spectacular agriculture area.
In the small uncultivated areas large wild rose bushes present a beautiful site.
This spectacular wild rose was on a small plot of uncultivated land east of Nezperce, Idaho in the Camas Valley.
Can you tell what kind of grain this is? Available information indicates they grow a lot of oats in the Camas Valley so there is a good chance this is oats.
As we get closer to Nezperce we notice a field holding about 50 of these Jacklin Seed Co. trailers.
One field of beans covered a large field all the way to the horizon. I wonder what kind of bean this is.
This Camas Valley bean field stretches to the horizon
Like I said, Camas Valley fields of beans stretch to the horizon. How do people eat all these beans?
In case you are interested, Nezperce had a nice city operated RV-Park.
We did not locate any information about this RV Park but it did look like a nice place to stay.
Grain elevators in the small farming community of Nezperce in the Camas Valley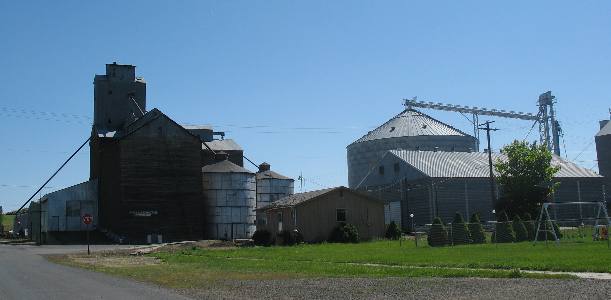 Huge grain processing facilities like these huddle in one corner of Nezperce. These grain elevators are processing oats, canola, grain and a variety of beans grown in the Camas Valley.
This picture does not do this building justice since I had to reduce it in size. It is a huge building.
The bountiful harvest in the Camas Valley demands huge grain elevators like this.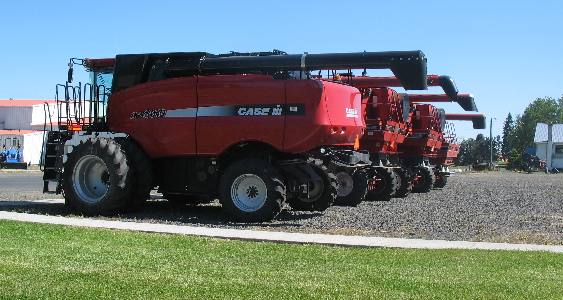 Two farm equipment dealers had sales lots in town, this is the harvesters Case was offering.
Kiosk commemorating the Lewis & Clark journey that passed through the Camas Valley in western Idaho
Not far from Nezperce many things happened that were recorded in the Lewis and Clark journals. Not far from here is where the group spent several weeks waiting for snow to melt in the high Bitterroots so they could continue their journey home in 1806.
Note the size of this grain elevator as compared to that Jacklin Seed Company trailer. These grain elevators are part of the farm product storage complex in Nezperce. I say farm product storage since beans and canola seeds are a large part of agriculture on the Camas Prairie.
Out of Nezperce we headed back to Grangeville on SR 162. As we reach the city limit sign this beautiful field of yellow canola came into view.
That may have been our first introduction to canola but it wasn't to be our last. In this area is seems like every third field is planted in canola.
The bright yellow fields are stunning beautifully.
We see no irrigation but do not understand why this field is so lush while the surrounding ground is brown and not nearly so lush.
Contrasting fields of Canola and grain on the Camas Prairie
This picture captures the stunning contrast between lush fields of grain and canola.
Until next time remember how good life is.
We hope you liked this page. If you do you might be interested in some of our other Travel Adventures:
We would love to hear from you......just put "info" in the place of "FAKE" in this address: FAKE@travellogs.us
Until next time remember how good life is.