Grain in the Camas Prairie
Grain fields in the Camas Prairie spread from horizon to horizon.
June 23, & 24 2007.
We stayed at Mountain View MH & RV Park in Grangeville. It is a Passport America Park $14 for FHU, cable & wifi. It isn't a resort but we had shade and a nice large site in a clean environment 208-983-2328. If you are looking for a "Resort" Christmas tree RV-Resort is on US 95 less than a mile from the middle of town.
The present day Camas Prairie has many different faces, all wonderfully beautiful.
This is probably oats. If you recognize what type of grain this is please let me know.
The Camas Prairie is a plateau of approximately 200,000 acres lying between the Clearwater and Snake rivers. Over 100 years of cultivation has changed the rolling landscape into a patchwork quilt of wheat, canola, oat and hay fields. In late May the few small unplowed areas still burst forth with the familiar blue camas blooms.
Grain of some kind growing on the Camas Prairie
This is a close-up, can you tell if it is wheat or oats?
Contrasting patters abound between grain and canola fields throughout the Camas Prairie.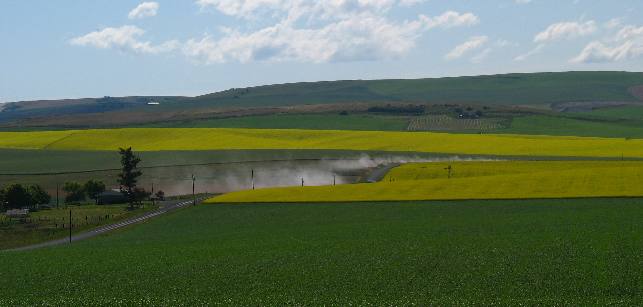 In addition to the contrasting fields this one has two vehicles driving down dirt roads leaving a trail of dust.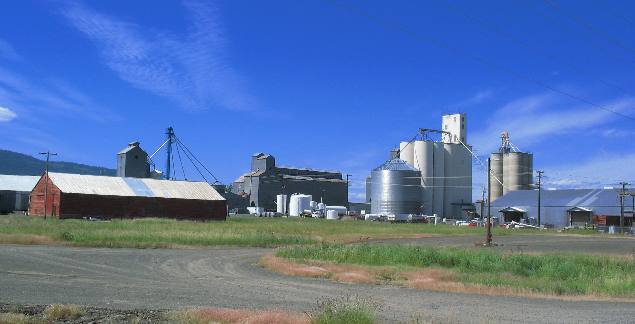 Leaving Grangeville we see a familiar sight that will be with us all day and that is grain processing and storage facilities like this one.
Grain storage facilities come in all sizes and shapes in Grangerville on the Camas Prairie.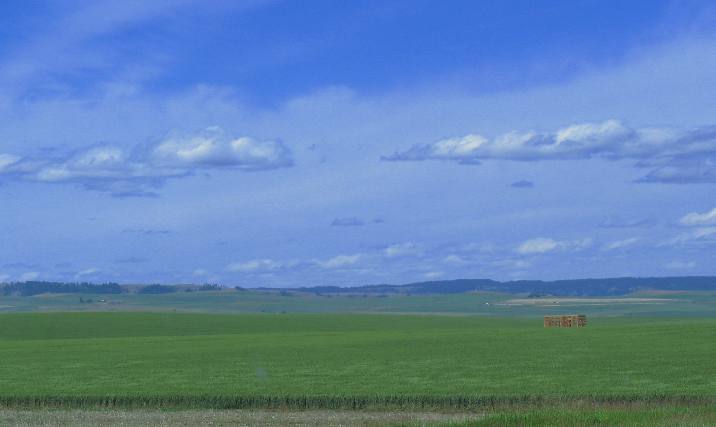 In a few months this grain field will be filling those storage facilities.
How many storage facilities will it take to hold the grain produced in this field? Like many in the Camas Prairie this field stretches to the horizon.
I don't understand it but grain loading and storage facilities continue to pop up generally where railroad lines run close to the highway as we leave the Camas Prairie behind heading to Lewiston.
I have to wonder why these grain elevators are located so far from the grain source
At this point we are 5 to 10 miles north of the Camas Prairie, where the bulk of the grain is grown, but these grain storage and handling facilities continue to appear along the rail line that parallels the highway in places.
This grain elevator is located around 25-miles north of the Camas Prairie where grain is grown
We are almost to Lewiston, which is about 25-miles north of the Camas Prairie, when we spot this large grain storage facility. What is it doing here? The location of this grain elevator really puzzles me.
Until next time remember how good life is.
Mike & Joyce Hendrix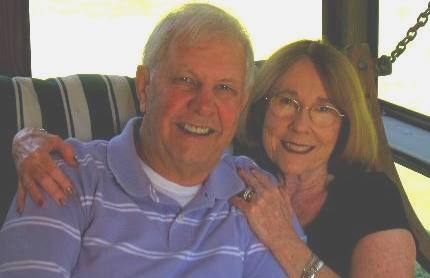 Mike & Joyce Hendrix who we are
We hope you liked this page. If you do you might be interested in some of our other Travel Adventures:
Mike & Joyce Hendrix's home page
Travel Adventures by Year ** Travel Adventures by State ** Plants ** Marine-Boats ** Geology ** Exciting Drives ** Cute Signs ** RV Subjects ** Miscellaneous Subjects
We would love to hear from you......just put "info" in the place of "FAKE" in this address: FAKE@travellogs.us
Until next time remember how good life is.