Grangeville, Harpster, Stites, Kooska and Kamiahdaho Idaho
A Scenic Loop Drive from Grangeville to Harpster, Stites, Kooska and Kamiah

June 23, 2007.
We are staying at Mountain View MH & RV Park in Grangeville. It is a Passport America Park $14 for FHU, cable & wifi. It isn't a resort but we had shade and a nice large site in a clean environment 208-983-2328. If you are looking for a "Resort" Christmas tree RV-Resort is on US 95 less than a mile from the middle of town.
Elk City Wagon Road
From Grangeville we headed northeast on SR 13 to Harpster, Stites and Kooskia.
The Elk City Wagon Road is now SR 14 that connects Harpster and Elk City. We did not take it but it would be an adventure if you have the time.
Harpster
Harpster, isn't a big town, as in no caution signal or stop sign that I remember. The settlement seemed to consist of small farms located along the highway.
In Kooska SR 13 ends in US 12. We take US-12 north to Kamiah.
Lumber mill in the Kooska & Kamiah area
Lumber mills are big business in Kooska and Kamiah.
Lewis & Clarks Long Camp
Long Camp was in the area around Kamiah, Kooska and Nezperce.
In 1806 when Lewis and Clark's Corps of Discovery started for home back in the United States they stopped in this area in May to wait for snow to melt in the Bitterroot Mountains so they could cross over the Continental Divide. Captain Lewis wrote this on May 14, the day after they entered the Kamiah (Camas Valley) Valley:
"--our situation was within 40 paces of the river in an extensive level bottom thinly timbered with the longleaf pine. Here we are in the vicinity of the best hunting grounds from Indian information, are convenient to the salmon which we expect daily and have an excellent pasture for our horses. The hills to the East and North of us are high broken and but partially timbered; the soil is rich and affords fine grass. In short as we are compelled to reside a while in this neighborhood I feel perfectly satisfied with our position".
The Corps of Discovery camped here until June 10, 1806.
ASA Smith Mission
This sign commemorates the ASA Smith Mission 1839 to 1841.
Lolo Trail near Kamiah, Kooska & Nezperce
Clark's nutcracker
Lewis and Clark while on their epic journey observed and carefully documented a number of birds during their stay in and around the Kamiah Valley.
On August 22, 1805, when the expedition crossed the Lemhi-Salmon valley into today's Idaho, Clark wrote:
"I saw today a bird of the wood pecker kind which fed on pine burs its bill and tale were white the wings black every other part of a light brown, and about the size of a robin."
Today we know that bird as the Clark's nutcracker.
On the morning of May 27, 1806, one of the men brought Lewis a "black woodpecker." He had already seen the bird in the mountains but had not observed it at close range. The bird is now named Lewis' woodpecker and it is the only zoological specimen to survive the expedition.
Lewis wrote, "We met with a beautiful little bird." It was the western tanager. The tanager's habitat is often along a stream bank, while the woodpecker prefers the more open pine and fir groves.
Syringa is the state flower of Idaho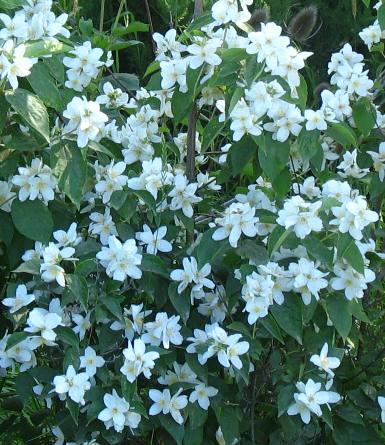 Syringa is the state flower of Idaho. Lewis collected a specimen on May 6, 1806 along the Clearwater River.
Until next time remember how good life is.
Mike & Joyce Hendrix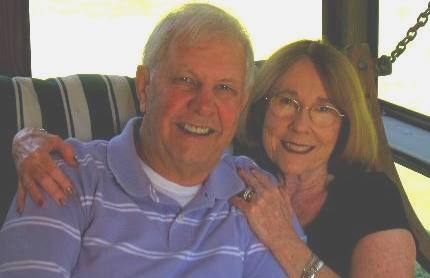 Mike & Joyce Hendrix who we are
We hope you liked this page. If you do you might be interested in some of our other Travel Adventures:
Mike & Joyce Hendrix's home page
Travel Adventures by Year ** Travel Adventures by State ** Plants ** Marine-Boats ** Geology ** Exciting Drives ** Cute Signs ** RV Subjects ** Miscellaneous Subjects
We would love to hear from you......just put "info" in the place of "FAKE" in this address: FAKE@travellogs.us
Until next time remember how good life is.