A drive from Kamiah to Nezperce then south to Grangeville through the heart of the Camas Prairie

June 23, 2007.
We are staying at Mountain View MH & RV Park in Grangeville. It is a Passport America Park $14 for FHU, cable & wifi. It isn't a resort but we had shade and a nice large site in a clean environment 208-983-2328. If you are looking for a "Resort" Christmas tree RV-Resort is on US 95 less than a mile from the middle of town.
In case you are interested, Nezperce had a nice city operated RV-Park.
We did not locate any information about this RV Park but it did look like a nice place to stay.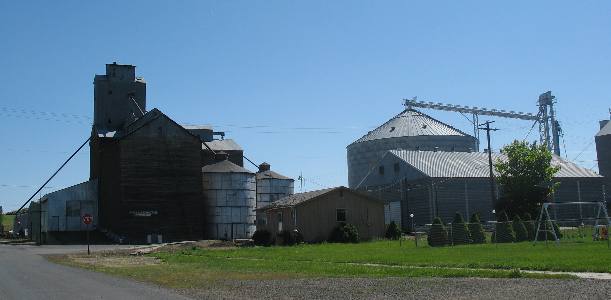 Huge grain processing facilities like these huddle in one corner of Nezperce.
This picture does not do this building justice since I had to reduce it in size. It is a huge building.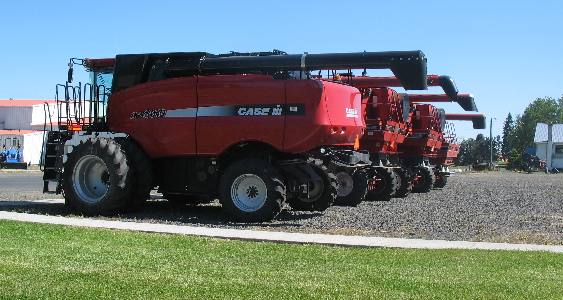 Two farm equipment dealers had sales lots in town, this is the harvesters Case was offering.
Nezperce is a small farming community named for the Native Americans that resided in this area. The Nezperce were friendly to the Lewis & Clark Expedition.
Kisos commemorating Lewis & Clarks visit to the Camas Valley
Not far from Nezperce many things happened that were recorded in the Lewis and Clark journals. Not far from here is where the group spent several weeks waiting for snow to melt in the high Bitterroots so they could continue their journey home in 1806.
Note the size of this grain elevator as compared to that Jacklin Seed Company trailer. These grain elevators are part of the farm product storage complex in Nezperce. I say farm product storage since beans and canola seeds are a large part of agriculture on the Camas Prairie.
Until next time remember how good life is.
We hope you liked this page. If you do you might be interested in some of our other Travel Adventures:
We would love to hear from you......just put "info" in the place of "FAKE" in this address: FAKE@travellogs.us
Until next time remember how good life is.