Hells Canyon NRA out of White Bird, Idaho
June 22, 2007.
We are staying at Angel's Nook RV-Park in White Bird, Idaho. $12.80 FHU no TV signal, no cell phone service, no wifi. Actually, there is no TV service or cell phone service in town. This is a small private RV-Park definitely mom & pop but close to town in the back yard of one of the oldest homes in town an an easy walk to everything in White Bird. It is a Passport America Park and we would stay here again.
White Bird to Pittsburgh Landing on the Snake River on Forest Service Road 493. Oh what a ride!
We left White Bird in our Saturn heading to Pittsburgh Landing on the Snake River in Hells Canyon. We are taking Deer Creek Road and Forest Service Road 493 which are both minimally maintained gravel transportation corridors.
Hells Canyon National Recreation Area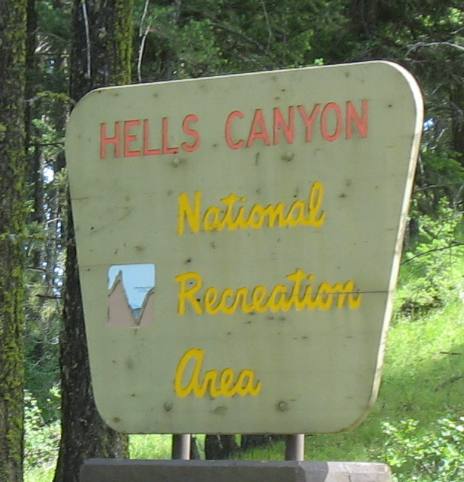 I have not mentioned it but the 17-mile drive involves a steep grade of 10-miles climbing to the top of a mountain range then a 7-mile drop on an even steeper grade to Pittsburgh Landing on the Snake River a few miles south of Hells Canyon. This sign is located somewhere near the "saddle" (that is what the locals call the "shallow" place in the mountain where the road crosses. Anyway, this was a totally awesome ride up to the "saddle". But as we will find out in just a few seconds, we ain't seen nothing yet.
The scenery from Hells Canyon NRA at the top is beautiful. Now it is time to descend to Pittsburgh Landing on the Snake River.
Only a handful of hardy geologists have studied the rugged terrain of Hells Canyon. At Pittsburgh Landing, they have identified ancient volcanic rock and sediments dating back 160 to 180 million years--some with clues to the ocean origin of these formations.
Layers of columnar basalt tell geologist that this area, like much of the Northwest, was inundated repeatedly by massive lava flows 15 to 17 million years ago.
Along the Snake River, geologists find evidence of another catastrophic geologic event. About 15,000 years ago, the Bonneville Flood roared through Hells Canyon.
Erosion, uplifting and other geological forces continue to shape the face of Hells Canyon today.
The drop in elevation from where we are to where you begin to see the road at the bottom was something on the order of a 10% grade coupled with multiple switchbacks. It is a wild ride to say the least.
Even that relatively straight section was on a grade greater than 6%. From here to the Snake River and Pittsburgh Landing was one super joy ride.
We are dropping like a rock. Notice how far down that switchback is on the left side of this picture.
The road in this picture is for all practical purposes fairly straight, but it is dropping at a 6% to 8% grade. Second gear will not hold our speed down in the Saturn.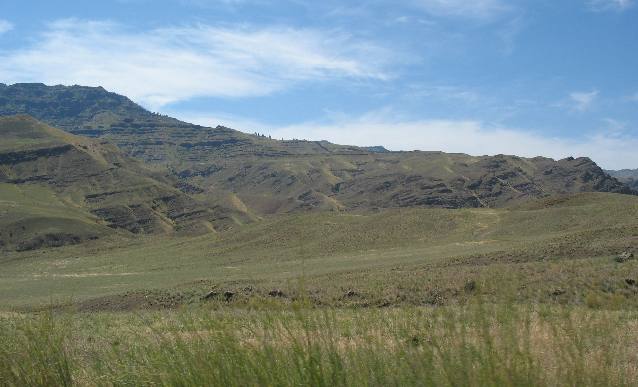 Much of the terrain is very dry and treeless on the Snake River side (west) of the mountain along Forest Service Road 493 from White Bird through Hells Canyon NRA to the boat ramp at Pittsburgh Landing in Hells Canyon on the Snake River.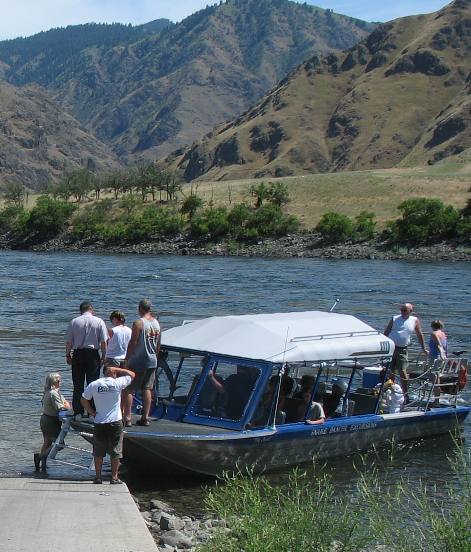 Finally we reach the Snake River and Pittsburgh Landing which is part of Hells Canyon NRA.
This was our destination, Pittsburgh Landing & Campground on the Snake River.
After climbing for 15-minutes or so and looking to the south, --trees began to appear and the grass started getting enough moisture to turn green. Note how in this picture you can see where the brown grass ends and the green grass begins.
Switchback Central dropping off the mountain in Hells Canyon NRA heading down to Pittsburgh Landing
Pay close attention to this picture because it contains several of the switchbacks we have just negotiated. Believe me this is one of the most exciting drives available to regular automobiles in the United States.
At the summit we are in the forest and for a brief moment we are not going up or down. But it is only a fleeting moment --------- then we start dropping toward US 95, the Salmon River and White Bird.
Until next time remember how good life is.
Mike & Joyce Hendrix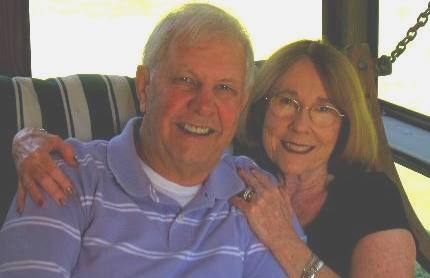 Mike & Joyce Hendrix who we are
We hope you liked this page. If you do you might be interested in some of our other Travel Adventures:
Mike & Joyce Hendrix's home page
Travel Adventures by Year ** Travel Adventures by State ** Plants ** Marine-Boats ** Geology ** Exciting Drives ** Cute Signs ** RV Subjects ** Miscellaneous Subjects
We would love to hear from you......just put "info" in the place of "FAKE" in this address: FAKE@travellogs.us
Until next time remember how good life is.