Road to Pittsburgh Landing
June 22, 2007.
We are staying at Angel's Nook RV-Park in White Bird, Idaho. $12.80 FHU no TV signal, no cell phone service, no wifi. Actually, there is no TV service or cell phone service in town. This is a small private RV-Park definitely mom & pop but close to town in the back yard of one of the oldest homes in town an an easy walk to everything in White Bird. It is a Passport America Park and we would stay here again.
We visited Pittsburgh Landing on the Snake River out of White Bird, Idaho today. Oh what a ride!


This travel adventure documents the ride back to White Bird on Deer Creek Road.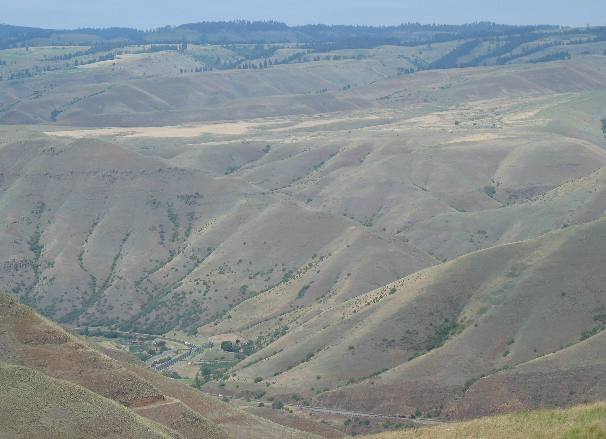 At long last we get a glimpse of US 95 way, way down there. We still have a long way to drop before we get to that highway, and as you can see it is going to be an exciting drop.
From where we are US-95 looks almost straight down.
As we fall off the mountain the terrain becomes dryer and dryer. Notice the road as it drops along the far side of this picture.
Our road continues to drop, as we head toward the Salmon River and US 95.
Then we round another corner and get another glimpse of US 95. For a moment our goal is in sight, but as you can see we still have a long way to go.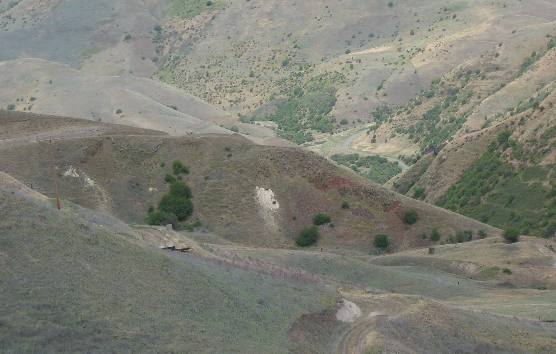 This is another glimpse of US 95 and our destination.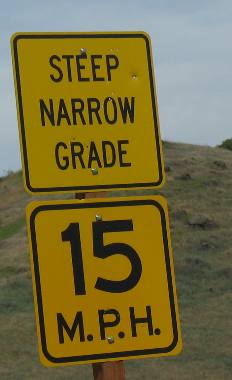 Then we see this sign. What a joke! Not that the road ahead of us is not steep and narrow but NOTHING like the road we have just driven over. This sign is on a state or county road. Obviously the Forest Service does not put up signs like this. I guess the Forest Service either doesn't have the funding to put up signs like this or they just assume everyone knows their roads are steep and narrow.
Here we go down that steep, narrow road. At least this section has guard rails. The Forest Service does not believe in guard rails.
Until next time remember how good life is.
Mike & Joyce Hendrix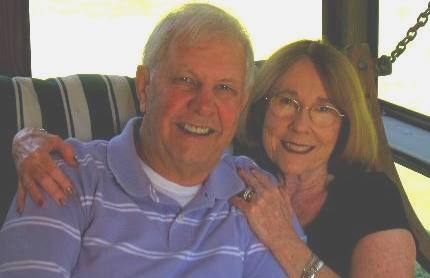 Mike & Joyce Hendrix who we are
We hope you liked this page. If you do you might be interested in some of our other Travel Adventures:
Mike & Joyce Hendrix's home page
Travel Adventures by Year ** Travel Adventures by State ** Plants ** Marine-Boats ** Geology ** Exciting Drives ** Cute Signs ** RV Subjects ** Miscellaneous Subjects
We would love to hear from you......just put "info" in the place of "FAKE" in this address: FAKE@travellogs.us
Until next time remember how good life is.