Pittsburg Landing & Campground in Hells Canyon
Visiting Pittsburg Landing & Campground on the Snake River in Hells Canyon


June 22, 2007.
We are staying at Angel's Nook RV-Park in White Bird, Idaho. $12.80 FHU no TV signal, no cell phone service, no wifi. Actually, there is no TV service or cell phone service in town. This is a small private RV-Park definitely mom & pop but close to town in the back yard of one of the oldest homes in town an an easy walk to everything in White Bird. It is a Passport America Park and we would stay here again.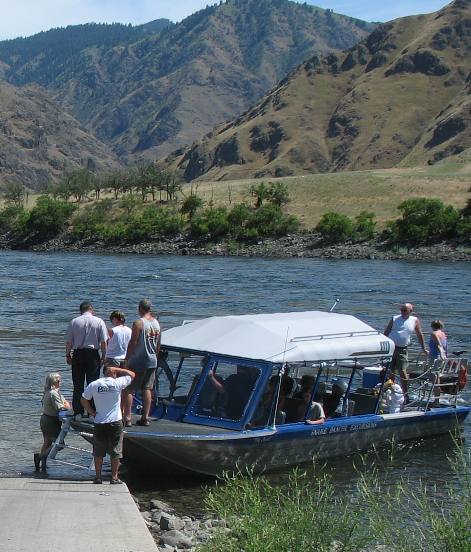 This is the Snake River and Pittsburg Landing. We watched as this jet boat, out of Lewiston, stopped to let passengers use the rest room. After the passengers boarded they pushed off and headed downstream at 30 to 40 mph. They are still 50-miles or more miles from Lewiston.
This boat is one of the jet boats that carry tourist through Hells Canyon. Hells Canyon Jet Boat Tours is one of the outfitters that I remember but there are any number of others.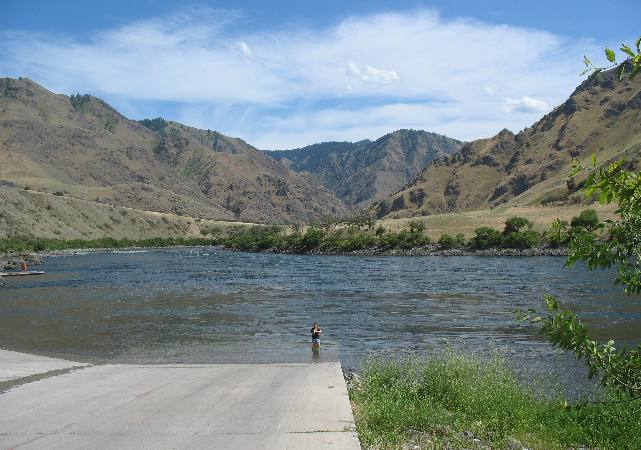 The jet boat is gone and only one little girl remains playing in the water at the end of the boat ramp at Pittsburg Landing.
That is Oregon on the far side of the Snake River.
Looking across the Snake River to the far bank is Oregon.
From Pittsburg Landing & Campground looking south into Hells Canyon.
Oregon is on the right and Idaho on the left side of the Snake River.
The mighty Snake River has cut this canyon through extremely hard lava flow as can be seen on the Oregon bank.
The basalt in this picture is left over from an ancient lava flow.
This is what the Oregon side looks like as it rises out of Hells Canyon.
This view is looking north from Pittsburg Landing in Idaho.
In this picture we are looking back to the east on the Idaho side of the canyon. That area is roadless. Forest Service Road 493 is going to go through a "saddle" located to the right of where this picture ends.
This is another picture looking east from Pittsburg Landing & Campground. This picture shows the "saddle" where Forest Service Road 493 is able to negotiate the steep climb out of Hells Canyon.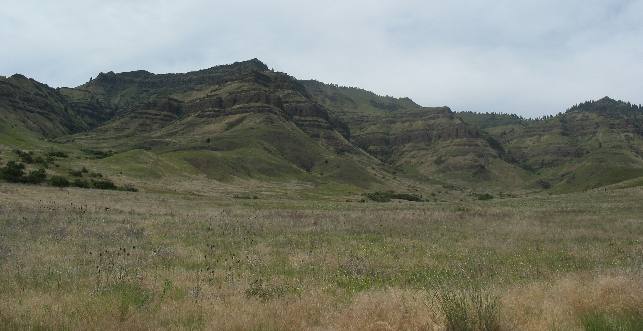 This picture was taken early on as we drove out of Pittsburg Landing while looking to the north.
Keep in mind that we are driving through Hells Canyon NRA and we are driving on Forest Service Road 493.
Until next time remember how good life is.
Mike & Joyce Hendrix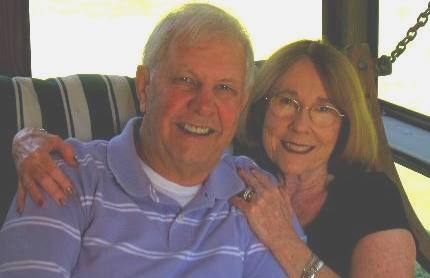 Mike & Joyce Hendrix who we are
We hope you liked this page. If you do you might be interested in some of our other Travel Adventures:
Mike & Joyce Hendrix's home page
Travel Adventures by Year ** Travel Adventures by State ** Plants ** Marine-Boats ** Geology ** Exciting Drives ** Cute Signs ** RV Subjects ** Miscellaneous Subjects
We would love to hear from you......just put "info" in the place of "FAKE" in this address: FAKE@travellogs.us
Until next time remember how good life is.