Hells Canyon viewed from Deer Creek Road
June 22, 2007.
We are staying at Angel's Nook RV-Park in White Bird, Idaho. $12.80 FHU no TV signal, no cell phone service, no wifi. Actually, there is no TV service or cell phone service in town. This is a small private RV-Park definitely mom & pop but close to town in the back yard of one of the oldest homes in town an an easy walk to everything in White Bird. It is a Passport America Park and we would stay here again.
White Bird to Pittsburgh Landing on the Snake River on Forest Service Road 493. Oh what a ride!


We left White Bird in our Saturn heading to Pittsburgh Landing on the Snake River in Hells Canyon. We are taking Deer Creek Road which turns into Forest Service Road 493 meaning it is a minimally maintained gravel transportation corridor.
That road you see is Deer Creek Road falling down to Pittsburgh Landing on the Snake River in Hells Canyon.
The drop in elevation from where we are to where you begin to see the road at the bottom was something on the order of a 10% grade coupled with multiple switchbacks. It is a wild ride to say the least.
Even that relatively straight section was on a grade greater than 6%. From here to the Snake River and Pittsburgh Landing was one super joy ride.
We are dropping like a rock. Notice how far down that switchback is on the left side of this picture.
Even when Deer Creek Road through Hells Canyon NRA to Pittsburgh Landing straightens out the grade remains totally unbelievable.
The road in this picture is for all practical purposes fairly straight, but it is dropping at a 6% to 8% grade. Second gear will not hold our speed down in the Saturn.
These two trees looked just like live oak trees from back in the south. It is odd for us to see these two large trees with no other trees in sight.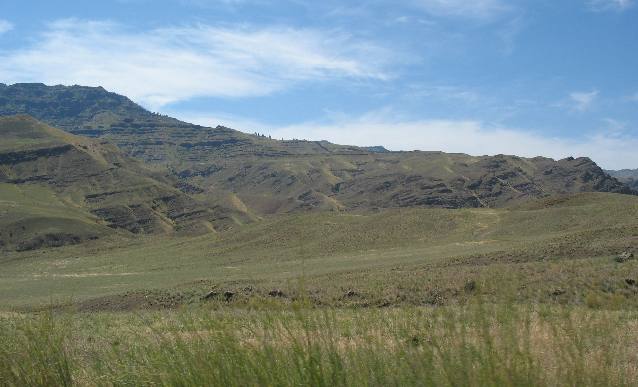 Much of the terrain is very dry and treeless on the Snake River side (west) of the mountain along Forest Service Road 493 from White Bird through Hells Canyon NRA to the boat ramp at Pittsburgh Landing in Hells Canyon on the Snake River.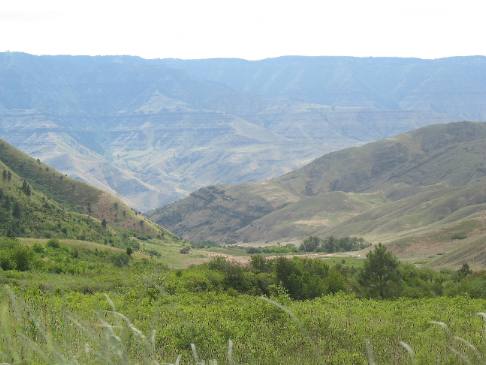 On this switchback Joyce pointed the camera back where we came from. Pittsburgh Landing and the Snake River deep in Hells Canyon is somewhere way down there.
From even higher, an on another switchback this is what that same valley in Hells Canyon NRA looks like. Pittsburgh Landing is somewhere down there.
That is Oregon you see in the distance as rises out of Hells Canyon around Pittsburgh Landing in Idaho.
What you see in this picture is Hells Canyon NRA property.
Pay close attention to this picture because it contains several of the switchbacks we have just negotiated. Believe me this is one of the most exciting drives available to regular automobiles in the United States.
In case you are interested this is Forest Service Road 493 that we are on. To find Forest Service Road 493 drive west on Deer Creek Road out of White Bird.
This picture shows Forest Service Road 493 on our return trip to White Bird.
While not as steep as the other side this side is still in excess of 6% which makes for an exciting ride.
Until next time remember how good life is.
Mike & Joyce Hendrix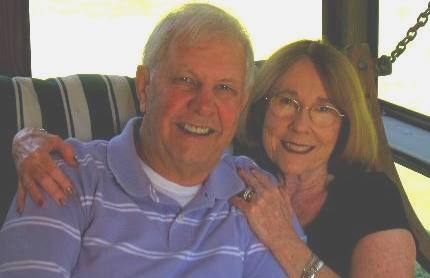 Mike & Joyce Hendrix who we are
We hope you liked this page. If you do you might be interested in some of our other Travel Adventures:
Mike & Joyce Hendrix's home page
Travel Adventures by Year ** Travel Adventures by State ** Plants ** Marine-Boats ** Geology ** Exciting Drives ** Cute Signs ** RV Subjects ** Miscellaneous Subjects
We would love to hear from you......just put "info" in the place of "FAKE" in this address: FAKE@travellogs.us
Until next time remember how good life is.