June 20, 2007.
We are staying at Canyon Pines RV Resort in Riggins, ID. $28.08 FHU-cable and free wifi, nice size sites on the Little Salmon River (208-628-4006)
Riggins is located at the confluence of the Salmon River and the Little Salmon River in western Idaho. Note that Riggins, Idaho is deep in a valley at an elevation of only 1,801 feet.
Everywhere you go from Riggins is going to be up.
This is the Salmon River a few miles north of Riggins.
In areas like this the Salmon River has cut through extremely hard basalt leaving impressive vertical sides.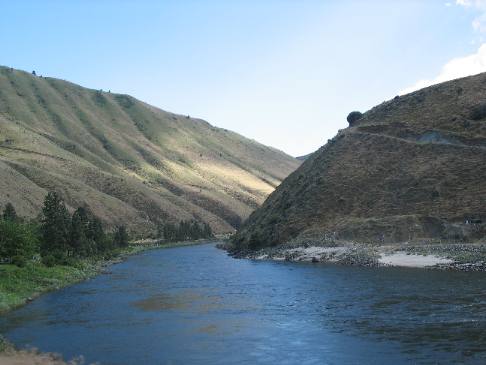 Less than a mile upstream the topography surrounding the Salmon River is completely different.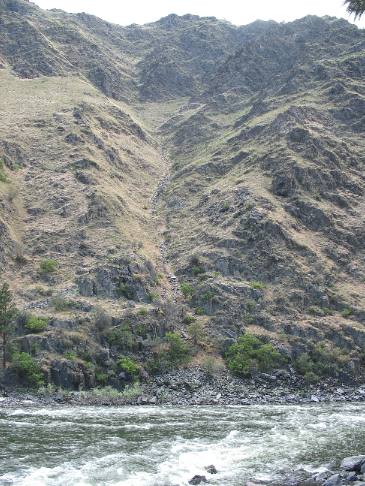 Around every bend, around every turn the landscape changes as the Salmon River rushes to meet the Snake River not far from here.
The RV-Park we are staying in is a few miles south of Riggins with US-95 on the east side and the Little Salmon River on the west side. This is the Little Salmon River as it flows by the Canyon Pines RV Resort RV-Park.
You might be interested to note that the confluence of the Little Salmon River and the Salmon River is in downtown Riggins, Idaho.
Until next time remember how good life is.
We hope you liked this page. If you do you might be interested in some of our other Travel Adventures:
We would love to hear from you......just put "info" in the place of "FAKE" in this address: FAKE@travellogs.us
Until next time remember how good life is.