June 20, 2007.
We are staying at Canyon Pines RV Resort in Riggins, Idaho. $28.08 FHU-cable and free wifi, nice size sites on the Little Salmon River (208-628-4006)
This is a basalt flow that pushed up through a large fissure in the earth's crust. As this massive flow cooled, it began to shrink and formed the vertical fractures you see here. This process is called columnar jointing.
With time, these columns of rock fracture again but this time horizontally leaving large blocks. Eventually, the blocks break away and tumble to the valley below.
This is pretty much a text book example of columnar jointing.
Size of the columns has to do with the rate of cooling; very rapid cooling may result in small columns, while slow cooling is more likely to produce large columns.
So when you look at this extremely hard columnar jointed basalt you are looking at an ancient lava flow that cooled fairly rapidly in this spot.
These pictures show both the columnar (vertical) joints and the horizontal fractures on the top part of these columnar joints.
The word basalt comes from the latin term for "very hard stone".
Keep in mind that this was an ancient lava flow that cooled fairly quickly creating the columnar jointed basalt that you see in this picture.
This is typical landscape on the hills/mountains surrounding Riggins. Keep in mind that the basalt seen in previous pictures was once molten magma pouring from the earth. Being molten it was flowing in the lowest areas. Note the absence of basalt in this picture. Obviously this area was higher than the lava flows that deposited the basalt we see the Salmon River flowing through..
In areas like this the Salmon River has cut through extremely hard basalt leaving impressive vertical sides.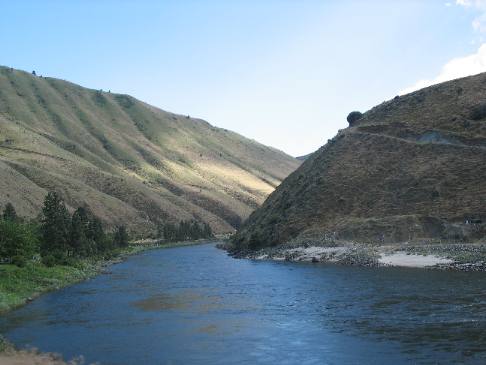 Less than a mile upstream the topography surrounding the Salmon River is completely different. Gone is the massive basalt seen in other places.
In case you are wondering Riggins is located at the confluence of the Salmon River and the Little Salmon River in western Idaho. Note that Riggins, Idaho is deep in a valley at an elevation of only 1,801 feet.
Everywhere you go from Riggins is going to be up. Well, the Salmon River does exit through a narrow canyon as it rushes to meet the Snake River.
You might be interested to note that the confluence of the Little Salmon River and the Salmon River is in downtown Riggins, Idaho.
Until next time remember how good life is.
We hope you liked this page. If you do you might be interested in some of our other Travel Adventures:
We would love to hear from you......just put "info" in the place of "FAKE" in this address: FAKE@travellogs.us
Until next time remember how good life is.