Hartsel, Colorado Scenic Drive
When visiting Canon City, Colorado we got a map detailing some Scenic Drives in the area. One of them was a loop that included SR-9 through the small town of Hartsel Colorado. As it turns out Hartsel is situated near the geographic center of Colorado, where US Highway 24 intersects with SR-9. Hartsel is alos located along the banks of the South Platte River at an elevation of 8,864 feet surrounded by mountains, streams and reservoirs.
But I get ahead of myself.
We are staying in Pueblo West Campground N38° 20.522 W104° 43.097'. Pueblo West Campground is located on US-50 about 5-miles west of I-25. It is totally gravel with huge pull-thru sites (trees are limited); 50-amps, water and sewer, $20 per-night 719-547-9887. Pueblo West Campground is a campground and equestrian facility combined.
Now it is time to start our Scenic Drive. We headed west on US-50 through Canon City, past Skyline Drive, Royal Gorge, Parkdale and Salida before turning north on US 285 in Poncha Springs. We stayed on US-285 until the intersection of US-24 where we head east to Hartsel. In Hartsel we turn south on SR-9 and return to Parkdale.
Between Parkdale and Salida/Poncha Springs US-50 follows the Arkansas River. Whitewater rafting on the Arkansas River is a big time sport here.
When we passed Parkdale on US-50 we could see the Royal Gorge Train stopped at the end of the line waiting to make their return trip through Royal Gorge.
In Poncha Springs we turned and headed north on US-285 following the Arkansas River.
Kayak hung on snag in Arkansas River north of Poncha Springs
Not long after we turned on US-285 we saw activity in the Arkansas River and stopped to investigate. A kayak was overturned and hung up on some debris in the river.
At least one kayaker was trying to do something. He was out on the bank and walking back to the marooned kayak.
Pilotless kayak flying down the Arkansas River
Then we watched as the marooned kayak became free and started flying down the river. The man on the bank jumped in his kayak and headed after the loose kayak. We have no idea where the owner is or even if he is ok. I guess someone had some high adventure and a good adrenaline rush.
View from US-285 south of Buneau Vista, Colorado
Rafters on one side and majestic mountains on the other. It is hard to pay attention to the road.
View from US-285 south of Buneau Vista, Colorado
Near Buena Vista we turned east on US-24 leaving the river behind. As we did the landscape changed. We were now traveling through a high mountain plateau.
Before long we stop following the Arkansas River and head east toward Hartsel.
Buffalo and cattle ranches seem to blanket the area. The town was named for Samuel Hartsel, a local cattle rancher in the mid to late 1800's.
It seems Samuel Hartsel arrived in the area around 1860 planning to be a miner. Mining did not work out for Hartsel so he turned to raising food for other miners. Soon he had a 10,000-acre ranch, a trading post, a sawmill, a hotel, a blacksmith shop, and a commercial hot springs and bathhouse.
Hartsel is located in a large short-grass prairie ringed by high peaks.
Short-grass prairie & high mountain peaks near Hartsel, Colorado
Looking to the west, across this beautiful plateau, and all those 14,000 foot mountains we could see rain trying to fall but it appeared to be evaporating before it made it to the ground. What a shame, they need rain.
Hartsel is located on a short-grass prairie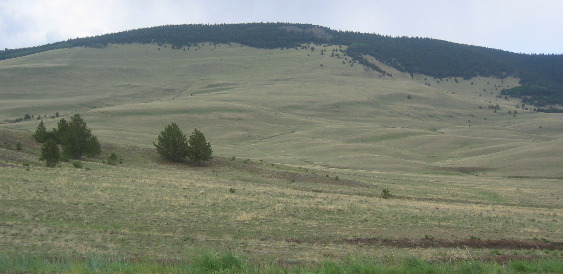 We had been traveling east on US-24 from Buneau Vista then in Hartsel we turned south on SR-9 and followed it back to US-50 near Parkdale.

But we still have a 30 mile drive across this high plateau before we get back to Parkdale then another 10 or more to Canon City.

During Colorado's gold rush (1859 and 1860), many of the prospectors and hopefuls raced to the banks of the streams feeding into this area. Towns of tents and hastily built log cabins sprang up nearly overnight in the mountains surrounding this high plateau.

When traveling on SR-9 between Hartsel and Parkdale the Continental Divide is to your west with the Tarryall Range and Pikes Peak to the east. This entire area was formed by geologic uplift millions upon millions of years ago. After the uplift erosion created this valley or high mountain plateau that now supports a beautiful short-grass prairie.
Buffalo & Cattle ranches seem to be the main form of income along SR-9 south of Hartsel
Some ranches were grazing cattle while others were into buffalo. The shaggy beast are shedding their winter coat.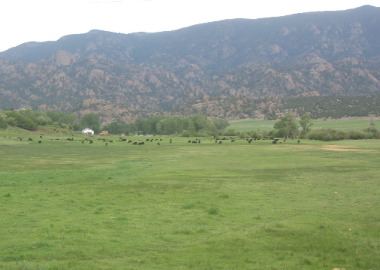 The grass along here was greener than most.
High plateau and short-grass prairie between Hartsel and Parkdale.
Buffalo grazing on the short-grass prairie between Hartsel and Parkdale, Colorado

Buffalo grazing on the short-grass prairie between Hartsel and Parkdale, Colorado
More wide open spaces and more buffalo.
Do the words "Purple Mountains Majesty" come to mind?

Long abandoned ranch houses on this high plateau.
No matter which window you looked out the view was magnificent.
This roadcut was through a deep layer of conglomerate with a good percentage of river rock indicating that eons ago this was a riverbed or flood plain.
US-50 took us back to our RV in Pueblo West via Canon City and the exciting drive on Skyline Drive.
Travel Adventures in this area that you may enjoy include:
Victor & Cripple Creek two old gold mining towns
Until next time remember how good life is.
Mike & Joyce Hendrix who we are
We hope you liked this page. If you do you might be interested in some of our other Travel Adventures:
Mike & Joyce Hendrix's home page
Travel Adventures by Year ** Travel Adventures by State ** Plants ** Marine-Boats ** Geology ** Exciting Drives ** Cute Signs ** RV Subjects ** Miscellaneous Subjects
We would love to hear from you......just put "info" in the place of "FAKE" in this address: FAKE@travellogs.us
Until next time remember how good life is.