Saturday June 10 through Tuesday June 13 2006: Pueblo, Colorado (On I-25 100-miles north of the New Mexico border). We are in Pueblo West Campground N38° 20.522 W104° 43.097'. Pueblo West Campground is located on US-50 about 5-miles west of I-25. It is totally gravel with huge pull-thru sites (trees are limited); 50-amps, water and sewer, $20 per-night 719-547-9887. This is a campground and equestrian facility.
Tuesday, our last full day in this area was spent doing the Mountain Valley scenic drive as suggested by a handout we obtained from the Canon City visitor center. This was a beautiful drive through some awesome mountain valleys flanked by snow covered mountains. A local we met somewhere along the way said that there were no stop lights in the entire county "Comal County" and I think he said 18,000 residents. Sparsely populated would be an understatement. Wide open spaces lush grazing areas and beautiful forested mountains. However, many if not most of the mountains on the western flank of this beautiful valley climb to over 14,000' which puts them 2,500' above the tree line. Snow can still be seen on many of these peaks.
We took a side trip to Bigelow Divide when on our Mountain Valley Scenic Drive. This is some beautiful country. Make plans to see it when you visit the area.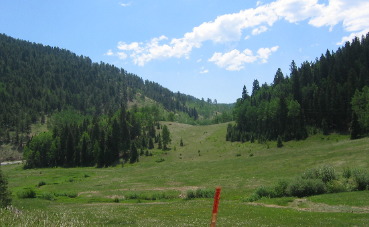 Bigelow Divide is as far as we ventured down SR-165 before turning back and retracing our route back to SR-96 where we turned west toward Westcliffe. Driving up to the divide provided some beautiful scenery. A well advertised Castle was only a few miles ahead and we should have taken time to visit it-----------but we can only fit so much into a day.
This is where we turned around and retraced our route and headed to Westcliffe, and Parkdale on the western end of Royal Gorge.
These are pictures as we are falling off Bigelow Divide heading north on SR-165 (we turned back after going down SR-165 to Bigelow Divide). That is a grove of aspen trees that grow above 8,000 feet or so.
This is a grove of aspen trees that grow above 8,000 feet or so in this area.
The picture to the left is on SR-165 as we continue falling off Bigelow divide.
The picture to the right is on SR-96 somewhere east of Silver Cliffe. Once we got on SR-96 heading west to Silver Cliffe and Westcliffe the panorama expanded. We were on a high plateau between mountain ranges to the west and east. It appeared to be made up of giant cattle ranches.
After falling off Bigelow Divide we headed to Silver Cliff on SR-96. Silver Cliff is the next part of this travel adventure.
Click here for the next part of our travel adventure on the Mountain Valley Scenic Drive.
Other Travel Adventures in this area that you may enjoy:
Skyline Drive near Canon City, Colorado
Victor & Cripple Creek two old gold mining towns
Until next time remember how good life is.
Mike & Joyce Hendrix who we are
We hope you liked this page. If you do you might be interested in some of our other Travel Adventures:
Mike & Joyce Hendrix's home page
Travel Adventures by Year ** Travel Adventures by State ** Plants ** Marine-Boats ** Geology ** Exciting Drives ** Cute Signs ** RV Subjects ** Miscellaneous Subjects
We would love to hear from you......just put "info" in the place of "FAKE" in this address: FAKE@travellogs.us
Until next time remember how good life is.