Royal Gorge Railroad
Wednesday June 7 through Friday June 9 2006: Pueblo, Colorado (On I-25 100-miles north of the New Mexico border). We are in Pueblo West Campground N38° 20.522 W104° 43.097'. Pueblo West Campground is located on US-50 about 5-miles west of I-25. It consists of extremly long 90' or better totally gravel pull-thru sites (trees are limited); 50-amps, water and sewer, $20 per-night 719-547-9887. This is a campground and equestrian facility.
Thursday morning we headed back to Canon City where we took the 24-mile train ride through Royal Gorge. This train costs us $29.95 each (cheapest coach ticket) for the 2-hour round trip; 12-miles through the canyon then 12-miles back through the canyon.
Huge cottonwood tree at the Royal Gorge train station in Canon City
While we were waiting to board I took this picture of Joyce in front of a huge cottonwood tree located in the loading area.
What a ride! We boarded the train on 3rd street in downtown Canon City along with several hundred other people. This is a regular train on regular train tracks. The route follows the Arkansas River from Canon City through Royal Gorge to Parkdale where the train switches direction and heads back through the gorge to Canon City. Train literature says it is a 24-mile round trip.
This is the Arkansas River Valley or flood plain as we leave Canon City. We are heading to Royal Gorge a few short miles away.
Dakota sandstone tilted at 45-degree angle
This is a bed of that Dakota Sandstone located near Canon City. Note how it is tilted at about 45-degrees. The sandstone quickly disappears as the gorge becomes 100% ignious rocks thrust up in this area 15 to 30 million years ago.
We ae getting closer to the "Gorge". Note how the walls of the canyon are beginning to close in on the river.
Royal Gorge Bridge as seen from Royal Gorge Railroad
This is the Royal Gorge Bridge with the deck 1,053 feet above the Arkansas River. Listed on the US National Register of Historic Places the bridge was constructed in 1929 as a tourist attraction.
The Bridge is billed as the highest suspension bridge in the world.
The "gash" in this igneous rock developed by the Arkansas River cutting a path through this extremely hard rock as the "Rocky-Mountains" rose. It didn't happen overnight, rather somewhere around 30-million years was required.
Wooden water pipe still visible in Royal Gorge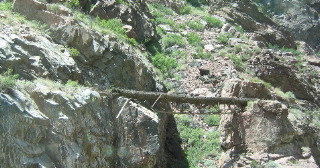 This is a section of the old wooden water pipe that used to furnish Canon City with drinking water. In places you could see how this pipe was constructed with wood slats tightly bound with steel wire. It reminded me of the way wooden whiskey barrels are made except the sides of this pipe were straight instead of curved like a barrel. Sections of this old pipe were visible all along our route.
Narrow gauge RR at top of Royal Gorge
This is the narrow gauge RR we took out to the gorge yesterday. We took pictures of the Royal Gorge bridge and canyon from that observation deck. You can see the tracks of that narrow gauge RR to to left of the observation deck. Incidentally, we are taking this picture from the Royal Gorge RR around 800' below them.
Parkdale on the Arkansas River
You can see Parkdale on some maps looking just like a city. It isn't! Parkdale is a parking lot aka (Colorado Recreation Area) located on the Arkansas River where rafters and kayakers put in and haul out.
That is "Parkdale" across the river where the rafters are putting in and taking out. The ones putting in are going to float through the Royal Gorge and take out in downtown Canon City near the train station we just left from.
Parkdale is on the west side of the Royal Gorge where the train switches direction and heads back through the Royal Gorge.
Old oar cars on side track in Parkdale
These are old oar cars that were once used to haul oar out of the mines to processing facilities near Pueblo. They are located across the river from Parkdale.
Click here for more on Rafting Royal Gorge.
Arkansas River & Royal Gorge Railroad in Royal Gorge
This picture contains the Royal Gorge RR-train, the Arkansas River and the walls of the canyon as we emerge out the eastern end.
A gondola ferries people across the Royal Gorge as well as the famous bridge. The wires you see in this picture are power lines that run up the canyon.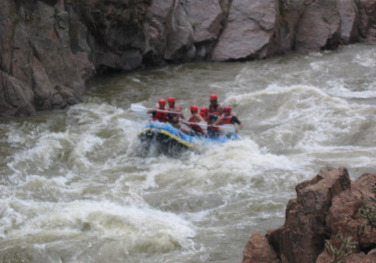 These white water rafters are getting their moneys worth.
Click here for more on rafting through Royal Gorge.
This picture is taken as we are emerging out of the canyon, yet you can see that the rock walls are still almost vertical. They are just not 1,000 feet tall.
Nearing Canon City on Royal Gorge Railroad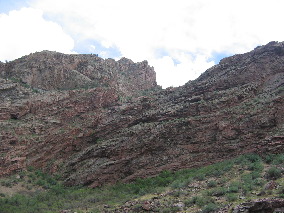 We are almost back in Canon City in this picture. The canyon is much wider and the walls have spread out considreably.
Florence, Colorado building dating from 1865
On the way back to Pueblo we stopped by the old town of Florence. It has been preserved remarkably well. Many of the buildings in town were constructed in the 1880's according to the faceplates.
Not far away we spotted this old adobe ranch house. This is a grand old place and stretched for almost a city block. It must have been a great place for young boys to grow up.
Back at the RV-Park Joyce took these photo's of the sun setting over the Colorado Mountains.
When you are in the area do not miss these things:
Until next time remember how good life is.
Mike & Joyce Hendrix who we are
We hope you liked this page. If you do you might be interested in some of our other Travel Adventures:
Mike & Joyce Hendrix's home page
Travel Adventures by Year ** Travel Adventures by State ** Plants ** Marine-Boats ** Geology ** Exciting Drives ** Cute Signs ** RV Subjects ** Miscellaneous Subjects
We would love to hear from you......just put "info" in the place of "FAKE" in this address: FAKE@travellogs.us
Until next time remember how good life is.