Wednesday June 7 through Friday June 9 2006: Pueblo, Colorado (On I-25 100-miles north of the New Mexico border). We are in Pueblo West Campground N38° 20.522 W104° 43.097'. Pueblo West Campground is located on US-50 about 5-miles west of I-25. It is totally gravel with huge pull-thru sites (trees are limited); 50-amps, water and sewer, $20 per-night 719-547-9887. This is a campground and equestrian facility. We generally look for Pass Port America Campgrounds because they offer 1/2 price camping to members but there wasn't one nearby. $20 a night wasn't a bad deal and we enjoyed our stay at Pueble West Campground and would recommend it to others.
We drove west out of Pueblo, Colorado on US-50 toward Canon City and the Royal Gorge in our Saturn tow car. Once in Canon City we continued west on US-50 like we were going to Royal Gorge but our intended destination was the famous Skyline Drive.
A few miles west of Canon City on US-50 we took the "Skyline Drive" exit and drove back to Canon City on Skyline Drive. So many people have told us about the "Skyline Drive" that this was something we just had to do. Thanks, to all our friends that recommended that drive it is awesome to say the least. Skyline Drive is a two and one half mile, one way, one-lane, paved road that climbs the steep side of a "hogback" then traverses the crest of the hogback for several miles before descending the other side of that hogback with a series of hairpin turns on a fairly steep grade. The geology of the hogback is nothing short of amazing. Then, to top it off there is an exhibit near the top where dinosaur prints have been preserved in a layer of Dakota Sandstone.
I just hate it when I read a description of something and realize that I do not understand what the description said. That is kind of the way "layer of Dakota Sandstone" hits me. I see that description all the time but didn't have much of a clue about what it conveyed other than the rock was sedimentary since sandstone is a sedimentary rock. While researching "Dakota Sandstone" Google helped me find the following:
How rocks are named:
To identify layers of rock, geologists have created several categories, the most common of which are formations, groups, and members. In the same way that biologists use the categories of families, genera, and species to identify animals and plants (Homo sapiens is a familiar genus and species), geologists use formations, groups, and members to distinguish one rock layer from another.
The basic unit in this system of classification is the formation. A formation is a rock unit that has a distinctive appearance--in other words, a geologist can tell it apart from the rock layers around it. Formations must also be thick enough and extensive enough to plot on a map.
The sedimentary rocks of Kansas have been formally divided into many different formations, each named for the geographic locality where it was first recognized and described. A familiar formation in central Kansas, the Dakota Formation, takes its name from a county in Nebraska, where it was first described.
Another important thing to remember about formations is that they often encompass a variety of rock types. For example, the Dakota Formation, although often associated with sandstone, also includes clay and shale layers.
Skyline Drive out of Canon City, Colorado

Ok! So Dakota Sandstone is a "recognizable" rock formation. Unfortunately, I didn't recognize that the sedimentary layers on the hogback were "Dakota Sandstone".
Notice how there are no guardrails on this drive and how the sides drop off dramatically on both sides of this one-way drive. Skyline Drive is located on the tippy top of the hogback.
Skyline Drive out of Canon City, Colorado
This is what you call riding on a "hogback". Keep in mind that Skyline Drive is a one-way drive.
Back to my friend "Mr. Google" and I get the following:
The Dakota Formation-early Cretaceous (135-million to 100-million years ago)
The Dakota Formation (~150ft) is generally thin and highly variable throughout the central Colorado Plateau. Where it is present, it generally consists of a lower unit of sandstone or conglomerate, a middle layer of shale and channel sandstone, and an upper layer of marine shale and sandstone.
Dakota sandstone is interpreted as a shoreline facies of the Cretaceous Western Interior Seaway. While thin in the Colorado Plateau region, correlative formations are found throughout western North America. Numerous dinosaur tracksites occur in these deposits, and trackways attributed to birds and small, coeleasaur theropods have been found in the Dakota Group as well.
Overall, the Dakota Group proves to be a track-rich zone that extends for hundreds of miles along the trend of the western shoreline of the western interior seaway.
Skyline Drive out of Canon City, Colorado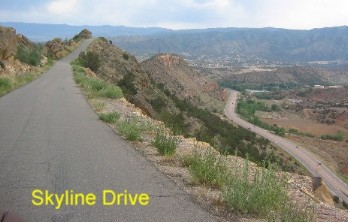 Skyline drive is the road on top in this picture while US-50 is the highway down below. We are headed east on Skyline Drive back toward Canon City.
The Dakota sandstone formation stretches all along the Front Range of the Rocky Mountains. 65 million years ago the great mountain building forces that created the Rocky Mountains pushed upwards and the Dakota formation broke and turned vertical. Over millions of years the Rockies have weathered and eroded back.
Ok, now we have it, 135-million years ago to somewhere around 100-million years ago a great inland see covered much of the United States. During that time layers of sand and clay were deposited as erosion carved the landscape. Dinosaurs left footprints in the wet mud along the shoreline of this inland sea that was drying up.
Then 35-million years passed while more layers of sediment was deposited on top of the "Dakota formation".
Hogback on Skyline Drive Canon City, Colorado
And where we are on Skyline Drive at Canon City, Colorado the mountain building forces deep within the earth began pushing up the sedimentary layers of earth/rock above it around 35-million years ago.
A hogback is a steeply tilted strata of rock protruding from the surrounding area. You can see the almost vertical strata in this picture. Skyline drive is following the crest of this geologic feature known as a hogback.
This is a closeup of that rock strata that is tilted almost vertical
Here on Skyline Drive we can see one dramatic example of how this section of Dakota formation broke and was pushed almost vertical. Once the process is explained it becomes fairly easy to see.
Dinosaur tracks in the Dakota Sandstone on Skyline Drive
In 1999 a paleontology student at The University of Colorado spotted dinosaur tracks in an outcrop of Dakota Sandstone on Skyline Drive. In February of 2000 Skyline Drive was closed while a group of paleontologist armed with hammers, picks, shovels etc., worked to clear the rocks covering these tracks and other fossils. Finally, in April of 2000 Skyline Drive was reopened and the public was informed of the dinosaur tracks. Today there are kiosks telling about the dinosaur tracks and how the "hogback" of Dakota Sandstone was formed.
Check these links for more things to see and do when in this area: