Gold Belt Tour through Phantom Canyon
Friday morning we did the Phantom Canyon drive from Canon City to Victor and Cripple Creek. Once in Cripple Creek we got back to Pueblo via Canon City on paved mountain roads.
Phantom Canyon Road CR-67
The Phantom Canyon Road CR-67, turns north off US-50 around 6 to 7 miles east of Canon City. It starts out paved but quickly becomes gravel for the next 30 or so miles, taking you to Victor then Cripple Creek. We took this drive because so many of our friends have told us the Phantom Canyon Road was a must see and do. Now that we have experienced it for ourselves we have to agree and will be encouraging other people to enjoy this breathtaking drive when they visit this area.
Phantom Canyon Road CR-67
This dirt/gravel road follows the route of the old Florence & Cripple Creek Railroad built in 1894 connecting Florence and the gold fields of Victor & Cripple Creek. When you take the drive from Florence to Victor the way we did the elevation rises from 5,500 feet to 9,500 feet over 30-miles. Since Phantom Canyon Road (CR-67) is built on much of the old rail road bed the grade is a pretty constant 2% rather than a lot of up and downs.
Sedimentary rocks on the drive up Phantom Canyon
The southern end of Phantom Canyon exposes a lot of sedimentary rocks probably Dakota sandstone.
Somewhere between 5,500' and 6,500' we were spotting layers of sedimentary "conglomerate" comprised of river rock and other materials. It is difficult for me to imagine how river rock got mixed with other rock that obviously has not been rounded by the effects of rolling down a fast moving river.
Sedimentary Rock standing almost vertical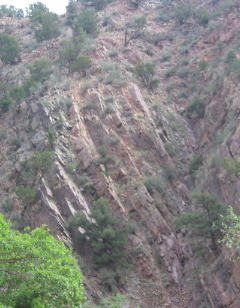 Note how this old sedimentary rock has been pushed up almost vertical. Now that is extreme.
The old rail road was used to take gold and supplies in and out of the Cripple Creek and Victor gold mining districts. Phantom Canyon wends its way through precipitous canyons on the south slope of Pikes Peak. Pikes Peak although 20 to 30 miles to the northeast was the geologic event that created Phantom Canyon.
Along Phantom Canyon Road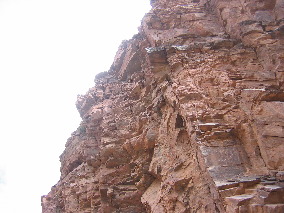 Pikes Peak towers to 14,110 feet while anchoring the Front Range of the Rocky Mountains. Water carved canyons slice into the bedrock of the southern slopes of Pikes Peak one of which created Phantom Canyon. Water born erosion has formed deep, steep sided canyons and high, forested ridges. This rugged country remains a wild and barely accessible landscape. It's a boldly, sculpted landscape accented with pink granite bastions like in the picture.
McCourt on Phantom Canyon Road
By the time we got to McCourt (an old train water & fuel stop) we have gained almost 1,000 feet of elevation.
Along Phantom Canyon Road
Now that we are higher in elevation igneous rock is dominant. The sedimentary rock that once topped this intrusion has eroded away.
Igneous Rocks along Phantom Canyon Road
Note the extreme geologic forces that have pushed this bank of igneous rocks up at an angle resembling tilted sedimentary rocks. This resulted from a series of uplifts with the later uplifts pushing up earlier igneous intrusions.
Just enough opening in the rock for a rail car
Note the narrow cut in this dike of extremely hard igneous rock. The railroad did not waste any dynamite moving more rock than was absolutely necessary in this cut.
Tunnel on Phantom Canyon Road
This is one of the two tunnels on Phantom Canyon Road that were blasted through hard granite. Note there are no supporting structures just a blasted hole that has been here since 1894.
Phantom Canyon Road can be described as desolate and bone shaking while at the same time strikingly beautiful. Keep in mind that this is a desolate area, there are no facilities or stores. The only objects resembling civilization were pit-toilets strategically placed every 10-miles or so.
Glenbrook another stop on the Phantom Canyon Road
We have gained 1,678' in elevation since the last sign denoting one of those old train stops.
Aspen trees became common at this elevation.
Phantom Canyon Road is touted as one of the most scenic and historic drives in Colorado. While increasing in elevation from 5,500 to 9,500 this drive offers the chance to see a wide range of plants and wildlife in their natural setting in addition to viewing up close and personal 130 million years of geological upheaval and wonder. Several unique bridges and tunnels offer a visual link to the area's historic past.
The road condition as in "washboard" and narrow bridges encourages people to slow down and view the scenery.
Wilbur the last stop on Phantom Canyon Road before Victor
Near Victor we emerge out of Phantom Creek Canyon and into a beautiful plateau that resembles a mountain valley.
Phantom Canyon drive has a lot to offer like two tunnels, two rest areas and fifteen bridges.
As we progressed up that old railroad grade the topography changed dramatically.
We started out in the relatively dry area around Florence. Although we were following Cripple Creek where things were green the environment not immediately bordering the creek was much dryer, especially on the cliffs and mountain sides. The higher we got the greener it got away from the immediate vicinity of Cripple Creek.
As we near Victor lush meadows began to appear, the forest was thicker and healthier. The high country is beautiful and green with ponds and myriad creeks.
You can continue this adventure by clicking here.....The old mining towns of Victor & Cripple Creek.

Then the trappings of mining sprang into view. Mine tailings, booms and the buildings around mine shafts appear around the small mining town of Victor.
From Victor we headed to Cripple Creek (casino city) a neat old mining town now infested with casino's.
We made our way back to Canon City and eventually Pueblo via CR-1 to SR-9 to US-50 which took us back to Pueblo.
Until next time remember how good life is.
Mike & Joyce Hendrix who we are
We hope you liked this page. If you do you might be interested in some of our other Travel Adventures:
Mike & Joyce Hendrix's home page
Travel Adventures by Year ** Travel Adventures by State ** Plants ** Marine-Boats ** Geology ** Exciting Drives ** Cute Signs ** RV Subjects ** Miscellaneous Subjects
We would love to hear from you......just put "info" in the place of "FAKE" in this address: FAKE@travellogs.us
Until next time remember how good life is.