Victor & Cripple Creek, Colorado
Wednesday June 7:
We are in Pueblo West Campground N38° 20.522 W104° 43.097'. Pueblo West Campground is located on US-50 about 5-miles west of I-25. It is totally gravel with huge pull-thru sites (trees are limited); 50-amps, water and sewer, $20 per-night 719-547-9887. This is a campground and equestrian facility.
We have been taking a scenic drive up Phantom Canyon Road to the old mining towns of Victor and Cripple Creek, Colorado.
Mining activity near Victor, Colorado
Once near Victor we begin to see the unmistakable signs of mining activity.
Mine tailings in Victor, Colorado
The tell-tell mounds of mine tailings can be seen everywhere.
Old gold mine in Victor, Colorado
Some of these old gold mines may still be in operation.
Old Gold Mine in Victor or Criple Creek, Colorado
Between Cripple Creek and Victor are the remnants of hundreds of historic mines and at least one operating modern gold mine.
Reminant of old gold mine in Victor, Colorado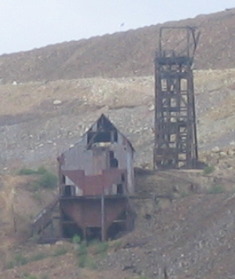 It is hard not to see the discarded reminants of the old mines around Victor.
Old Mining Equipment
Old oar cars on display
These old mine cars loaded with gold bearing oar show how this oar was removed from the mine.
Over 500 mines once operated in the district, each with its own story. At one old mine, back in 1914, miners uncovered a large chamber with walls completely covered in gold crystals as large as thumbnails. The owners installed vault doors, and armed guards escorted the ore to the mills. Today's gold mining operation focuses on removing and concentrating gold from low grade ore that was not able to be processed efficiently with historic mining methods. Large amounts of rock are crushed and treated with a diluted cyanide solution to remove any remaining gold.
At the end of our drive up Phantom Canyon Road we finally spot the old mining town of Victor. Mine tailings, booms and the buildings around mine shafts are all around the small mining town of Victor.
From Victor we headed to Cripple Creek (casino city) a neat old mining town now infested with casino's. Cripple Creek is also an old mining town with many abandoned gold mines around town.
We made our way back to Canon City and eventually Pueblo via CR-1 to SR-9 to US-50 which took us back to Pueblo.
Until next time remember how good life is.
Mike & Joyce Hendrix who we are
We hope you liked this page. If you do you might be interested in some of our other Travel Adventures:
Mike & Joyce Hendrix's home page
Travel Adventures by Year ** Travel Adventures by State ** Plants ** Marine-Boats ** Geology ** Exciting Drives ** Cute Signs ** RV Subjects ** Miscellaneous Subjects
We would love to hear from you......just put "info" in the place of "FAKE" in this address: FAKE@travellogs.us
Until next time remember how good life is.