St George Island, Apalachicola, St Andrews State Park Panama City Beach, Carrabelle, Manatee Springs State Park in Chiefland, Jetty Park in Cape Canaveral & Wickham Park in Melbourne all in Florida
Places Visited:
Florida: St George Island, Apalachicola, St Andrews State Park Panama City Beach, Carrabelle, Manatee Springs State Park in Chiefland, Jetty Park in Cape Canaveral & Wickham Park in Melbourne.

Thursday, September 11, 2003
We drove 228-miles to Basset's Beach Bungalow St. George Island, Florida
After being home, in Pensacola, for a month it is time for us to "take off" again. If we hang around our "stick & brick" house too long people will began to wonder "what's up". We are going to spend a few days with our Son, Daughter-in-Law, Grandson, and my Mother at our Daughter-in-Law's family Beach Bungalow on St George Island, Florida. Earlier this summer two different sea turtles pulled themselves up on the beach during the night and laid eggs behind the beach house. Turtle nests hatch between 55 and 75 days after being buried in the sand. Sixty days have elapsed and we are going to see if we can be on hand to witness the little turtles digging their way out of the nest and making that mad dash to the relative safety of the Gulf.
Joyce and I are in our motorhome pulling our Saturn as if we are on a normal excursion. We stopped by Panama City and picked up my Mother. Jeff and Kathryn and grandson Stephen left several hours later in their truck pulling a boat.
We stopped in Apalachicola at the Apalachicola Seafood Grill for a very late lunch. This is one of our favorite dining places in Apalachicola. We sat in the corner table so we could watch traffic on U.S. 98 as it made the 90-degree turn in downtown Apalachicola. This also happens to be the table used in the opening scene of Yulee's Gold, an old movie starring Peter Fonda that revolved around life in Wewahitchka, a small town north of Apalachicola. Yulee's Gold refers to "honey" especially the much sought after tupelo honey that is unique in taste and composition of sugars. Bee hives are transported into swamps surrounding the Apalachicola River for 3-weeks in early spring. Blooms of the tupelo gum tree provide bees with the essential ingredient of tupelo honey.
Mother had never seen Yulee's Gold so we promised to rent the movie for her while we were at the beach house. She got to see Peter Fonda sitting at the same table she was sitting at Thursday afternoon.
The drive along the coast on U.S. 98 was filled with Monarch and Gulf Fritillary Butterflies on their annual migrations. For whatever reason butterflies, especially monarch and gulf fritillary gather in the fall along the Gulf Coast. Gulf Fritillaries range from New Jersey to Argentina using several varieties of passion vine/passion flower as the larva plant. I do not know if that means they migrate across the Gulf of Mexico to South America or not. What is certain is they gather along the Gulf Coast in September.
Jeff, Kathryn and Stephen arrived at the beach house around 7:00.
We did not see any turtles hatch tonight.
Friday, September 12, 2003
Basset's Beach Bungalow St. George Island, Florida
Jeff pulled the boat to Apalachicola and the World famous Bay City Marina where we launched on the Apalachicola River. We spent the morning exploring myriad distributaries meandering through the broad delta formed by the mighty Apalachicola River. At one point we followed the Intracoastal Waterway as far west as Lake Wimico. The delta has many different faces. While marsh grasses cover vast areas, just across the river is a swamp of gum trees, cypress and cabbage palms. Those trees have taken root on patches of soil that is only 6 to 8 inches higher than the areas covered in marsh grasses. Interspersed in the swamp are spots of ground a few inches higher and dryer where live oak and long leaf pines dominate. It is interesting to view the subtle differences that create the many faces of this estuary.
Back at Bay City Marina we went inside to view the huge alligator hide on the wall. The hide is from a 12-foot alligator that was a monster. At some point in this giant alligator's life he had lost several feet of its tail to another predator. I suspect that the perpetrator of that dastardly deed paid with his life. Almost certainly that missing piece of tail was removed prior to him reaching the size we now see him. Another alligator, this one 14' long, was shot at the marina by an alligator trapper hired by the state to remove dangerous/nuisance gators. Nuisance gators less than 5' long are taken alive and re-located. Large gators are not "trapped" they are eliminated when they become nuisances and one that takes to hanging out at the fish cleaning table is "a nuisance".
Back on St George Island Jeff and I put the boat back in the water at St George Island State Park and went "spec" fishing. Specs or speckled trout (weakfish on the east coast) are abundant on the grass flats and oyster bars of Apalachicola bay. We caught and released a few fish while keeping a few around 18" long for the "frying-pan".
No turtles again tonight, although we went looking.
Saturday, September 13, 2003
Basset's Beach Bungalow St. George Island, Florida
We took the "girls" to Apalachicola where we ate lunch and let them "do their thing" in the plenteous knickknack shops. When in Apalachicola fresh seafood is what you have to do. Jeff and Kathryn like Papa Joe's Oyster Bar & Grill located on the banks of Scipio Creek at Scipio Creek Marina 3-blocks west of the blinking light in Apalach. Apalachicola Bay is world renowned for oysters but we would rather reserve our oyster eating to colder months. Oysters spawn during the summer months and that taste is just not what I am looking for. Good plump, juicy, salty, winter oysters are food for the Gods. By the way Apalachicola has an annual Sea Food festival the first weekend in November (Oct 31-Nov 2). www.floridaseafoodfestival.com If you happen to be in the area this is a lot of fun.
Jeff and Kathryn and I went spec fishing this afternoon. We caught a bunch of fish but only kept four. All our fish were over 16" long with one over 20". Fishing was good this afternoon plus we enjoyed a beautiful sunset. We arrived back at the beach house around 8:00 PM just in time for the FSU vs. Georgia Tech football game. Georgia Tech was fresh off of their upset win over Auburn last week and almost pulled off another upset tonight at Tallahassee. Florida State pulled the game out 14-13 in the waning moments of the 4th quarter. Georgia Tech is a team to watch. They are for real, if you do not believe FSU ask Auburn!
No turtles hatched again tonight, not that I was interested in watching turtles at a time when FSU was almost down for the count.
Sunday, September 14, 2003
Basset's Beach Bungalow St. George Island, Florida
It was nice waking up and realizing that FSU had indeed pulled out that game last night. FSU fans now realize the BUZZ saw that Auburn ran into last week.
Everyone went for walks on the beach and worked on tans. Around mid-afternoon Jeff and I fried up the fish and a bag of scallops we brought along. There is nothing better than fresh fried fish and scallops. We cooked so much that we will be eating leftovers for days. I know that is a tough assignment but someone has to do it.
We rented the movie Yulee's Gold. Now Mother and Kathryn can say they have seen Yulee's Gold.
Jeff and I went fishing around 5:00 PM. This was Jeff's day to catch trout and my day to catch flounder. Actually, Jeff caught 4 nice speckled trout and I caught two nice flounder, one over 20" long. The sun was setting as we headed back in. It provided us with a spectacular red ball as it fell across the water behind a small island. It was one of those "post card" moments.
When we got back to the beach house Kathryn was concerned that Stephen had a fever in addition to the cough that had plagued him this weekend. By 10:00 they decided that they needed to get Stephen back to Pensacola and competent medical attention. Within a few minutes they were packed and heading back to Pensacola.
No turtles were spotted tonight.
Monday, September 15, 2003
We drove 81-miles to St. Andrews State Park site #20 with 30-amps and water (central dump station) on the water with a "million-dollar" view. $22.94
What a beautiful day to arise and view the magnificent sunrise over the Gulf. We walked on the beach then cleaned up the beach house and headed to Panama City with my Mother. While at the beach house we wanted to watch baby sea turtles dig out of their "incubator" a foot underground and make their dash for the Gulf. Unfortunately, we did not get to see that event, perhaps another time. Joyce did see one dead baby sea turtle on the beach this morning. It may have been a straggler from one of the nests a few doors down from our beach house.
We got word from Pensacola that Stephen had been admitted to the Children's Hospital where his oxygen was low. He was on oxygen for a few hours plus they gave him a shot of one of those "super-antibiotics". He had an ear infection and a touch of pneumonia. Stephen will stay in the hospital until Tuesday morning.
As we crossed the bridge from St George Island to the mainland oyster boats lined the oyster reefs running parallel with the bridge. Most had one oysterman working a pair of tongs and a crew member picking through the shells for select oysters while discarding empty shells and undersized specimens.
On the way to Panama City Beach we stopped at one of our favorite picnic sites along highway 98 just west of Port St Joe & (east of Mexico Beach) GPS N29°51.283' W85°20.361'. We stopped along that stretch of highway 98 that runs along the Gulf of Mexico and has NOT been developed. Our lunch consisted of scallops and fish left over from yesterday's fish fry. The view out our window was one you can only get at one of those "exclusive" restaurants with menus that do not include prices if you get my drift.
After lunch we continued on to Panama City Beach where we checked into St Andrews State Park on Panama City Beach. Our waterfront site overlooks Grand Lagoon and the exclusive Bay Point Resort. St Andrews State Park is truly a special site. The State of Florida has preserved one of the most awesome pieces of real estate in the state. If you are RV'ing in the Panama City Beach area the RV-Park in St Andrews State Park is highly recommended.
On the way back to the motorhome tonight we saw a trophy white tail buck about 300 yards from our motorhome. He was not a particularly large buck but his rack was impressive.
Tuesday, September 16, 2003
We drove 239-miles to Manatee Springs State Park Chiefland, Florida. $14.13 for 30-amps, water and central dump station.
How wonderful can it be? For the past four days we have been waking up and looking out over the Gulf of Mexico. This morning we are looking out the front windows of the motorhome at Grand Lagoon not 10-feet out the front door. The water is spectacular, almost slick smooth. A touch of fall is in the air. A cool north breeze is blowing and the air contains much less humidity. It is crisp.
We slept late then enjoyed the view out the window. It just does not get much better than this. It was almost 11:00 before we packed up and headed east in the motorhome. We are heading to Melbourne to visit with Joyce's Dad. On the way we are planning to stop and visit with friends just south of Ocala. We are not in a hurry as we head east on U.S. 98 as it hugs the coast.
Kathryn called to let us know that Stephen was fine and would be going home this morning.
Just east of Panama City U.S. 98 enters Tyndall AFB, Air Force Base. Driving through Tyndall is like having a front seat at an "Air Show" featuring the country's front line air superiority fighters. F-15 and F-16 jets roar across the highway and make sweeping high speed turns. Anyone that likes military aircraft would love watching the daily activities. The air show will get even better in the near future when the air wing at Tyndall takes delivery of F-22 fighters the latest and greatest, next generation of fighter aircraft to enter the Air Force arsenal.
U.S. 98 through Tyndall AFB is FLAT and straight as an arrow through typical Florida pine country. Immediately east of Tyndall is Mexico Beach a sleepy fishing village. Just east of Mexico beach is a stretch of U.S. 98 that meanders along the Gulf of Mexico through an undeveloped section of Gulf front property. It is a beautiful drive silhouetted by golden sea oats and palm trees, the white strip of beach and azure Gulf. On the horizon is Cape San Blas that thin ribbon of land that forms a peninsula seaward of St Joe Bay. Along this section of coast line is where we like to pull over and have lunch or just take a break. GPS N29°53.211' W85°21.279' is the west most pull out and N29°51.283' W85°20.361' is our favorite picnic/rest stop which is also the eastern most pull out. Let us know if you stop in one of these places. The view is awesome.
U.S. 98 passes through Port St Joe then Apalachicola, East Point and Carrabelle as it hugs the "Forgotten Coast" of Florida's Panhandle. Since we had just traveled much of this on our way to and from St George Island we kept on "trucking" until we got to Carrabelle. We stopped at the wayside park on Carrabelle Beach for a lunch break. Besides being a wayside park complete with rest rooms, parking and community beach it is also a Florida Heritage Land Mark. In late 1943, Carrabelle Beach and Dog Island, just offshore, were used by the U.S. Army 4th Infantry Division to train for the Normandy Invasion on D-Day, June 6th, 1944. This was the 4th Infantry's last training before shipping out. On D-Day the 4th infantry was the 1st amphibious assault to arrive on French soil. If you are interested is stopping the GPS coordinates are N29°49.770' W84°41.543'.
In Perry we turned south on U.S.19 a good 4-lane divided highway. We decided to stop for the night at Manatee Springs State Park in Chiefland. As we neared our site we spotted a deer trimming the shrubbery. We have now spotted deer at two different state parks. That is a positive sign that Florida is doing a good job of protecting wildlife in their state park system.
Even though we are in Manatee Springs State Park manatees are in the open Gulf foraging on sea grass at this time of year. They only visit the springs in the cold of winter when they are attracted to the "warm" 70-degree water gushing from underground springs feeding the river. If you visit the park when it is COLD you can view them from the area around the springs. If you are so inclined you can go swimming, snorkeling or scuba diving with them.
Joyce talked with Kathryn as we pulled into Manatee Springs State Park. Stephen was home and everything had returned to normal with them.
Wednesday, September 17, 2003
We drove 184-miles to Jetty Park: Cape Canaveral, Florida. $22.00 for 50-amps, water and central dump station located as close to the Atlantic Ocean as you need to be.
We slept late again, on purpose, since we planned to visit with virtual-friends Jack and Mary from RV-Talk. I called Jack from Chiefland as we pulled out heading toward his home just south of Ocala. He had picked out a good seafood restaurant in Fruitland Park not far from his home in Belleview for us to meet. We agreed that I would call him back as we got closer to his home. As we passed through Ocala we gave Jack a call and he gave me directions to Capt. Bell's Seafood Restaurant. It was a good choice since it had great seafood at a great price and it was located on U.S. 27 that we were traveling on. I had timed our call so that I thought both of us would arrive at the restaurant at approximately the same time. As it turned out it was great timing. On our way to the restaurant Jack & Mary pulled up beside us and waved. From there we followed them to Capt. Bell's. Jack & Mary are a wonderful couple that have RV'ed and lived all over this great country of ours. I am sure that we will stay in touch and get together again.
After three hours in Capt. Bell's it was time to say good-bye and continue our journey across the state. We had planned to make it to Melbourne today but as we approached the east coast is was nearing 5:00 so we decided to stop for the night at Jetty Park in Cape Canaveral.
Many RV'ers are familiar with Jetty Park operated by the City of Cape Canaveral. Jetty Park is open 24-hours a day so that fishermen can fish off the jetty protecting the pass into the Atlantic Ocean. Cruise ships operate from the berths adjacent to Jetty Park and utilize the pass to access the Atlantic. Across the pass/channel to the north of Jetty Park is Cape Canaveral where virtually all U.S. space shots originate. Jetty Park has a large RV-Park complete with 50-amp hookups. Some RV's spend the day in the day use area in a "boondocking/dry camping" mode. Jetty Park is also one of the best view points to watch a space shot.
Hurricane Isabel is churning away out in the Atlantic creating conditions that surfers pray for. In response surfers from across the state have converged on Jetty Park, indeed the entire east coast of Florida, to take advantage the awesome surf. We walked out on the jetty pier to watch the surf, surfers fishermen birds and sunset. It doesn't get any better than this.
Looking back on our trek from west to east across central Florida today the thing that stands out in my mind is LOVE BUGS. The front of our motorhome was a gooey mass of those terrible bugs. If you have never experienced "love bugs" you just can not imagine how THICK they are and what a terrible mess they make. Upon getting set up at Jetty Park we started cleaning love bugs off the front of the motorhome. Copious quantities of soap, water and scrub brush finally removed the gooey mess. I even resorted to steel wool to get the most stubborn remnants off the window shield. Thank goodness I waxed the front end of the motorhome before we left home.
Thursday, September 18, 2003
We drove 29-miles to Wickham Park 2500 Parkway Drive operated by Brevard County $17 per-night or $13.20 per-night by the week. 30-amps & water with central dump nice grass sites under tall pine trees. 321-255-4307. www.brevardparks.com/rv&tent/wickham.htm
Mailto:Wickham@brevardparks.com N28° 09.995' W80° 39.918'

We took a walk on the beach/jetty pier this morning watching all the wildlife. Pelicans, ruddy turnstones, Caspian terns, Royal terns, herring gulls and a lone reddish egret entertained us. A medium sized sea turtle probably a green or Kemp's ridley was making an appearance in the pass. The 30-pound turtle was obviously feeding in the area in addition to entertaining fishermen and sightseers. The wave action from yesterday had abated noticeably during the night.
After watching one of the Cruise Ships depart port through the channel next to our RV it was time to head to Melbourne, our destination for today. Melbourne was only 30-miles south of Jetty Park so it was a quick drive in the motorhome. We drove south on A1A through Cocoa Beach, Patrick AFB and Satellite Beach all located on the narrow ribbon of barrier Island skirting the mainland. Joyce and I enjoyed watching the surf and surfers as we journeyed south.
Normally we stay in Land Yacht Harbor when in Melbourne. They are a really nice "airstream" park where every lot is privately owned. Since we are in a Safari we are SOB's (Some Other Brand). As long as they have an open space (the owner is away) SOB's like us can stay for $25 per-night. That is not bad in this area but Wickham Park operated by Brevard County is an immaculate Park beautifully landscaped and costing $17 per-night or $13.20 per-night on a weekly basis. We just could not pass up $13.20 per-night.

Until next time remember how good life is.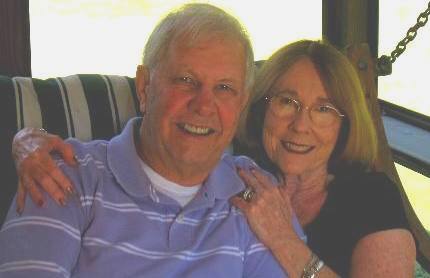 Mike & Joyce Hendrix who we are
We hope you liked this page. If you do you might be interested in some of our other Travel Adventures:
Mike & Joyce Hendrix's home page
Travel Adventures by Year ** Travel Adventures by State ** Plants ** Marine-Boats ** Geology ** Exciting Drives ** Cute Signs ** RV Subjects ** Miscellaneous Subjects
We would love to hear from you......just put "info" in the place of "FAKE" in this address: FAKE@travellogs.us
Until next time remember how good life is.