San Antonio, Socorro, Magdalena, Water Canyon Campground, Isleta Lakes Campground & Caasino & Albuquerque, New Mexico
Places Visited:
New Mexico: San Antonio, Socorro, Magdalena, Water Canyon Campground, Isleta Lakes Campground & Caasino & Albuquerque
Monday, June 23, 2003 We drove 112-Miles to Casey's Socorro RV- Park. Socorro, NM. Elevation 5,400' (in the Rio Grande Valley central NM) full hookup 30-amps $21.89
We could have stayed in Ruidoso but the unknown was calling us. Seriously, Ruidoso is a wonderful mountain town with plenty to see and do. RV'ers would do well to consider it as a place to spend the summer or just a week of vacation.
We were heading to Albuquerque as of yesterday morning. However, when we plotted our route to Albuquerque SA-8 routed us through Socorro. We had things to see and do in Socorro but since it is located in the Rio Grande Valley at 5,400 or so feet we were going to bypass it. We really wanted to stay a little higher to take advantage of the temperature but since SA-8 routed us through Socorro we decided to spend the night and see and do as many of the things as we could while there for just one night.
As we exited Ruidoso on New Mexico 37 heading to Capitan the motorhome got to climb a grade of 8% and 10% for one to two miles. This gave me my first real opportunity to see how my newly installed auxiliary radiator cooling system would work under a REAL load. The motorhome and auxiliary cooling system worked beautifully so did the exhaust break on the other side of the mountain as we descended a thousand feet or so in a very short distance.
In Capitan we headed west on US 380. This is the same highway we took a few days ago when we went to Carrizozo. This time we kept on going instead of stopping in Carrizozo. We passed by the Valley of Fires lava flow then the fault on the west side of the Tularosa Valley. The fault goes through the center of the small town of Bingham. We laughed when we passed through Bingham. There was one store or building, not even a cross road. I had read in the New Mexico Roadside Geology book that Bingham at one time had an active coal mine. We could not see it from the road! Also 30-miles or so to the south of Bingham is the Trinity site. The Trinity site, think about it! The Trinity site is where the first atomic bomb was tested back in 1945. The site is deep inside the White Sands Missile Range where no one is allowed to go.
We are headed west on US 380 to where it intersects with I-25 in San Antonio, New Mexico. The view out our window is constantly changing. We are in the desert for sure. However, different desert landscapes appear as we continue west. Several different mountain ranges run north and south and 380 seems to pick a way through them. Between each mountain range is a desert valley each very different from the previous. In the last valley we went through we could clearly see the ancient riverbed of the Rio Grande. Of course in some ancient movement of the earth it changed course and now flows a few miles to the west of the old channel.
When we finally roll into San Antonio we knew what we "had to do" and that is the Owl Bar and Café. Every piece of literature written about New Mexico mentions stopping at the Owl Bar and Café for the world's best "green chile cheeseburger". In addition to good green chile cheeseburgers the Owl Bar and Café has a lot of history under its belt. Back during WWII a group of "suspicious" prospectors frequented the Owl Bar and Café. Some of them stayed in cottages in the town of San Antonio at times. The morning of July 16, 1945 the bomb exploded at the Trinity site 40 or so miles to the southeast of San Antonio. Locals dubbed that day as the day the Sun rose twice! Now they knew what the "prospectors" had been up to. For all they new Oppenheimer himself may have been one of the "prospectors" eating at the Owl. Back then they had not heard of Oppenheimer, the Manhattan Project or the atomic bomb. Three weeks later when the US dropped one of the new bombs on Hiroshima and another on Nagasaki the folks in the owl bar started to understand what had been going on out in the desert south of them.
The Owl Bar and Grill is written up in several articles as having an eclectic mix of memorabilia. I am not sure that I would describe the memorabilia as eclectic; it consisted of a few dollar bills stapled to the wall, a right good collection of beer cans and a stuffed owl or two. I will say the "green chile cheeseburger" was good and I would recommend it to others. You can't miss the "Owl" café & Bar. San Antonio is a cross roads town (US 380 and NM 1) with the "Owl" located at the intersection. There is plenty of parking for motorhomes and RVs.
San Antonio, New Mexico also lays claim to the first "Hilton-Hotel". That is right, and it is the Hilton you are thinking of. My Roadside History of New Mexico Book tells the story of Conrad Hilton being born in San Antonio. His mother turned the family's adobe house near the railroad station into a hotel. Young Connie and his brother Carl had the job of meeting trains and lugging the bags of guests across the street. Conrad remarked later "we all worked hard, and no one harder than my mother. I wouldn't take a million dollars for what those days taught me". The Ruins of the old Hilton house are at Sixth and Main streets if you happen to be in San Antonio and are looking for the 1st Hilton Hotel.
Less than a mile east of the Owl café is the Rio Grande River or at least the river bed. There was virtually no water in the river bed. We did see water flowing in irrigation ditches not far away. It looked almost identical to the Pecos River situation.
In Socorro we headed to the Mineral Museum on the campus of New Mexico Tech. The Museum is an arm of the States Bureau of Mines (the state's geological survey) and houses New Mexico's best collection of minerals. Joyce and I have toured several really good collections of minerals while traveling out west. This is one of the top collections anywhere and it is presented so well. We spent several hours not only looking at the fascinating minerals but the fossil collections and classifications as well. New Mexico has unearthed a LOT of the earth's history.
After touring the Mineral Museum we were off on a scenic drive to the town of Magdalena 26 miles west of Socorro on US 60. In Magdalena we checked out the RV-Park behind the Western Motel for possible use later. It is just OK. We are thinking about returning to Magdalena the 2nd weekend in July when they have an Old Timer's Reunion weekend complete with rodeo, dance, herding steers through the main street and many other things.
While in Magdalena we noticed a "wool-processing" building. We stopped in and got a tour. As it turned out this was a mother and son operations and they were shutting down the machines for the day. They were so nice. They took us back in the processing area and toured us through the entire operation. Local ranchers, many Native American, bring in bags of wool from their flock, this raw wool has to be washed or more appropriately soaked. During this process the lanolin is removed from the wool along with most of the dirt. Then the wet washed wool has to be dried. Of course the air out here doesn't have any moisture in it so drying is not a difficult process. The next step is to put it through a machine with thousands and thousands of sharp 1/2 -inch long stainless steel needles on two big drums. And another drum with wider spaced _ inch "nail" size teeth. When those drums of teeth are spinning the washed wool is passed through those teeth and immediately on the other side the wool is not bunched together and there is no knots. A blower in the process makes it all fluffy. That process is called "carding" in the textile industry. The output of that machine is blown into a room. The carding process untangles the fibers and arranges them into a flat sheet called a web an inch or so thick and around 18 inches wide. That "web" is gathered up and run through another machine that takes that 18-inch wide fluffy mat and condenses it into a long fluffy "rope" or "sliver" about 1 & ½ inches in diameter. "Sliver" is the term they use, fluffy rope is my term. However, it is not at all a "rope" that you think about having strength. This "rope" is very loose fibers with only a slight twist. It has no strength whatsoever.
It is this long fluffy "rope" or sliver that that take to a spinning machine where twist is added. As you can imagine, the more twist the finer the output (string or yarn). Fewer twist produces a thicker yarn. Some customers want their product before the spinning process, preferring to hand spin themselves.
Virtually all wool fabrics, except felt, are made from weaving the yarn.
Joyce drug me out of the place. Learning and actually watching the process was my big thrill of the day. If we return to Magdalena I am going to camp with them for the day while Joyce reads. If, by chance, you are interested in products from the Mill Canyon Wool Processing facility or want your very own wool processed you can contact them at: www.millcanyon.com or steve@millcanyon.com 505-854-2863. They have batts, roving, sliver, top, yarn and felt for sale.
We drove 3-miles south of town to the old Kelly mine that produced record amounts of silver, lead and zinc back in the 1880s. Many of the minerals we saw in the museum earlier today were donated by the Kelly mine. We stopped short of the Kelly mine but did see numerous boarded up mine shafts along the road.
On the way back to Socorro we turned south off US 60 on paved Forest Road 235 toward the mountains and Water Canyon Campground. Forest Road 235 leaves the grasslands and enters the mountains within a mile or so. Water Canyon jumps at you as soon as you reach the mountains. The cliff on the other side is so tall and so steep. While only 4 & ½ miles of pavement leads back to the campground (no hookups) the scenery is truly awesome for that short distance. It is one of the truly good canyon drives anywhere. The road past the campground turns into gravel and continues up the canyon to the top of the mountain. It is supposed to be a super good scenic drive. We did not go past the campground. On the way back out to the highway we stopped to video some pronghorn antelope. While videoing the pronghorn a 5' rattlesnake crossed the road in front of us and we got it on video also.
This has been a good day. We have seen a LOT of geology and I got to tour a wool processing plant. It was after 9:00 when we finally got back to the motorhome and I was able to plop down and start writing. Now that I have finished for the day I am amazed at how much we packed into it. It was a good day. Ain't life grand?
Tuesday, June 24, 2003 We drove 67-Miles to Isleta Lakes and Recreation Area. An Indian Reservation with campground, fishing, and picnic area 10-miles south of Albuquerque at exit 215 on I-25 located across the street from the big Isleta Casino. $15 water & 30-amp elect with central dump and several sites with good shade.
We headed to Albuquerque this morning. The first part of our journey was on I-25 then at exit # 175 we turned east on US 60. Within a mile we had crossed over the Rio Grande River, a pathetic stream, then quickly turned north on New Mexico 304. We chose to take this route because it approximates the "El Camino Real (the Royal Road or the King's Highway) the oldest, most historic road in the United States. Said another way the "Royal Highway" is the first road established by Europeans in what is now the United States. The El Camino Real stretched from Mexico City, thru Chihuahua Mexico, El Paso, Las Cruces, Albuquerque and Santa Fe to the town of Taos 40-miles north of Santa Fe. Taos represented Spain's northernmost outpost in the New World.
The road was named El Camino Real in 1598 by Don Juan de Oñate who claimed the land on behalf of the king of Spain. Oñate and a large group of Spanish settlers, soldiers, and missionaries (400-men plus women and children) complete with grape vine cuttings and over 7,000 head of livestock made the journey from Mexico City to Santa Fe pulling 83-waggons of supplies and belongings. The convoy stretched for three to four miles in length. For the next 250-years the road was the trade route between the New Mexico settlements around Santa Fe and the outside world.
Oñate and his settlers were the first Europeans to settle this area. After Oñate a continuous flow of other Spanish settlers used the El Camino Real to reach the Spanish colonies along the Rio Grande in the area of Santa Fe. Convoys transported goods produced by the settlements in New Mexico back to Mexico City to exchange for supplies. The road became the "ribbon of commerce" for the next 300 years.
I think everyone should take a deep breath and put into perspective the date these Spanish settlers were utilizing this road. George Washington became the first President of the Untied States in 1789. Spanish settlers and supply convoys had been utilizing the El Camino Real for 191 years at that time. The only city in the United States that has been settled (by Europeans) longer than Santa Fe is St. Augustine, Florida.
Europeans other than Spanish did not start arriving in New Mexico in any number until the 1840s or 245 years after the Spanish settled New Mexico. Hopefully, you can now get some sense of the history and importance of the El Camino Real. Over time rail roads and several highways have utilized portions of the old Camino Real. Today, we were just getting some sense of the journey those earlier Spanish settlers made when they traveled in that convoy from Mexico City to the Santa Fe area.
As we drove north on NM 304 then NM 47 we traveled through many small towns named by those early Spanish settlers and explorers. Catholic Churches are scattered up and down the road, remnants of early missions. Each of these old Catholic Churches has a historic marker outside documenting the Churches place in history.
Our plan was to stay in the American RV-Resort $31 per-night, on the west side of Albuquerque or the Best Western Motel & RV-Park, exit 166 on I-40 at $21 per-night. Neither of those parks had shade and we wanted shade to help with summer temperatures at this altitude. As we were nearing Isleta we remembered there was an RV-Park there and we could see that Isleta Lakes was situated in the Rio Grand Valley with huge cottonwood trees. Joyce gave them a call and found that the RV-Park was on the Isleta Indian Reservation and had spots for only $15 per-night with shade provided by those huge cottonwood trees. Without skipping a beat we turned into the RV-Park located across the street from the Isleta Casino. I said across the street and it is but the RV-Park is located almost a mile away down in the valley. Even so we can look out our window and see the huge Casino. From what we have seen today all (9 or more) of the RV-Parks in the Albuquerque area going to be OK. All are located 6 to 8 miles from Old Town and the museums. None of the ones that we visited today had any shade and during late June that is a necessity in our opinion.
Today the Isleta Pueblo occupies the same place along the Rio Grande that it occupied when it was visited by soldiers in Coronado's expedition who passed through here in 1540. Note the date that the Spanish EXPLORERS passed through here. (Note that I said Spanish explorers not Spanish Settlers since they did not arrive until 1598) The Spanish word, meaning "islet," (a little island) was given to the place because its location was once a delta or small island. So the Spanish actually named the village with a population of 1,500 back in 1540! Isleta may be one of the first named towns in the United States. The Isleta Church (Catholic) built about 1613 has a strong claim to being the oldest church in New Mexico. Were there earlier churches back east, possibly in St. Augustine, that would pre-date 1613 and that are still in existence?
After checking out some RV-Parks we decided that we would stay put and save $15 per-day. We had to take the obligatory drive through "Old Town" where many of the museums and of course shopping is concentrated. Both of us feel confident that we can navigate the city fairly well now.
Wednesday, June 25, 2003 Isleta Lakes and Recreation Area. An Indian Reservation with campground, fishing, and picnic area 9-miles south of Albuquerque at exit 215 on I-25 located across the street from the big Isleta Casino. $15 water & 30-amp elect with central dump and sites with good shade.
Albuquerque is a sprawling city containing about one-third of the state's population. Centrally located at the intersection of I-40, the main east-west freeway, and I-25, the principal north-south route through the state. Simply put Albuquerque is at the crossroads of New Mexico.
We got a late start this morning. Lunch was the first thing we accomplished after heading in to Albuquerque. We had consulted "Roadfood" and several other dining publications and settled on M&J Sanitary Tortilla Factory for lunch. This place is a locals favorite especially with the downtown lunch crowd. Located on 2nd street across the street from the bus station it is centrally located. Joyce and are getting tired of Mexican food but this place is a "must do" when in Albuquerque. We both order a "special" when asked "red or green" sauce Joyce said red while I said green. When we received our orders I dived in. Then I looked over at Joyce and her eyes were rolling like a slot machine. When she semi-recovered she mumbles "HOT unbelievably HOT". She immediately starts picking at her beans and rice while avoiding her enchiladas. Her two enchiladas were covered with red chili. Shortly we hear the owner tell two of the waitresses that "the red chile today was extremely hot". She said "she had just sampled it and WOW it was hot. Make sure you tell the customers that the red sauce is extremely hot today." Joyce blurted out "she didn't tell me it was HOT". Our waitress quickly disappeared but another waitress stopped by our table to chat. When Joyce mentioned the HOT enchiladas she said she would get us some sour cream. We scraped off the red sauce and replaced it with a copious covering of sour cream. I helped Joyce eat her enchiladas. They were just fine with the sour cream. If you are into Mexican food this is a place you will want to visit when in Albuquerque.
Our next stop was the Atomic Museum near Old Town. We spent nearly four hours in the museum. They show an excellent film documenting development of the first atomic bomb. We were both fascinated at the number of "foreign" scientists assembled at Los Alamos, New Mexico to develop the bomb. Many of the best scientists from Europe fled their home countries and were seeking refuge in the United States. Those scientist were organized and moved to Los Alamos where they worked together on the development of an atomic bomb. The development of the bomb was top secret. So secret the Vice President of the United States did not know about it neither did any Senator or Congressman. The Senator in charge of the Defense Department got miffed when the Defense Department would not explain where the money for the project was going. He was so miffed that he threatened to launch a Senate investigation. He was finally told that it was going to fund a project that would change the world at which time he backed off. Vice President Truman did not learn of the Manhattan Project until after he was sworn in as President upon the death of Roosevelt. Not long after Truman learned of the existence of the Manhattan Project he had to make the ultimate decision to use the newly developed atomic bomb in the war against Japan.
Atomic power is used utilized for many more things than just an "atomic bomb". The museum also does a good job of documenting those uses also.
Thursday, June 26, 2003 Isleta Lakes and Recreation Area. An Indian Reservation with campground, fishing, and picnic area 9-miles south of Albuquerque at exit 215 on I-25 located across the street from the big Isleta Casino. $15 water & 30-amp elect with central dump and sites with good shade.
We toured the Albuquerque Museum today. Over the past month both of us have done a LOT of reading about New Mexico and the historical events that actually shaped current day New Mexico. No matter how long you study and absorb the history, with so much happening it is extremely difficult to put all that information into chronological order. Today we took our time digesting the information presented. Did you know New Mexico was admitted to the union in 1921 as the 47th state? To put that question into perspective; Colorado became a State in 1876 as the 38th state. To possibly understand why it took so long to be admitted to the union probably requires understanding New Mexico's pre-statehood history.
In the 1500s New Mexico was part of "Mexico" at least as far as the Spanish were concerned. Spain had conquered the indigenous Indians (primarily Aztec in Mexico) in 1521. Mexico and likewise New Mexico was a Spanish colony for the next 300 years.
The Spanish took what riches they could while keeping the Indians poor and uneducated. Spanish settlers were not treated much better. Spain controlled all goods flowing into and out of the New Mexican settlements. Outside trade was not permitted. Merchants and settlers wanted access to trading partners but "non-Spanish" traders were not allowed. Essentially, non-Spanish were not welcome in New Mexico. Trappers and traders that came to New Mexico from the United States during the early 1800s were feared by Spanish officials. They were either expelled or put into prison. In the early 1800s New Mexico was a combination of Native American Indians and Spanish settlers under the rule of Spain. That all changed in 1821 when Mexico gained independence from Spain. The Spanish officials were replaced. New Mexico became a province of Mexico. Remember, When Mexico gained independence in 1821 the official language in New Mexico was Spanish, the official church was Catholic. Change was to come rapidly for New Mexico.
That same year, 1821, William Becknell, an American trader, blazed the Santa Fe Trail bringing goods to New Mexico from Missouri. With the opening of the Santa Fe Trail the old Spanish missions and settlements along the Rio Grande had access to goods and markets that they had been deprived of and needed so badly. This access to goods and trade with the United States brought about change. English speaking traders and ranchers were moving into the area since the Spanish Officials were no longer in control.
With Spain no longer in control, colonists from the United States pushed west, trouble developed between the United States and Mexico. Remember that Mexico had gained independence from Spain in 1812 so it was Mexico that "claimed" the area of New Mexico now. In 1846, war broke out (Mexican American War). US forces took control of New Mexico without much fighting. The Treaty of Guadalupe Hidalgo ended the war in 1848, with the US in possession of New Mexico.
New Mexico was now a Territory of the US but not a state. The Territory of "New Mexico" included present day New Mexico, Arizona and parts of Nevada and Colorado.
In the 1850s Congress had to establish postal communications with newly acquired territories in California and Oregon. Ocean traffic was excruciatingly SLOW! A letter sent by ship from New York to San Francisco took 5-months. Travel by overland routes across the northern and central United States was unreliable during winter months when mountain passes were closed by snow. A "southern all-weather" route had to be established. This is when the US entered into the Gadsden Purchase (1853) which provided the US with that southern route. Remember the Gadsden Purchase from your school days? It is that $10-million purchase of, 29,640 square miles of relatively level land across the bottom of New Mexico and Arizona from Texas to California.
My how times change! By comparison the US spent $15-million for 827,987 square miles in 1803 in what is know as the Louisiana Purchase. Land values sure did appreciate!
In 1858 the Butterfield Overland Mail & Stage Line started providing service from St. Louis, Missouri and Memphis, Tennessee to San Diego, California via El Paso (across the extreme southern parts of New Mexico and Arizona) utilizing land acquired in the Gadsden Purchase. Instead of mail taking 5-months by ship it could now make it cross country in 45-days.
As you would suspect the Union suspended mail service to Texas, New Mexico and Arizona (areas that seceded) in 1861 at the start of the Civil War. That meant that the Butterfield Overland Mail & Stage line only operated across southern New Mexico from 1858 to 1861. Although there was no mention of it I think it resumed service after the War and continued until railroad service was established across the continent in 1869. While stage lines and the pony express were a colorful part of the American West it is important to realize that they were only around for a short time.
In 1863 (during the Civil War) Congress organized the territories of Colorado and Arizona out of what was the New Mexico Territory. That final act gave New Mexico its current boundaries.
At the time of the Civil War (1861-1865) New Mexico was not a state. It was still a Territory. After the Civil War New Mexico was a "rough" place with range wars and other lawless acts being ordinary. Apaches led fierce attacks on settlers until the surrender of Geronimo in 1886. The United States Army had posts all over New Mexico in order to control Indian attacks in the "Territory". The Army was also there to provide safe passage for the Butterfield Overland Mail & Stage Line (1858-1861) and protect settlers from Indian attacks.
New Mexico did not become a state until 1912 when it was admitted as the 47th state.
We learned a LOT about New Mexico but the Museum did not explain why it took so long for New Mexico to become a state. After all when you are 47th out of the 48 contiguous states there must have been a reason they were not admitted earlier. Do you suppose that it may have had something to do with so much of the population not speaking English? Today a little over half of the population is non-Hispanic whites, 10% Indians and 38% are Hispanic. Many New Mexicans speak both English and Spanish. Today, New Mexico is a leading center for space and nuclear research. The largest private employer in the state is Sandia Laboratories that conducts research and does engineering work on uses of nuclear energy. Many scientists are still employed at Los Alamos where they work on projects involving military and nonmilitary uses of nuclear energy.
Now you have an idea of how easy it was spending so much time in the museum soaking up the state's history. And by the way, I still do not know why New Mexico did not become a state earlier than it did. I can only speculate. If you know feel free to share the reasons with me.
Until next time remember how good life is.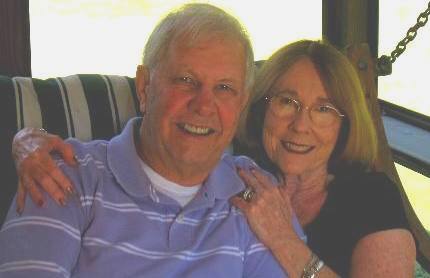 Mike & Joyce Hendrix who we are
We hope you liked this page. If you do you might be interested in some of our other Travel Adventures:
Mike & Joyce Hendrix's home page
Travel Adventures by Year ** Travel Adventures by State ** Plants ** Marine-Boats ** Geology ** Exciting Drives ** Cute Signs ** RV Subjects ** Miscellaneous Subjects
We would love to hear from you......just put "info" in the place of "FAKE" in this address: FAKE@travellogs.us
Until next time remember how good life is.